It seems every newspaper, magazine, e-zine, blog, newsletter, etc. is publishing cookie recipes this time of year.  I love making cookies, and will be making my favorites over the next few weeks to give away to family and friends: peanut butter blossoms (pb cookies with a chocolate candy on top), Spaghetti Cookies, Shortbread, Cherry Nut Nuggets, Russian Tea Cakes (my friend Shelly McLaughlin's recipe), and maybe even Uncle Clark's All You Want For Christmas Cookies .  But, since everyone else is doing cookies, I thought I'd give a little love this month to some other holiday desserts.  Some will be easy and some will require a bit more work, like the Gingerbread House, I wrote about last week, but they all will provide that "something special" to top off your holiday meal.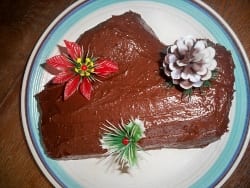 This past week I made a Buche de Noel (aka a Yule Log). I used to make one of these every year for work per the request of my buddy Bao, who said they reminded him of his childhood in Vietnam.  I always let him think it was a big effort, but the way I make 'em it isn't that hard, sshhh!
Basically it is just a jelly roll with chocolate frosting made to look like a log. Use your favorite jelly roll recipe (or a cake mix will do in a pinch) fill with your desired filling (easy version would be jam or whipped topping), roll, frost with chocolate buttercream and use a fork to make lines for the bark, decorate with meringue mushrooms or plastic decorations and voila! an impressive looking dessert.
Ok, so I admit there are a few tricks.
You have to use a half sheet pan or jelly roll pan. It needs to have at least ½" sides on it, but a 13x9" pan will be too small and the cake will be too thick to roll. I use the bar pan from Pampered Chef (e-mail me if you want my rep's contact info).
Line the pan with parchment paper (or foil) and grease it for easier removal from the pan.
Invert the cake after removing from the oven. I place a cutting board on top and then flip it over, never had one break yet.
Remove the parchment paper, coat the cake with a layer of powdered sugar and roll up while it is still warm, then let it cool before unrolling, filling and decorating.
Don't go crazy with the filling or it will squirt out once you try to roll it - not the end of the world if you do, just a little messy.
I cut a few inches off the top at an angle and set that piece next the big piece to make it look a bit more like a trimmed log (see the picture). This also makes it easier for me to fit it on the plate :).
More holiday desserts coming next time. In the meantime you can check out the Desserts section of the site.
Until next time, happy eating!
~Audrey