Jump to Recipe
Print Recipe
Easy Lentil Soup Mix in a Jar is perfect for gift giving, especially around the New Year since lentils eaten on New Year's Day bring good luck.
This Soup-er easy and delicious Lentil Soup Mix is great t keep on hand for an easy dinner or to give as a gift that will be much appreciated.
I made this Lentil Soup Mix as a gift for my son's teacher for a few reasons:
Other than water/stock no other ingredients need to be added.
It cooks in under hour.
Lentils are a good luck food if eaten on New Year's Day in Italy.
I had lentils in the cupboard that I knew the guys wouldn't eat.
Another great thing about this soup mix is that is Vegetarian, Vegan, corn-free, sugar-free, low fat, low sodium, dairy-free and gluten-free (use gluten free pasta or brown rice) just in case you are dealing with any special diets in your gift giving.
For gift giving I just printed these instructions, cut them out and glued them to some construction paper. Or you can tape them directly on the jar.
Lentil Soup Mix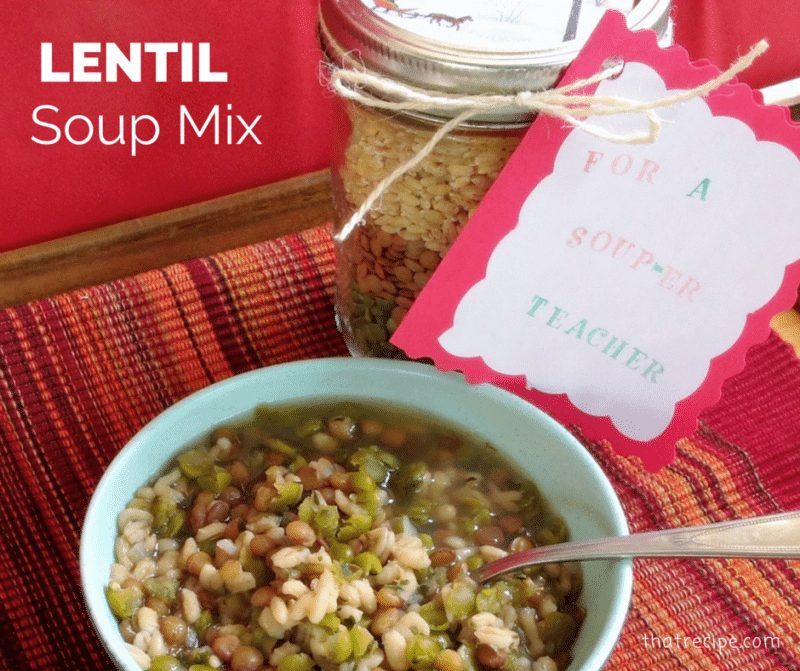 Ingredients
1

pint

jar with lid

(clean and dry)

½

cup

green split peas

½

cup

lentils

½

cup

pearl barley

¼

cup

alphabet shaped pasta

(or star shaped or brown rice for gluten-free)

2

tablespoons

dehydrated onion flakes

½

tablespoon

dehydrated celery flakes

1

teaspoon

parsley flakes

1

teaspoon

thyme

¼

teaspoon

white pepper
Instructions
Layer ingredients in the jar in order given.

For gift giving include the following instructions: "Combine soup mix with 2 quarts of chicken, beef or vegetable broth and one cup cooked and chopped beef, chicken or ham (optional). Bring to a boil then reduce heat to low. Cover and simmer for 45 minutes to 1 hour, until peas are tender. Add salt and pepper to taste."
Notes
The instructions below are for 1 pint jar which will make about 8 cups of soup. Each one-pound bag of lentils (and barley and peas) will yield approximately 2 cups so you can make 4 pint jars. Click here for a printable label.
Until next time, happy eating.
~Audrey