My mother-in-law has recently been diagnosed with some pretty serious health issues and has had to drastically change her diet. No fried foods, less fat, whole grains, and toughest of all little to no sodium. You know, the way we all should be eating. Besides the dietary restrictions, she hasn't had any energy to move around the house let alone cook. So I tried to come up with some things I could make for her that would fit in her new diet and would be easy for her to prepare and us to transport. Basically, healthy homemade convenience food.
This is where things got sticky. I could make plenty of things to help out, like my "homemade no salt added but loaded with flavor" chicken broth, but I don't have a pressure canner so I couldn't can it and freezing it then getting it there before it melts was equally out of the question. Even though it is only an hour drive, we like to stop at some of our old haunts to play/eat along the way or M stops by to see them between classes.
Along came Chef Tess Bakeresse to inspire me. She has done an entire series on what she calls the "52 Method". The name comes from the idea that you pick 7 meals and make 52 giving you a year's supply of food. Extreme, I admit, but no one said you had to make that many. The meals are vacuum packed in Mason Jars to have a shelf life of 5-7 years. To cook, you simply dump the contents of the jar into a pot add water and heat. Great for EMERGENCY PREPAREDNESS. Now, why would anyone want to have quick healthy easy to prepare food on hand in an emergency?
Reason #1: Grocery store in Arlington, VA the night before Superstorm Sandy.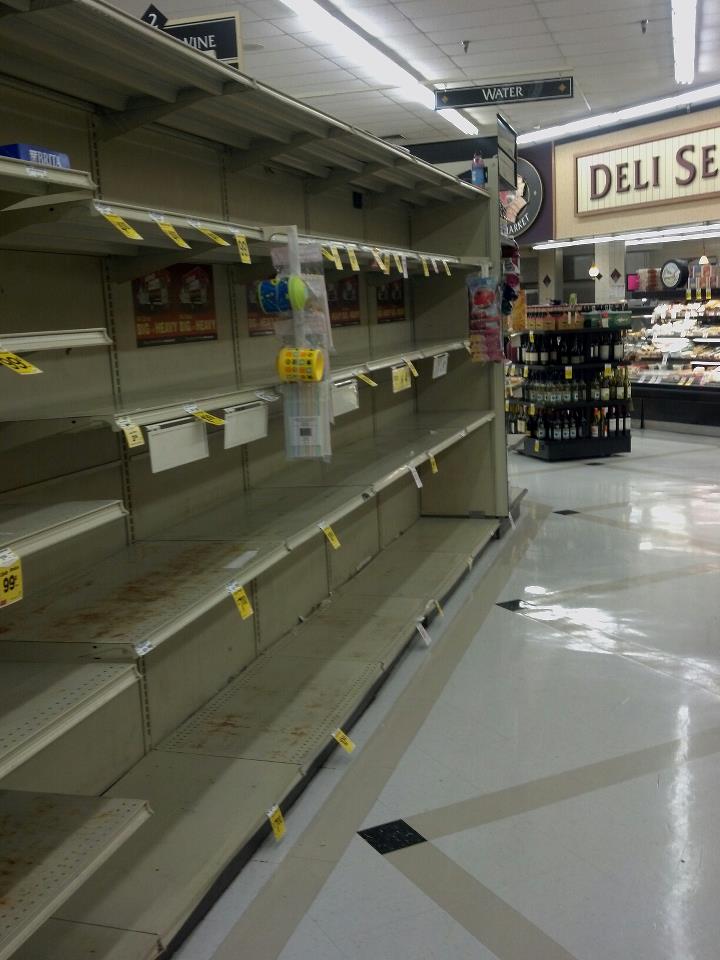 Reason #2: A refrigerator in New Jersey several days after Sandy.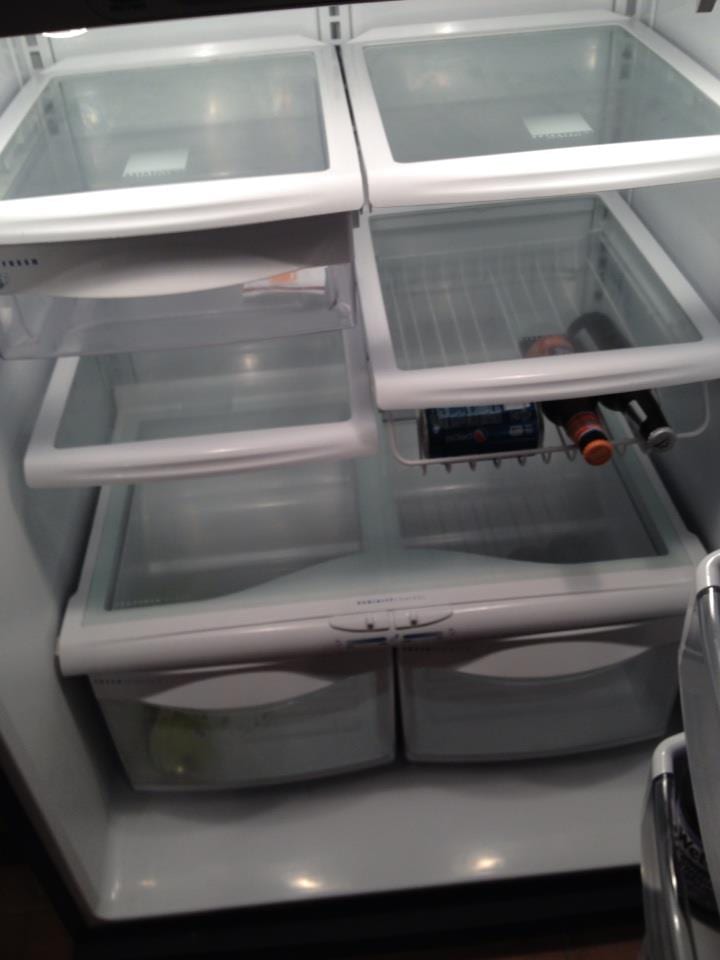 No matter where you live there is some kind of natural disaster that could strike at any moment. For us, it is earthquakes and wildfires. For years we have said we need to get prepared. This time I am going to do it, plus make some extra meals for my In-Laws.
Back to Chef Tess. All of her recipes call for freeze dried foods in part because dehydrating and rehydrating foods involve a number of variables and she just wanted to make things simple enough anyone anywhere could do it. My only challenge for the original purpose of this quest is the sodium content. You need sodium to freeze dry meat. Oh, and I am cheap, and buying all the ingredients seemed daunting. So I tried dehydrating and creating some of my own recipes.
I had a few failures along the way. In case you think about trying it, you need to use a bit of citric acid or lemon juice when dehydrating potatoes or they will turn black.  And shredded potatoes dehydrate quickly, but do not mash up when rehydrated.  And don't get me started on the disastrous chicken. Suffice it to say, I will never try that again.
Three recipes I made that were a success were Chicken Stock,  Potato Soup and Red Beans and Rice.
The chicken stock was the easiest. Make a quart of stock, reduce it to about a cup, dehydrate it then break it up for storage or use in other recipes.

Potato Soup once it was rehydrated

For the Potato Soup, I made the soup, but left out the leeks and cream/milk, then I dehydrated the leeks and soup separately and combined them in a jar.

Rehydrated Red Beans and Rice

For the Red Beans, I cooked the beans in the stock and spices until the just started to get tender then I removed the beans with a slotted spoon and dehydrated the spoon, sauce, and vegetables separately. Then combine them all in a jar with some brown rice.  The brown rice takes longer to cook, hence I slightly undercooked the beans.
I also made up some white beans and some red beans seperately and dehydrated thereby eliminating the need for soaking them overnight making them a handy base for a "what can I cook tonight?" meal. I can brown some ground beef while they are rehydrating, add tomatoes and spices and voila quick easy weeknight chili!
It was a lot of work to make the entire recipe, then dehydrate it and eventually rehydrate it.  While the recipes taste great, I am not sure it is worth the effort and I plan on buying some freeze dried ingredients and trying some of Chef Tess' recipes. If you have any ideas, tips or recipes on the subject, please share.
Until next time, happy eating.
~Audrey