Do you like the same brew every day, or do you like to mix it up sometimes? Hot coffee in your travel mug one in the morning, maybe an iced coffee for two for an afternoon pick me up and a nice soothing cup of chamomile tea at night. The Ninja Hot & Cold Coffee Brewed System helps you to make all of those and more.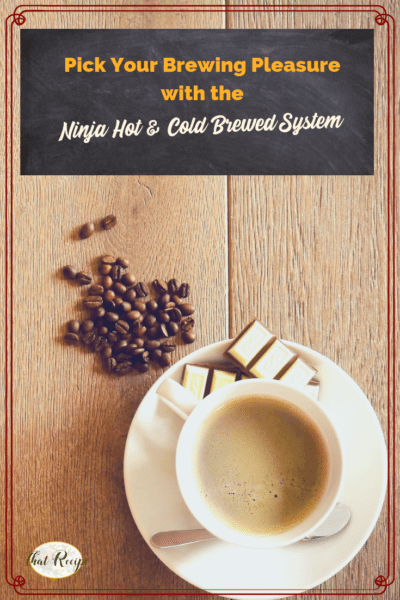 This post contains affiliate links, I may receive a commission for any purchase made through these links at no additional cost to you.
What size do you want?
Choose from full Carafe, half carafe, travel mug, extra large mug or single serve options. Plus the intelligent warming plate will keep the carafe warm for up to two hours.
I am the only coffee drinker in my house so an on demand system would be great in theory. But when you add in the cost (and waste) of those ridiculous individual pods I just can't do it. Plus, there are times when we have company so I need a full carafe of coffee instead of each person standing around and waiting while each cup brews individually.
Coffee, Tea, Hot or Cold?
I usually like a simple mug of coffee in the morning, and something iced in the afternoon. And relaxing with some nice herbal tea in the evening is always a special treat.
The Ninja Hot & Cold Brewed System makes all of those and more. You can make cold brewed coffee in as little as 10 minutes, or hot brew some iced tea. Brew normal strength coffee or kick it up with a rich brew which is perfect for specialty drinks.
Did someone say milk frother?
Heat some milk in the microwave while your tea is brewing then froth it with the built in frother for a delicious chai latte. Or froth cold milk for a delicious iced cappuccino.
I love that the milk frother folds out of the way when not in use to take up less counter space.
Other great features
There are two different filters, one for coffee and one for tea and the machine can detect the difference between them. Each are designed for the perfect brew with the tea allowing for steeping and the coffee for filtering. No paper filters needed (save them for crafts instead, ha ha!). Use your favorite tea bags or loose tea as desired.
The water reservoir is removable so there is less chance of spilling all over the kitchen counter trying to pour water from another cup. Or am I the only one that fumbles putting water in a coffee maker when I am sleep deprived.
[click_to_tweet tweet="Does the Ninja Hot & Cold Brewed System deserve a place on your counter? #coffeemaker #productreview " quote="Does the Ninja Hot & Cold Brewed System deserve a place on your counter?" theme="style2"]
If you are looking for a multi tasking brewing machine, you should check out the Ninja Hot & Cold Brewed System for yourself.