Jump to Recipe
Print Recipe
Watermelon Sorbet is a delicious dairy free alternative to ice cream that is the perfect way to cool down on a hot summer day.
Do you crave something sweet and nutritious on a hot summer day? Look no further than this surprisingly simple watermelon sorbet recipe!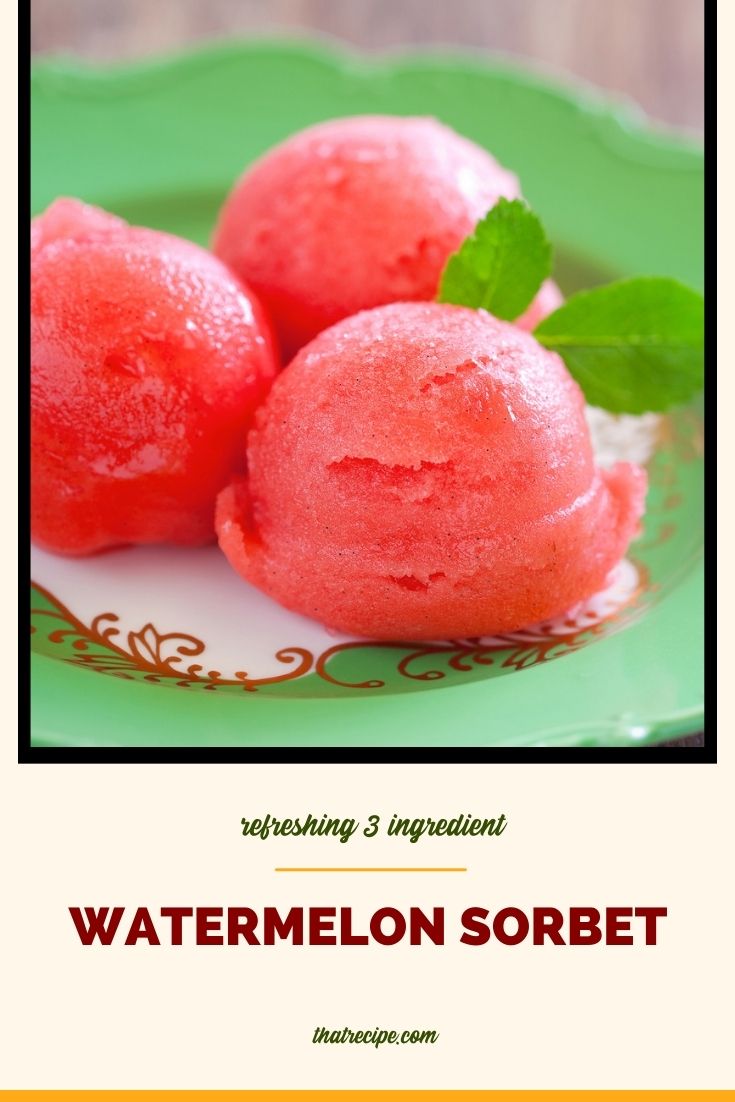 Watermelon is not only full of flavor, but its vitamins and minerals can help you stay healthy and hydrated in the heat.
Freezing it just makes it even more refreshing.
Don't toss the watermelon rind! Save it to make Watermelon Rind Preserves and impress your friends and family. Yes, watermelon flavored jam and it is amazing!
Three ingredients for Watermelon Sorbet
The key to making this recipe great is finding a melon that has a lot of flavor and natural sweetness. The sweeter the melon, the better the sorbet.
Besides watermelon the only other ingredients you need are lemon juice and sweetener.
I used sugar, but you can use your favorite sugar substitute including honey, agave, stevia, sucralose, erythritol, etc.
Sorbet versus Ice Cream
Sorbet and ice cream are both frozen treats and prepared in the same way.
While ice cream can be fruit flavored or not, sorbet is always made with fruit.
Another key difference is the addition of dairy products. Sorbet is naturally dairy free made from sweetened water and your favorite fruit with a splash of acid (usually lemon juice).
Equipment Needed for Sorbet
To make sorbet you will need an ice cream maker like this one.
If you do not have one you can process it in a blender or food processor after freezing.
Watermelon Sorbet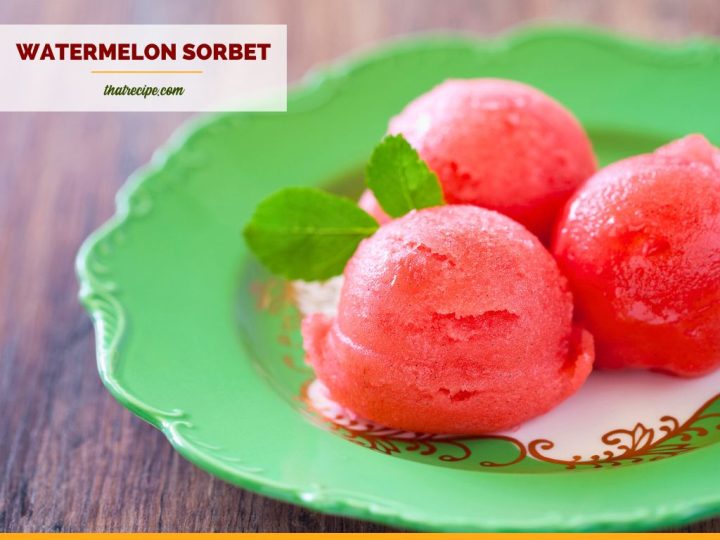 Ingredients
1

cup

sugar

(or sugar free alternative)

1

cup

water

8

cups

cubed seedless watermelon

2

tablespoons

lemon juice
Instructions
In a small saucepan, bring water, lemon juice and sugar to a boil. Boil for 1-2 minutes or until sugar has dissolved. Allow to cool completely.

Using your blender, process watermelon until pureed.

Transfer the puree and sugar water to an ice cream maker. Follow the instructions that came with your ice cream maker for making sorbet.
No Ice Cream Maker Instructions
If you don't have an ice cream maker; pour mixture into a shallow dish, place dish in freezer, stir occasionally until sorbet reaches desired consistency.

If sorbet over-freezes you can allow it to thaw slightly then process it in a blender to get the desired consistency.
Sound fabulous? Share it!
Until next time, happy eating!
~Audrey