Jump to Recipe
Print Recipe
Ham Hocks and Black Eyed Peas cooked on the stove top. Traditional New Year's Day recipe in the Southern US.
If you are like most people, 2012 was a pretty rough year. I am hoping to bring in plenty of luck in 2013 by having some black-eyed peas. Ma'am always told us we'd have a dollar at the end of the year for every pea we ate on New Year's Day. One year, Michael heard this, ate a bite then held out his hand expecting her to hand over the cash then and there.
Traditionally, she woud make this recipe every year with a skillet of cornbread.  She never made greens along with it, though I have heard many Southerners serve this alongside to increase the luck factor.
I got a great deal on a ham after Christmas, which is currently debrining in some water in the fridge. I have only heard of doing this to a Country (Smithfield) ham, but I tried it with a wet cured ham at Easter and found it made a great difference.  I am going to cook that up tonight and I think I will make some Texas Caviar tomorrow to go with the leftovers. Or I will use the ham bone to make our traditional recipe.
If you are in the mood for Mexican, you can try Posole for good luck tomorrow. This recipe is a quick and easy version compared with a cook all day version traditionally made in Mexico
And if you happened to overdo the New Year's Eve celebration a little, I recommend a little hair of the dog in the form of a Bacon Bloody Mary.
If you have any New Year's Day good luck food ideas, please share. I think we all need to do our culinary part to make sure 2013 is a lucky year for us all.
Update: I have added instructions to make this in the crockpot or pressure cooker in this post.
Ham Hocks and Black Eyed Peas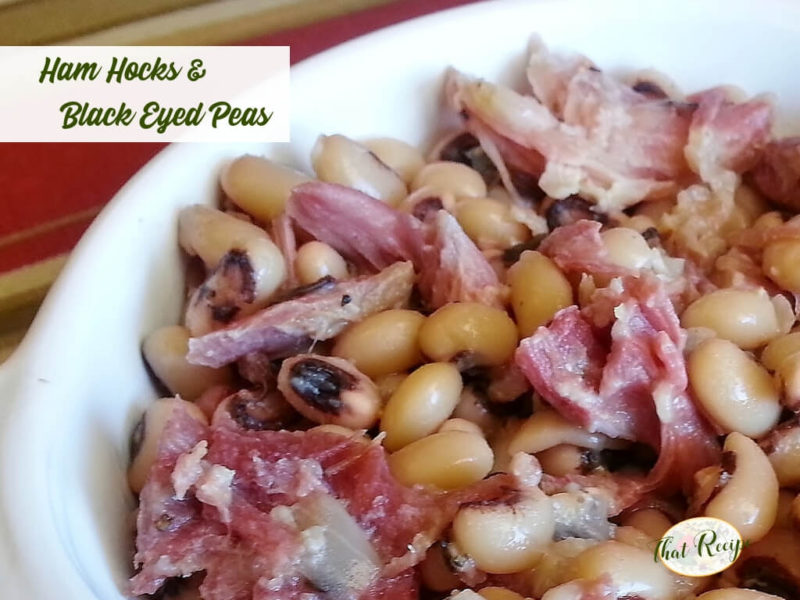 Ingredients
1

large

onion

(peel removed and saved, and onion diced)

4

pound

ham hocks or shanks

3

cloves

garlic

1

pound

dried black eyed peas

¼

cup

fresh parsley

(chopped)

1

cup

green peppers, chopped

(optional)

1

cup

celery, chopped

(optional)
Instructions
Put onion peels and ham hocks/shanks in a stock pot and cover with water. Put lid on pot. Bring to a boil on high heat. Reduce heat. Cook at a low boil (just above simmer) for at least one hour.

Remove ham hocks from stock and save. Discard onion peel. Cool stock and skim off all fat. Put in the freezer to speed the process.

In a large soup pot add 2 quarts of prepared stock, ham hocks/stock and all remaining ingredients. Bring to boil and reduce to simmer. Stir about every ½ hour. Cook until black-eyed peas are tender, about 2 ½ to 3 hours. Add water as needed.

Remove ham hocks/shanks and remove meat from the bone. Return meat to the pot and serve.
Until next time, happy eating.
~Audrey