Jump to Recipe
Print Recipe
Beef Shish Kebabs made easily (and inexpensively) from chuck roast marinated in yogurt, onions and mint quickly grilled for maximum flavor.
Want succulent, flavorful Beef Shish Kebabs in a flash? Forget the veggies and marinate chuck roast in a yogurt, onion, and mint mixture for tenderness, then quickly grill to perfection.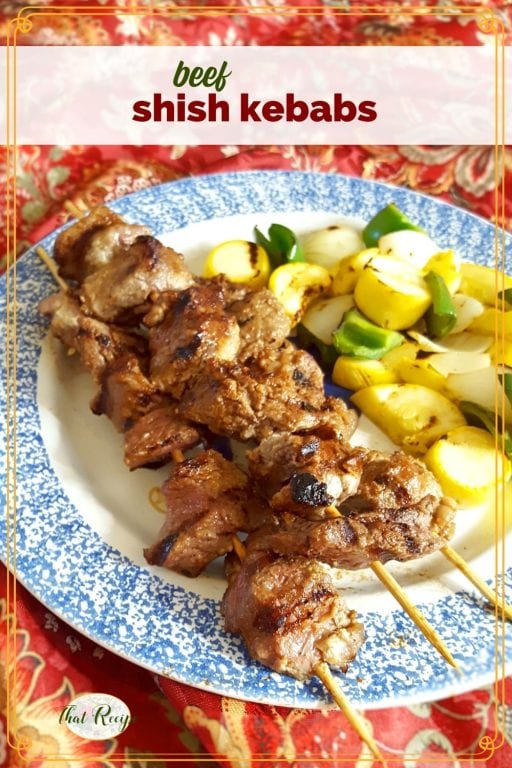 This is a refresh of a recipe I made several years ago. The first time I made it I was able to hide the marinade from my crew.
Unfortunately, my husband saw the yogurt on the counter this time around and asked in a horrified voice, "You aren't going to make it with yogurt are you? He (our son) will never eat it!"
Well, Mr. Negative was wrong. Sir Snubs a Lot devoured them! Mostly because he didn't know what was in the marinade.
Tips for Tender Beef Shish Kebabs
Be sure to remove the tough connective tissue when making your chunks, because the yogurt isn't going to do anything to soften that.
Also, remove them from the grill when still medium rare and let them finish cooking under a tent of foil. Overcooking these will make them tough.
Where are the Vegetables?
You might notice that there are no vegetables on my shish kebabs. This is a conscious choice.
Instead I put them on separate skewers because they do not cook at the same pace at the meat. You end up with charred unrecognizable peppers and onions while the tomatoes drop off the skewer onto the grill and the meat and zucchini are still raw.
Instead, group things that cook for the same length of time on the same skewer so you can put them on the grill over direct or indirect heat as needed and grill without burning.
Or skip the veggie kebabs and serve it with a nice Mediterranean style salad like: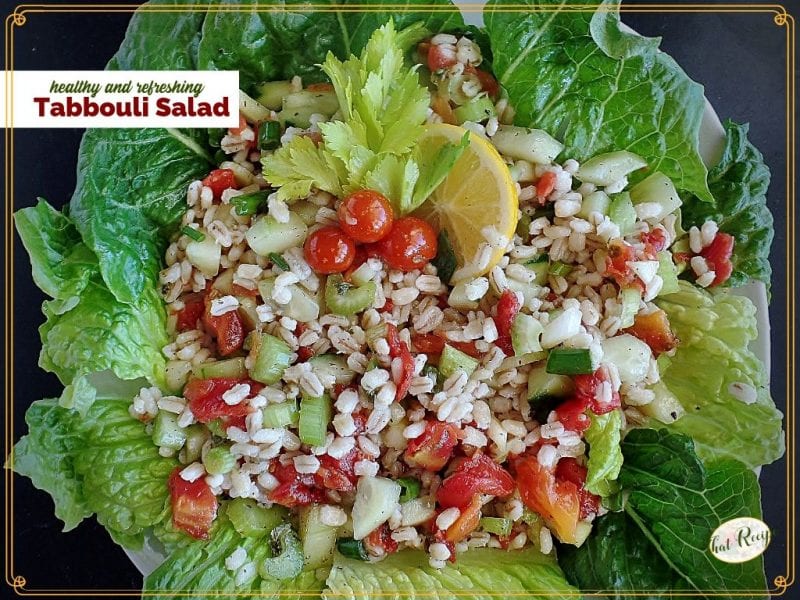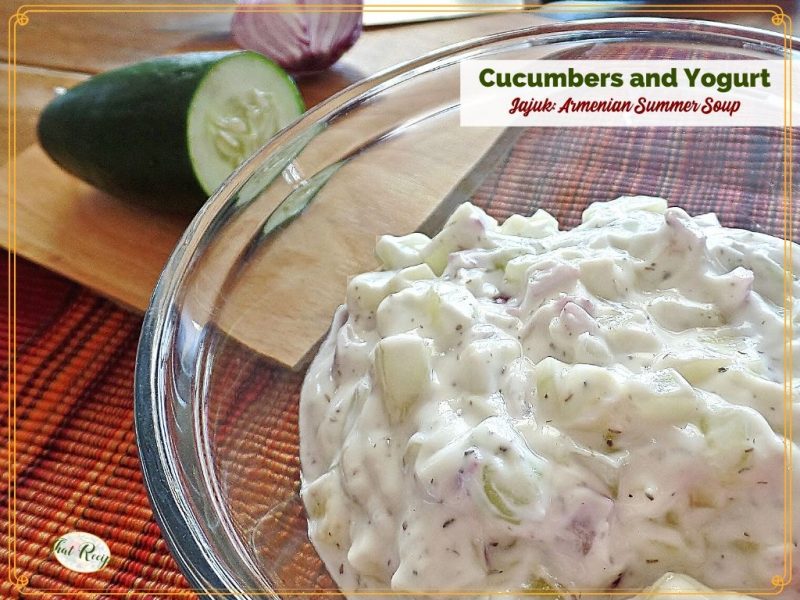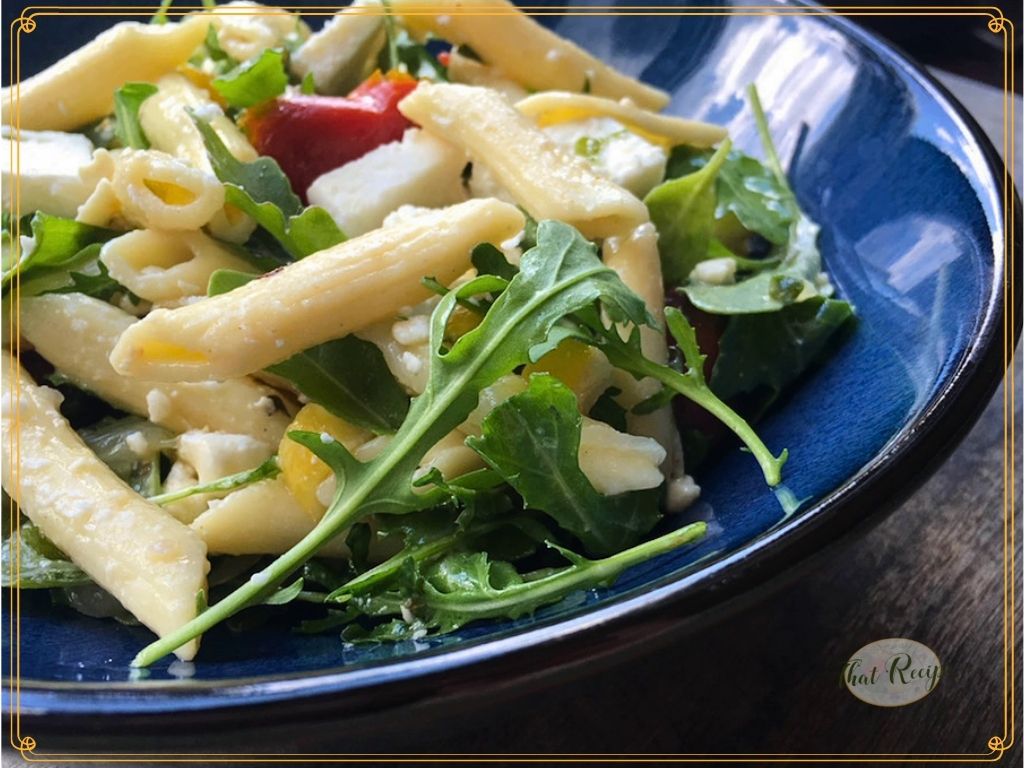 Ingredients for Beef Shish Kebab
Chuck Roast is a tough cut of beef. Removing the connective tissue, marinating it, and removing it from the grill before it is cooked through all help keep it tender.
Yogurt is mildly acidic and does an amazing job of tenderizing the somewhat tough chuck roast.
The amount of onion may seem excessive, but when you blend it to a smooth puree it melts into the rest of the marinade lending just the right amount of flavor.
Olive oil, or other cooking oil, helps prevent sticking to the grill.
Mint, red pepper flakes and salt round out the ingredients adding delicious Mediterranean flavor with a little (or a lot) of heat.
Simple Beef Shish Kebab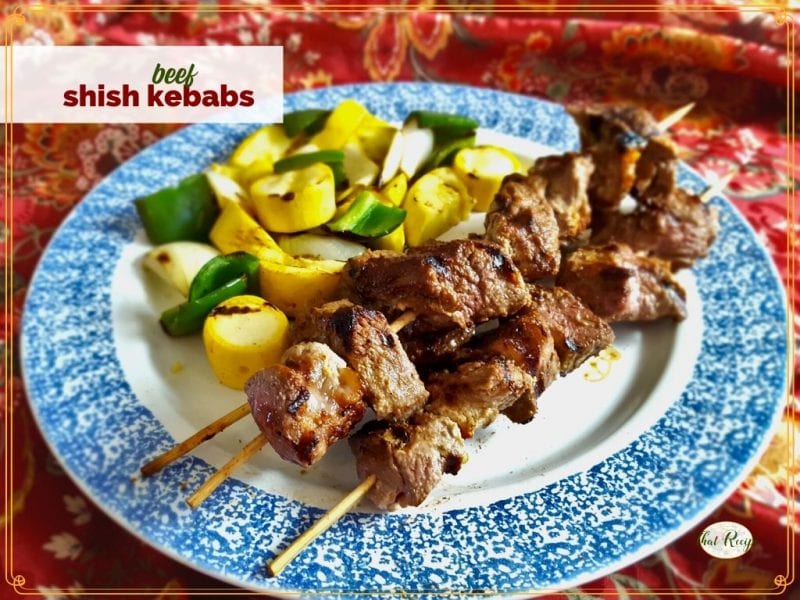 Ingredients
2.5 - 3

pound

chuck roast

1

medium

onion

(cut into big chunks)

1

cup

plain yogurt

½

cup

olive oil

2

teaspoons

dried mint

(or 1 tablespoon fresh)

1

teaspoon

salt

½

teaspoon

crushed red pepper flakes

(more or less to taste - optional)
Instructions
Cut meat into equal cubes approximately 2 inches thick, removing connective tissue as much as possible. Put into a gallon size zip to lock bag.

Combine all other ingredients in a blender or food processor and puree until smooth. Pour marinade into bag with meat. Place in refrigerator for at least 1-2 hours before cooking - longer is better.

30 minutes before grilling, remove meat from refrigerator, soak skewers in water (if using bamboo ones, not needed if metal), and preheat grill.

Place meat on skewers, trying to keep equal size pieces on each skewer. Leave at least ¼ inch between pieces.

Grill 3-4 minutes a side until cooked. Remove them when a test piece is still slightly pink in the middle, over cooking will make them tough. Place on a plate and make a tent with foil to cover them for 5-10 minutes before serving.