Jump to Recipe
Print Recipe
Bacon Wrapped Meatloaf is a zesty beef and pork loaf topped with bacon and an easy and flavorful homemade glaze.
Dress up plain meatloaf with some bacon strips and a simple homemade glaze baked on top for loads of comforting flavor.
Meatloaf is one of those fabulous comfort food meals from my childhood. But my mom never made it with bacon on top. That idea came from my mother-in-law and was one of my husband's favorites.
Start with your favorite spice rub. I usually use my homemade rib rub mix, which is spicy and sweet. But, a packaged mix can be just as delicious and can save you the time of pulling out all of the ingredients from your spice cabinet.
Tips for a Great Meatloaf
Start with the right meat: Ideally you want a mix of medium fatty meats such as beef and pork. Different types of meat will enhance the texture of the finished loaf. If the meats are too fatty the loaf will shrink and potentially fall apart. but if there is not enough fat it will be dry. Most people recommend meats with a 15-20% fat content for meatloaf.
Panade for moisture: Panade is a fancy French cooking term for breadcrumbs soaked in milk (in this case yogurt for a subtle tang) added to meatloaf or meatballs to maintain moisture. Check out Spruce Eats if you want more scientific explanation of how it works.
Mix lightly: Overmixing meatloaf will turn it into a dry dense meat lump. Blech! I mix the spices in with panade and then quickly blend the ingredients and shape.
Let it rest: Just like a roast you want to let the meatloaf rest for at least 10 minutes before serving to allow the starches, proteins and gelatin a chance to bind everything together after the heat of the oven.
Freeform over loaf pan: This is may just be personal preference, but I always freeform my meatloaf and cook it on a broiler pan. If you have a meatloaf pan that allows the fat and juices to collect in a separate area from the loaf (like this one) use that over an ordinary loaf pan.
But, this recipe is all about the bacon and glaze. If you shape it into a loaf on a broiler pan you get more of both! I use a broiler pan similar to this using the shelf with holes instead of the wire rack for meatloaf.
Bacon Recipes from #OurFamilyTable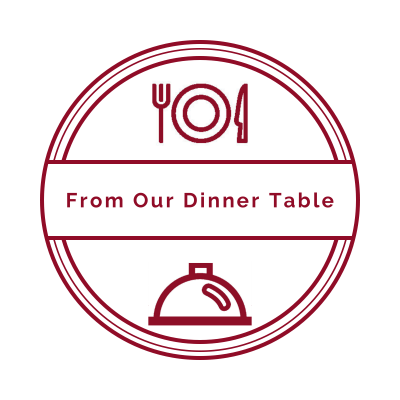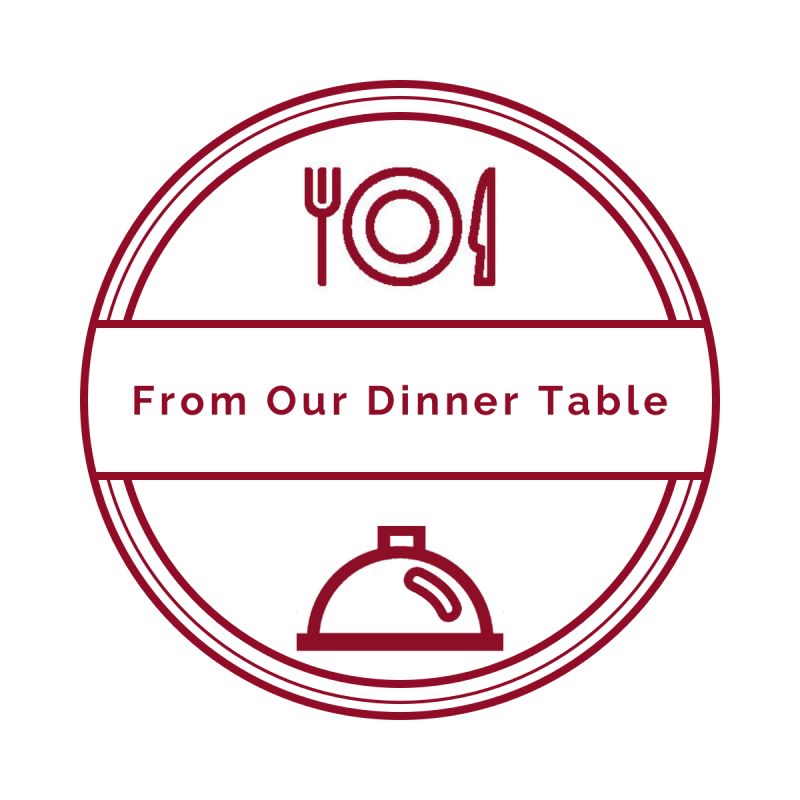 Looking for more creative ways to enjoy bacon? Try these recipes:

We share Recipes From Our Dinner Table! Join our group and share your recipes, too! While you're at it, join our Pinterest board, too!
Bacon Wrapped Meatloaf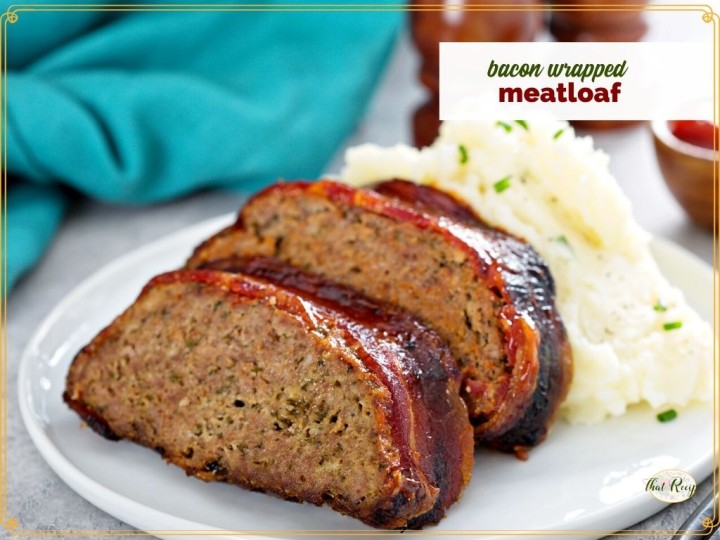 Ingredients
⅓

cup

plain yogurt

2

teaspoons

Worcestershire sauce

2

tablespoons

Spice Rub Mix

(see notes)

⅔

cup

bread crumbs

2

large

eggs

1

tablespoon

olive or vegetable oil

(or bacon fat if you have it)

1

small

onion

(finely chopped)

1

pound

ground beef

(at least 10% fat)

1

pound

ground pork

(20% fat)
Topping
8

pieces

uncooked bacon

(pork, beef, turkey)
Glaze
1

cup

ketchup

2

tablespoons

cider vinegar

(or balsamic vinegar)

1

teaspoon

Spice Rub Mix

(see notes)
Instructions
In a medium bowl combine eggs, yogurt, Worcestershire sauce, spice rub and breadcrumbs. Set aside.

In a medium saucepan, cook onions in oil until translucent. Remove onions from pan. In the same pan, combine sauce ingredients until sugar melts and glaze is heated throughout. Remove from heat and set aside.

Put ground beef and pork in a large bowl, add onions and yogurt mixture and mix briefly until everything is fairly evenly distributed.

Shape into a loaf approximately 2 inches thick on the roasting pan.

Apply about ¼ of the glaze to the top of the loaf. Arrange bacon slices on top, overlapping a bit and tucked under the bottom of the loaf. Bake for 45-55 minutes, until loaf is approximately 150-155°.

Remove loaf from oven, Turn oven to broil (or as high as it will go). Add ⅓ of the remaining glaze to the top of the bacon.

Return to the oven and broil for 5 minutes, remove when the sauce is bubbly but before it starts to burn.

Cover lightly with a tent of aluminum foil and let rest 10-15 minutes. Cut in thick slices and serve with remaining glaze.
Notes
I use my spicy sweet Homemade Rib Rub for this recipe. You can use a packaged rub or seasoning mix if you prefer. 
Sound fabulous? Share it!
Until next time, happy eating!
~Audrey