Jump to Recipe
Print Recipe
Bacon Parmesan Soft Pretzels are soft chewy pretzels loaded with bacon and Parmesan cheese. Or enjoy them plain with salt or cinnamon sugar.
Bacon Parmesan Soft Pretzels are a wonderful home baked treat. Yes, you read that correctly, bacon... parmesan... pretzels....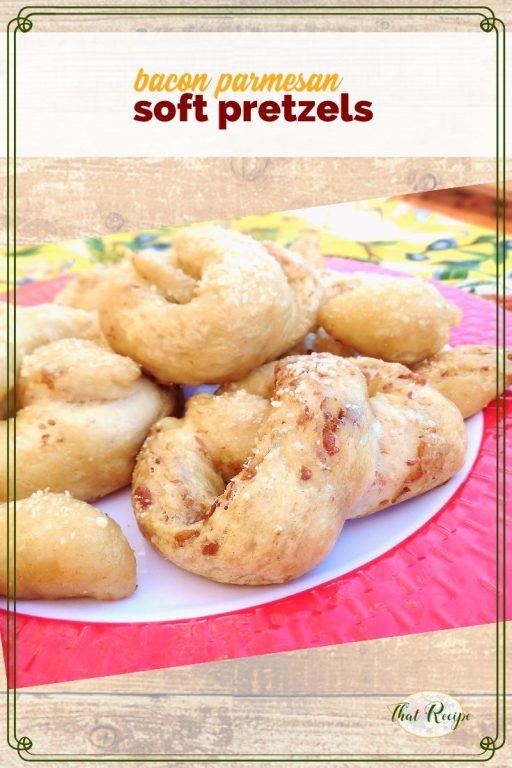 They are really simple to make, but like any yeast dough there is a significant rising time involved. The plan was to sample a few after making them and then freeze the rest so we could take them out a few at a time to reheat and enjoy. They didn't make it much longer than 24 hours. I am making a double batch this afternoon.
Feel free to make them without the bacon and Parmesan if you want. I made half plain with just a little pretzel salt on top and both flavors disappeared quickly. I am going to go all plain this time so we can add our own toppings when we reheat them.
Soft Pretzel Baking Tips
The secret to the pretzel flavor is how long you boil them in the baking soda bath.  If you like them to taste more bread like, boil them in the baking soda bath for 5 to 10 seconds a side. The longer you boil them, the more pretzel flavor. I went about 30 seconds a side.
You can also bake them a little longer for a darker crust. My son likes them on the light side, and had trouble waiting for them to be ready.
Bacon Parmesan Soft Pretzels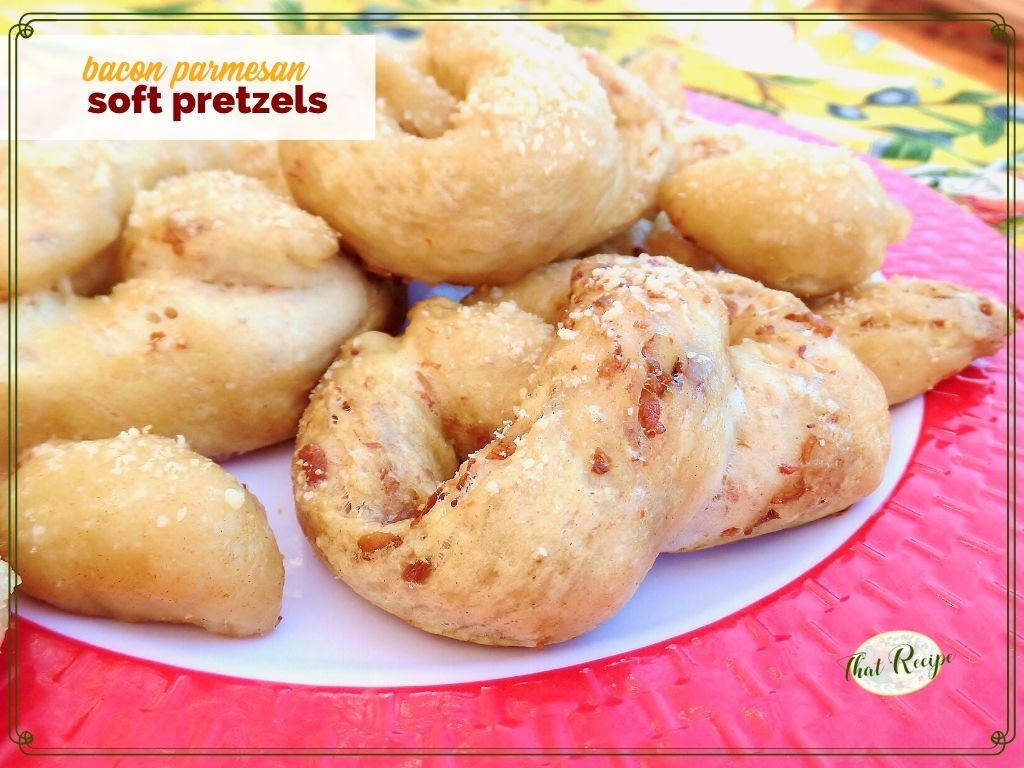 Ingredients
1

tablespoon

sugar

1

packet

active dry yeast

(2 ¼ teaspoons)

1

cup

water

2 ½ - 3

cups

bread flour

1

teaspoon

salt

1

tablespoon

shortening

(bacon grease, coconut oil, vegetable oil, etc,)

⅓

cup

crumbled bacon pieces

6

cups

water

6

tablespoons

baking soda

1

egg white

¼

cup

parmesan cheese

(finely grated)
Instructions
Heat 1 cup water and shortening until about 120 degrees. Add sugar and yeast and stir until dissolved. Let yeast proof for a few minutes (become bubbly)

In a large bowl combine flour, salt and crumbled bacon pieces. Add yeast mixture and blend at low speed until moistened, then beat 3 minutes at medium speed.

Stir in additional 1 ¼ to 1 ½ cups flour until dough pulls cleanly away from the bowl.

On a floured surface knead in ¼ cup to ½ cup flour for about 10 minutes until dough us smooth and elastic.

If you have a mixer with a dough hook, let it do the work and knead for about 5 minutes.

Clean the large bowl and grease it. Place the dough in the bowl, cover and let rise until doubled in bulk about 45-60 minutes.

Punch down dough to remove all air bubbles. Let rest 10 minutes.

Divide dough into 12 pieces. Roll into long ropes and shape like a pretzel, or cut into small "pretzel bites". Place on greased baking sheet. Let rise until light, 15-20 minutes.

Preheat oven to 400 degrees F. In a large saucepan, bring water and baking soda to a boil.

Add pretzels gently to the boiling water 2-3 at a time. Flip after 15 seconds and boil another 15 seconds. If you like them with extra pretzel taste, boil 30-45 seconds a side.

Remove pretzels with a slotted spoon and return to the baking sheet. Combine egg white with 1 tablespoon water and brush on pretzels. Sprinkle with parmesan cheese.

Bake for 8-10 minutes depending on desired level of brownness.
Notes
You can substitute all purpose flour for the bread flour, but you may want to knead and let them rise a little longer to have the same light chewy texture.
Until next time, happy eating.
~Audrey