Jump to Recipe
Print Recipe
Sourdough Soft Pretzel Bites are a great make ahead snack. Make a big batch, freeze half and pop in the oven for a few minutes to serve later.
These Sourdough Soft Pretzel Bites started out as No Knead Overnight Sourdough Bread, but I didn't want to turn on the oven to 500 degrees and heat up the house. So, instead I stood over a pot of boiling water to make these... uh yeah, I don't think I ended up staying any cooler. It's a good thing these were absolutely delicious in the end.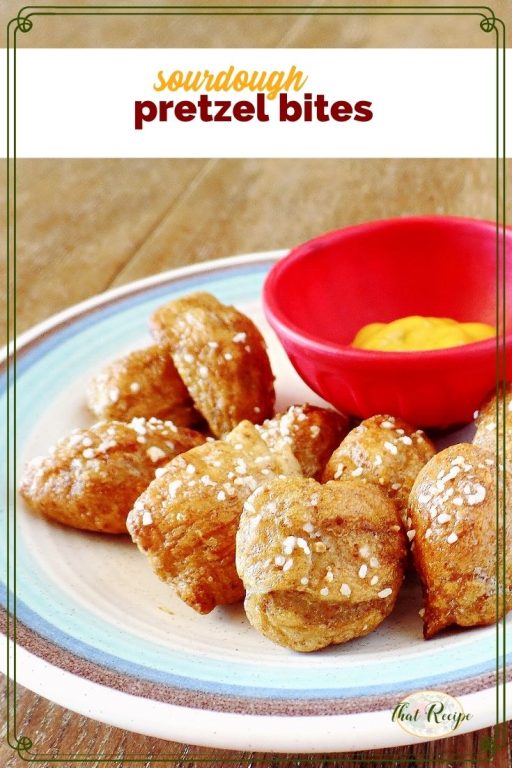 For these Pretzel Bites, after you make the overnight dough, it is just a matter of rolling it out into pretzel shapes or "bites" like I did, boiling for a little bit in baking soda water and then in the oven for a few minutes.
For half of the batch, I did not add toppings and under baked them. Then I froze them on the baking sheet and stored them in a zip to lock freezer bag. When we want some, we grab a handful or two, spray with cooking spray and add your toppings to the frozen bites and bake until warm. It is one of J's favorite afternoon snacks.
How to Make Sourdough Starter
To make sourdough you need sourdough starter. The best way to get starter is to see if a friend already has some and is willing to share with you. You only need a few tablespoons to start and with a little flour and water, you will have a beautiful bubbling pot.
I could write out directions for the care and feeding of sourdough starter, but the folks at Sourdough Home have already said everything I would say. If you don't have a friend with starter, don't worry, they have directions for starting your own.
Sourdough Soft Pretzel Bites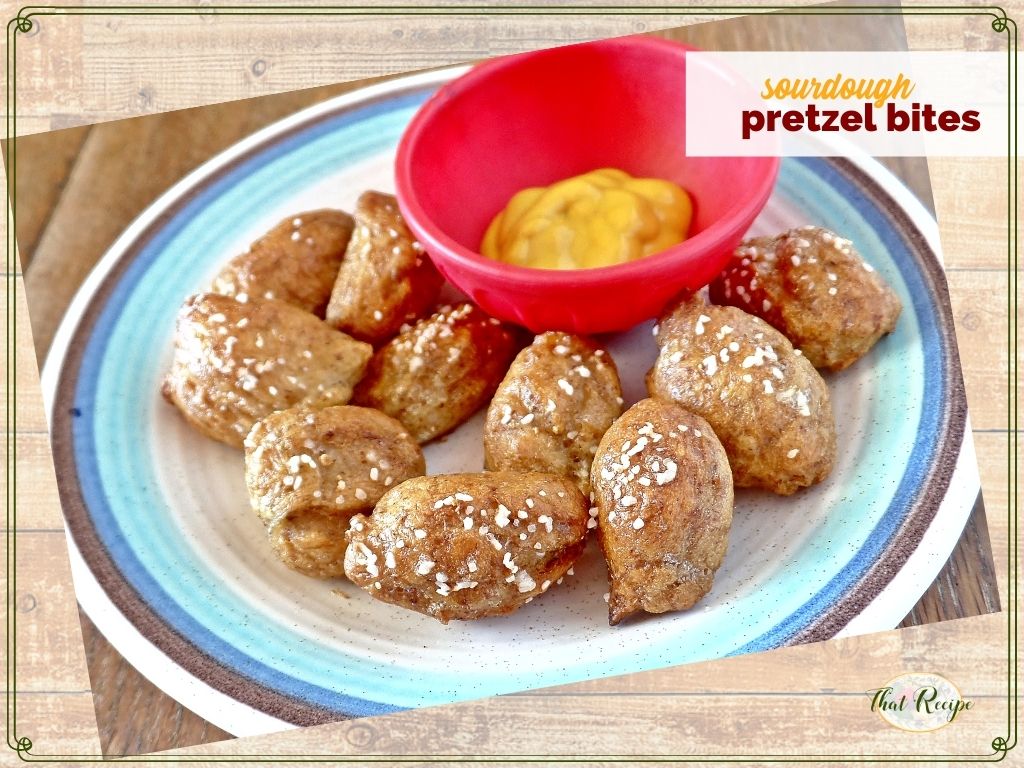 Ingredients
3 ½

cups

all purpose flour

1 ½

teaspoon

salt

1 ½

cup

water

¼

cup

active sourdough starter

6

cups

water

6

tablespoons

baking soda

1

egg white

pretzel toppings

(coarse salt, parmesan cheese, cinnamon sugar, etc.)
Instructions
Combine flour and salt in a large bowl. Mix in 1 ½ cups water and starter to make a stiff dough. Cover with plastic and set in a draft free place for 12-18 hours.

Spread a small amount of flour on a clean counter and dump out dough. Press into a large rectangle, fold over on itself and repeat a few times. Divide dough into 12 balls and roll out into long ropes about 1 inch thick. Let rest for 15-30 minutes

Preheat oven to 400 degrees. Bring 6 cups water and baking soda to a boil in a large sauce pan.

Add pretzels gently to the boiling water 2-3 at a time. Flip after 15 seconds and boil another 15 seconds. If you like them with extra pretzel taste, boil 30-45 seconds a side. Remove pretzels with a slotted spoon and place on a baking sheet so they are not touching.

Combine egg white with 1 tablespoon water and brush on pretzels. Sprinkle with desired topping.

Bake for 5-8 minutes depending on desired level of brownness.
Notes
I made half of these to eat later. I added the egg white wash but no toppings when I initially baked them. I cooked until the barely turned tan. When we reheat in the toaster oven I spray the frozen bites with cooking spray, add the topping and bake until warm throughout, about 5 minutes.
Until next time, happy eating.
~Audrey
Save