Chocolate Chip Soft Pretzels can be made in about an hour for a lightly sweet chocolatey treat.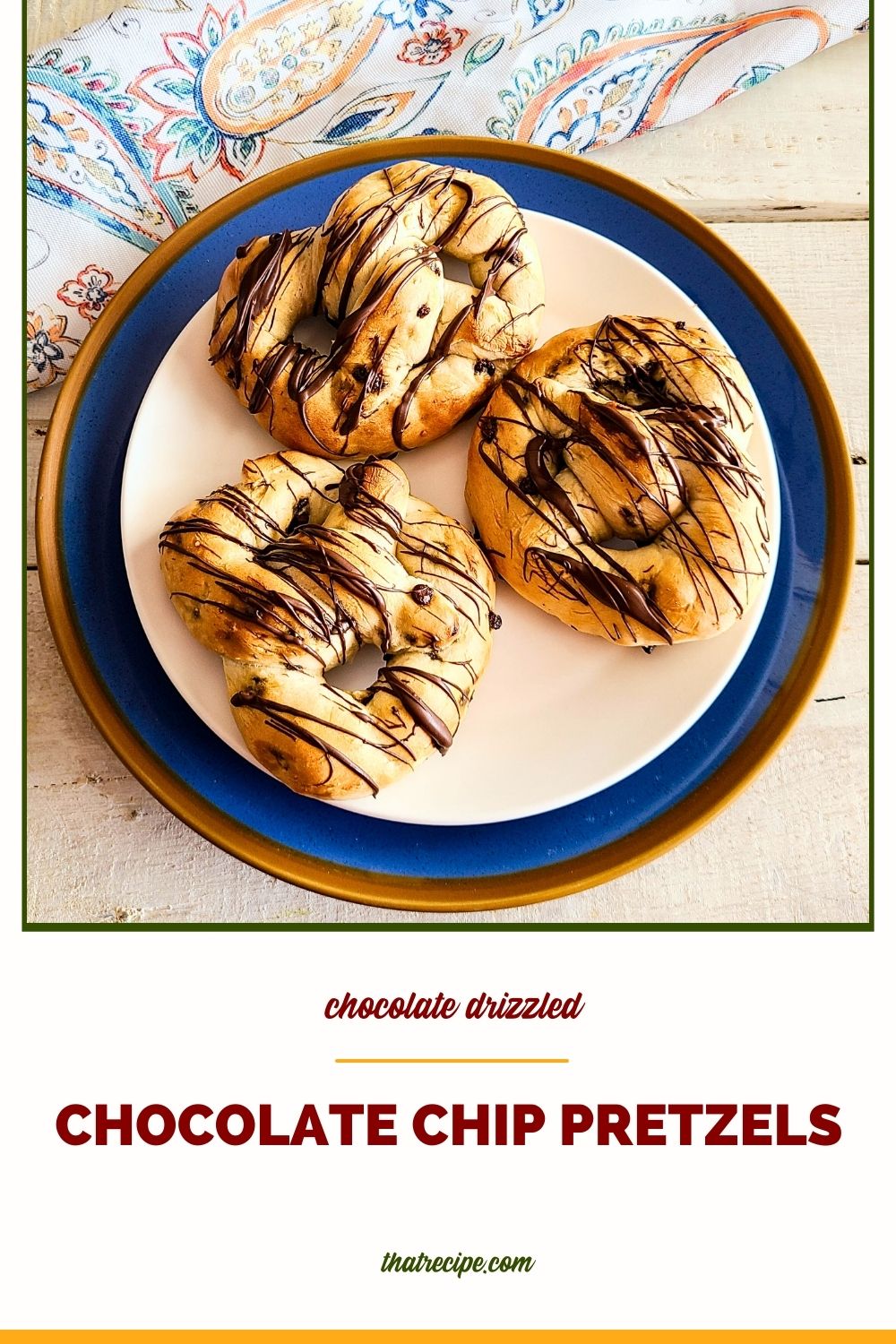 I was a little skeptical when I saw a recipe for soft pretzels that could be ready from start to finish in about an hour. The first rise alone takes longer than that!
But, I decided to give it a go. And, I was pleasantly surprised at how delicious they turned out.
My son devoured one in the car on the way home from school and then another when he came through the door. He is almost 15. I am not sure he even tasted the first one.
But, he did ask me to make them again soon, so I am guessing they passed his pretzel taste test.
Tips for Chocolate Chip Soft Pretzels
Proof the yeast, if you want. If you bake bread regularly and know your yeast is good, skip the proofing step. I ALWAYS do it, even with rapid rise yeast that isn't supposed to need it. I have been burned one to many times and waited four hours for bread to rise that never did.
Let them rise longer, if you want. The recipe this is based off of only let the dough rise 15 minutes. That's it! No doubling then shaping and a second rise. Letting the dough rise longer will give it more structure and the pretzels should be airier and larger.
Sometimes you just can't wait 3 hours for soft pretzels. Especially chocolate chip ones.
Mini chocolate chips are best if you have them. Regular sized chips might make these hard to roll, spilling out or cutting the dough. It's just a guess, I haven't tested it.
How to make Chocolate Chip Pretzels without a mixer
You can make these without the stand mixer and dough hook. It just makes the job easier.
Whisk together the flour and salt. Mix in the yeast and water then add in the additional flour using a wooden spoon (the batter is a bit thick and plastic could snap - past experience).
Knead a little longer than the dough hook method, about 7 minutes, before adding the chocolate chips.
More Pretzel Recipes from #OurFamilyTable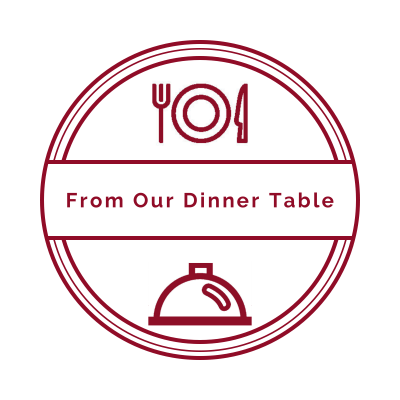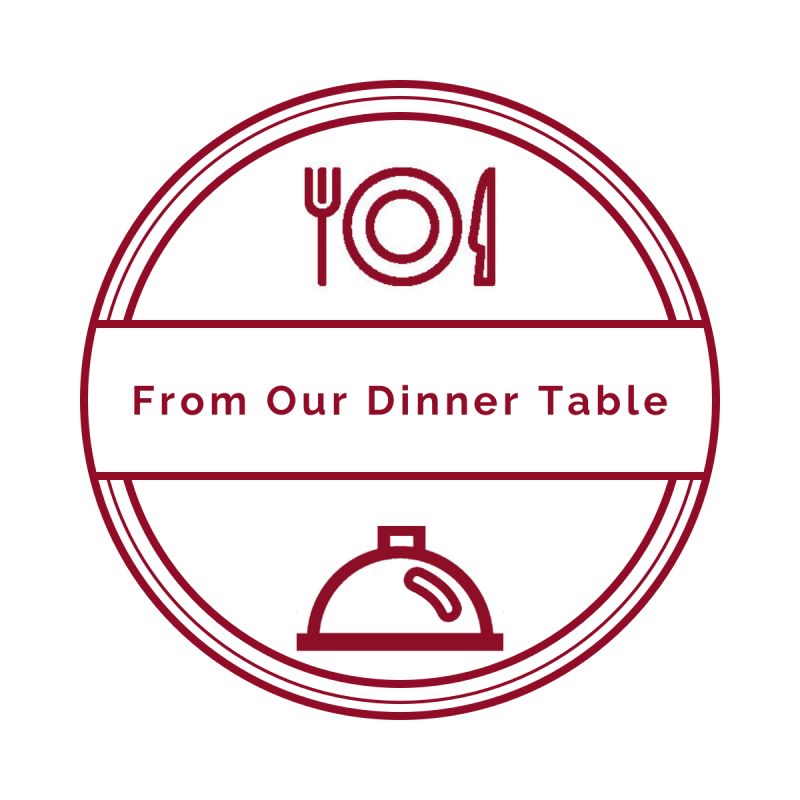 Enjoy even more pretzel perfection with these recipes.
Pretzel Perfection!

We share Recipes From Our Dinner Table! Join our group and share your recipes, too! While you're at it, join our Pinterest board, too!
Chocolate Chip Soft Pretzels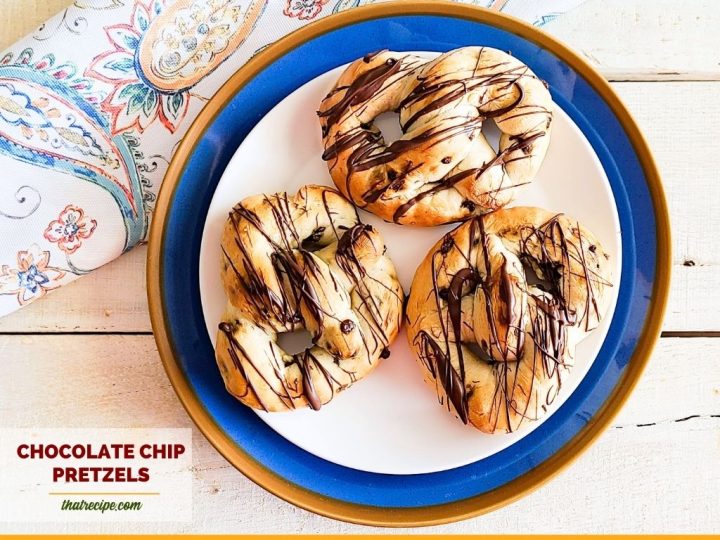 Ingredients
1 ½

cups

warm water

(about 100°F)

1

packet

rapid rise yeast

(2 ¼ teaspoons)

2

tablespoons

granulated sugar

3 -4

cups

all-purpose flour

1

teaspoon

kosher salt

¾

cup

mini chocolate chips

1

large

egg

½

cup

chocolate melts

(optional)
Instructions
Proof your yeast by combining yeast, and sugar with warm water. Set aside for approximately 5 minutes. If the mixture does not froth on the top, it is probably old and will not rise your pretzels. Get fresh yeast and try again.

In the bowl of a standing mixer fitted with the paddle attachment mix together 2 cups of flour and salt on low for 10-15 seconds. Pour in the yeast mixture and blend on medium until thoroughly mixed.

Switch to the dough hook. Add 1 ¼ cup flour until incorporated. Continue to stir in the remaining flour, one tablespoon at a time, adding flour just until the dough is lightly tacky but no longer sticky. You may not need all of the remaining four

Knead dough for 5 minutes by mixer. Mix in mini chocolate chips until evenly distributed.

Line two baking sheets with parchment paper or silicone mats.

Divide dough into 8 pieces. Lightly dust a work surface with flour. Roll out dough into a 22-24 inch long rope.

To form the pretzel, pick up each end and lift them up and out slightly while the middle stays on the work surface. Cross them then attach the ends at about 5 o'clock and 7 o'clock and press in lightly.

In a shallow bowl or pie dish, beat the egg with 1 teaspoon of water. Dip each entire pretzel into the egg wash, flipping to coat both sides. Place on baking sheets, 4 to a pan, leaving plenty of room for them to rise. Let rest 15 minutes.

While pretzels are resting, preheat oven to 425°F.

Bake for 10 to 12 minutes, until the pretzels darken. Move to a cooling rack to cool completely.

If desired, melt the chocolate melts per package instructions and drizzle over the pretzels. Let harden before serving.
Sound fabulous? Share it!
Until next time, happy eating!
~Audrey