Jump to Recipe
Print Recipe
Tabbouli (Tabbouleh) is a simple Middle Eastern salad made with whole grains, tomatoes and cucumbers with a lemon mint vinaigrette.
Tabbouli Salad (Tabbuleh) is a healthy Middle Eastern Salad made with whole grains, parsley,mint, tomatoes and cucumbers with a lemon olive oil dressing.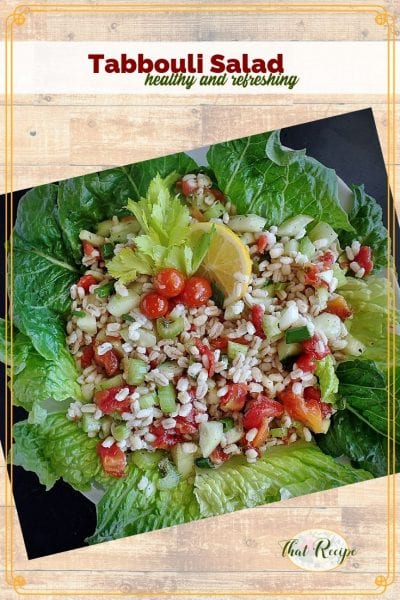 Tabbouli is simple to make, but it can take some time for the grains to cook/soak depending on what you use. Traditionally it is made with bulgur or cracked wheat, which can be ready in 5 to 45 minutes depending on how coarse the grind is. I have also used barley which takes an hour or more to cook. Or you could use couscous or even quinoa which both cook very rapidly.
Fresh herbs and firm tomatoes are a must for this. Especially the fresh parsley.
Otherwise this is a quick and simple side dish.
Easy Middle Eastern Food Recipes
We share Recipes From Our Dinner Table! Join our group and share your recipes, too! While you're at it, join our Pinterest board, too!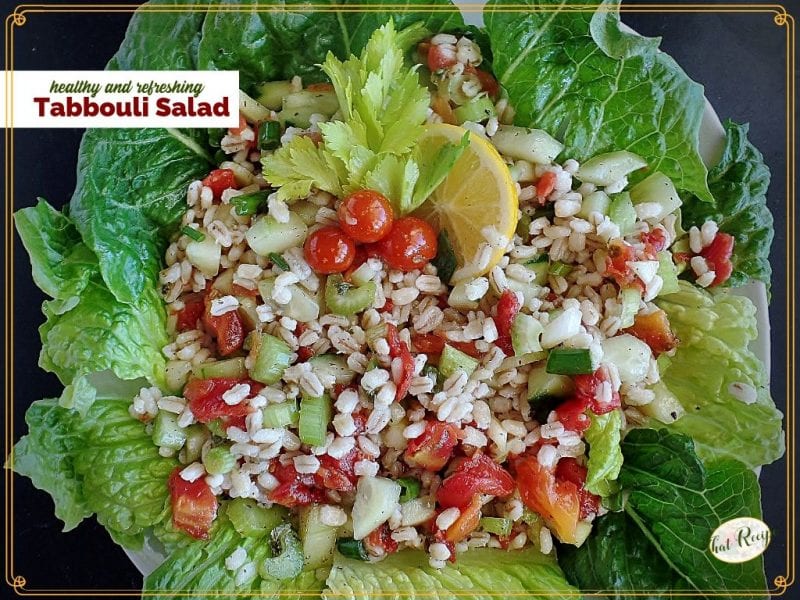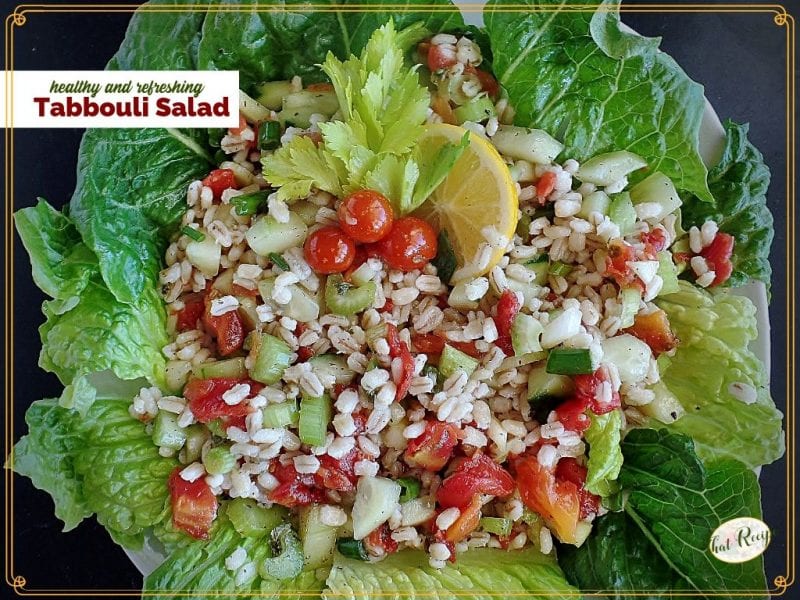 Ingredients
2

cups

cooked bulgur (cracked wheat), couscous, quinoa, or barley

2

medium

tomatoes

(diced)

1

medium

cucumber

(peeled, seeded and diced)

½

cup

green onions with tops

(chopped)

½

cup

fresh parsley

(chopped)

¼

cup

fresh mint

(chopped)

¼

cup

lemon juice

¼

cup

olive oil

1

teaspoon

salt

¼

teaspoon

ground black pepper
OPTIONAL
2

tablespoons

black or green olives

(chopped)

¼

cup

celery

(chopped)

2-3

cooked artichoke hearts

(chopped)
Instructions
Prepare bulgur or other grain according to package directions.

Combine bulgur, vegetables, and herbs in a medium bowl.

In a small bowl whisk together lemon juice, oil, salt and pepper. Immediately pour over salad ingredients and toss gently to coat.

Place in refrigerator and chill for 1 hour. Serve on individual salad plates or on a platter over a bed of lettuce leaves. Garnish with sprigs of fresh mint and a slice of lemon and tomato.