Jump to Recipe
Print Recipe
Deliciously easy classic bread pudding is a great way to use up stale bread. Mix and match flavors for an infinite variety of desserts.
Here is a basic Bread Pudding Recipe that can be made with a variety of ingredients to create an almost infinite amount of desserts.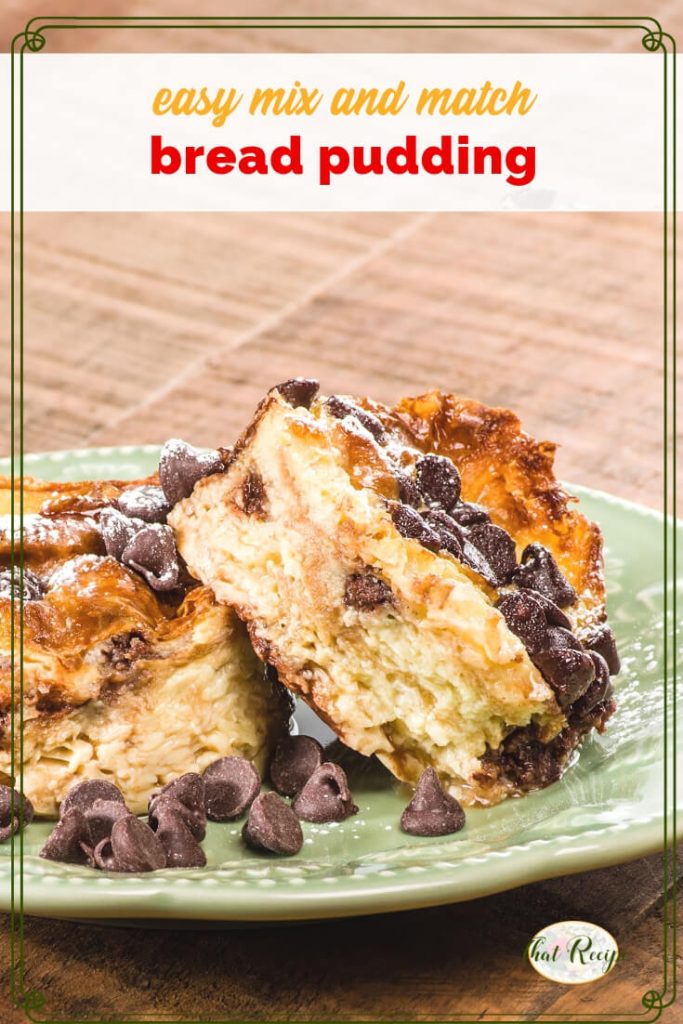 The basic recipe is delicious as is, but here are some ideas for varying it to inspire you to get creative:
Bread: Obviously you need bread to make bread pudding. If you have a loaf that is getting stale (but not moldy - yeck!) slice it in to pieces and let it soak in the milk and egg mixture like you would french toast to turn it into custard like perfection when done. You can use just about any type of bread, but rye or pumpernickel might be a bit odd for dessert. Some delicious choices besides white bread include Panettone, Hawaiian rolls, cinnamon raisin, and chocolate bread.
Mix ins: Here is where you can really get creative. You need 3 to 4 cups of "extras" to go along with the bread. Some ideas:
raisins, dried cranberries, candied citrus peel (fruit cake mix)
fresh fruit like berries or chopped apples
chopped nuts
shredded coconut
chocolate chips or chopped up candy bars
Spices: I am not a big fan of chocolate and cinnamon/nutmeg so I omit them when I add chocolate ingredients.
Liquid: You can use dairy or non-dairy milk and it will not vary the taste much. But, the liquid in the sauce offers plenty of options to enhance the pudding. It is traditionally made with brandy, but you can use other liqueurs such as Kahlua, Limoncello, Amaretto, Irish Cream. Or go non-alcoholic with fruit juice or liquid coffee syrups.
A few variations I have made are leftover Easter chocolate, with the chocolate bread, chocolate eggs and malted milk eggs: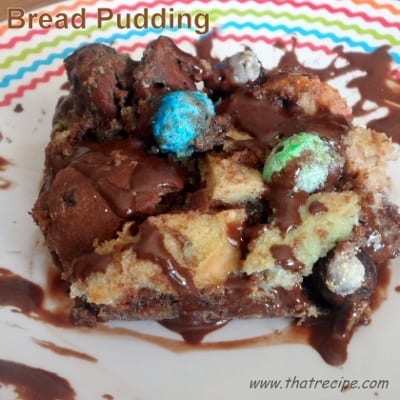 and for the adult palate there was the Panettone with Limoncello Sauce
Old Fashioned Bread Pudding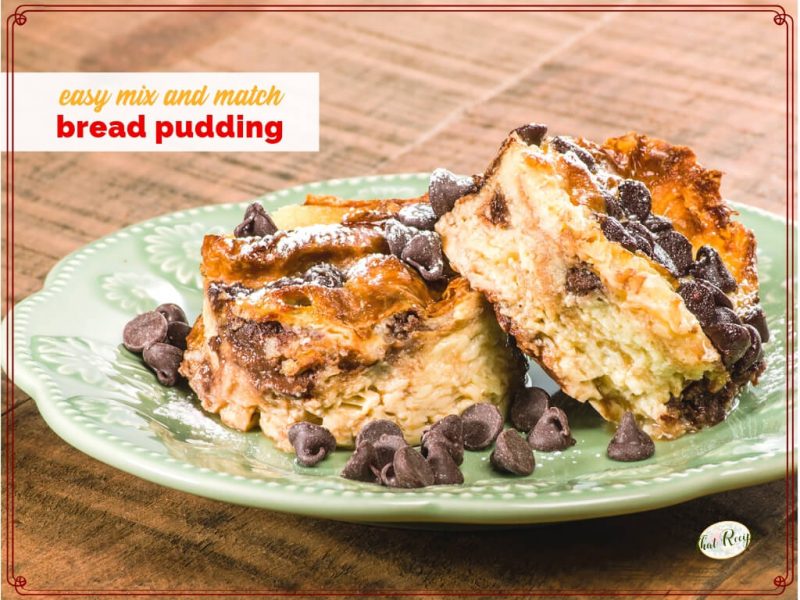 Ingredients
PUDDING
6-8

cups

any type of stale bread

4

cups

milk

(or 2 cups milk and 2 cups heavy cream)

1-2

cup

sugar

(depends on the sweetness of the additional ingredients)

3

eggs plus one white

(save the yolk for the sauce)

2

tablespoons

real vanilla extract

3-4

cups

extra ingredients

(see Note)

1

teaspoon

cinnamon

½

teaspoon

nutmeg
SAUCE
½

cup

butter

1 ½

cup

powdered sugar

1

egg yolk

(saved from the pudding)

½

cup

brandy

(other liqueur or fruit juice)
Instructions
Preheat over to 350°.

Method 1 (more pudding like): Combine bread and milk. Let stand until bread is soft. Add remaining ingredients and mix thoroughly..

Method 2 (more cake like): Combine milk, sugar, egg and vanilla. Add remaining ingredients and stir lightly until just combined. Let rest a few minutes until bread absorbs the liquid.

Pour into buttered baking dish, either 9 x 9 or 9 x 13 inches, depending upon the amount of mixture. Cook 45 minutes to 1 hour, until top is golden brown and knife inserted into the middle comes out clean. Serve warm. The sauce below is optional.

Cream butter and sugar over medium heat until all butter is absorbed. Remove from heat and blend in egg yolk. Pour in liquid gradually, stirring constantly. Sauce will thicken as it cools. Serve warm over pudding.
Notes
Along with the bread you will want to add 3-4 cups of any combination of items such as:
raisins or other dried fruit
fresh fruit such as berries or chopped apples
shredded coconut,
chopped nuts,
chocolate chips or chocolate candy bars chopped into small pieces.
Use less sugar when adding sweeter ingredients, such as candy.