Jump to Recipe
Print Recipe
Panettone Bread Pudding is a delicious way to serve leftover panettone bread. Bursting with lemony goodness in the bread, pudding and sauce.
What do you do when you have too much panettone? Turn it into this luscious Panettone Bread Pudding and top it with a spiked (or not) lemony glaze.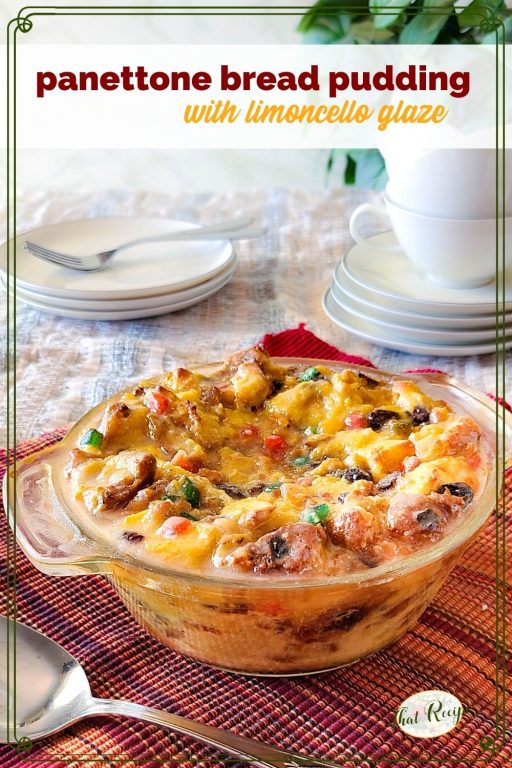 Here in the US there are displays of panettone bread in every grocery store starting mid November. It is an easy and inexpensive gift for friends, neighbors, postal carriers, etc.
Some people don't like the traditional soft spongy loaf studded with candied citrus peel and raisins. I love it! I'll eat it plain, toast it up, make French toast with it, or this bread pudding.
And to add to the lemon flavor I make a sauce with my homemade Limoncello (Italian lemon liqueur) that makes it simply irresistible.
Panettone Bread Pudding Tips
Don't stress the amounts too much. If you have a little more or less panettone, adjust the milk mixture a bit. I do advise adding about ¾ of the amount to start and adding the rest only if you want it softer.
The panettone should be stale for bread pudding. Cut it up and leave it out to dry overnight (or even two days) if it is fresh. This will allow it to absorb the custard mixture and not completely dissolve.
How do you like your bread pudding, a bit of soft bread held together by some custard or a more pudding like consistency? The trick is how long you let the bread soak and when you add the other ingredients. The longer it soaks and the more you mix it the more pudding like it becomes.
There is no right way to make it, it's all about preference.
Alcohol Free Lemon Sauce
You do not need to add the limoncello to the sauce if you want to go alcohol free. I based this version off the Bread Pudding recipe Mom got from the New Orleans School of Cooking which has a brandy sauce to go with it.
Just add juice, water, or milk and a bit of lemon juice or lemon extract instead for a similar taste profile.
Panettone Bread Pudding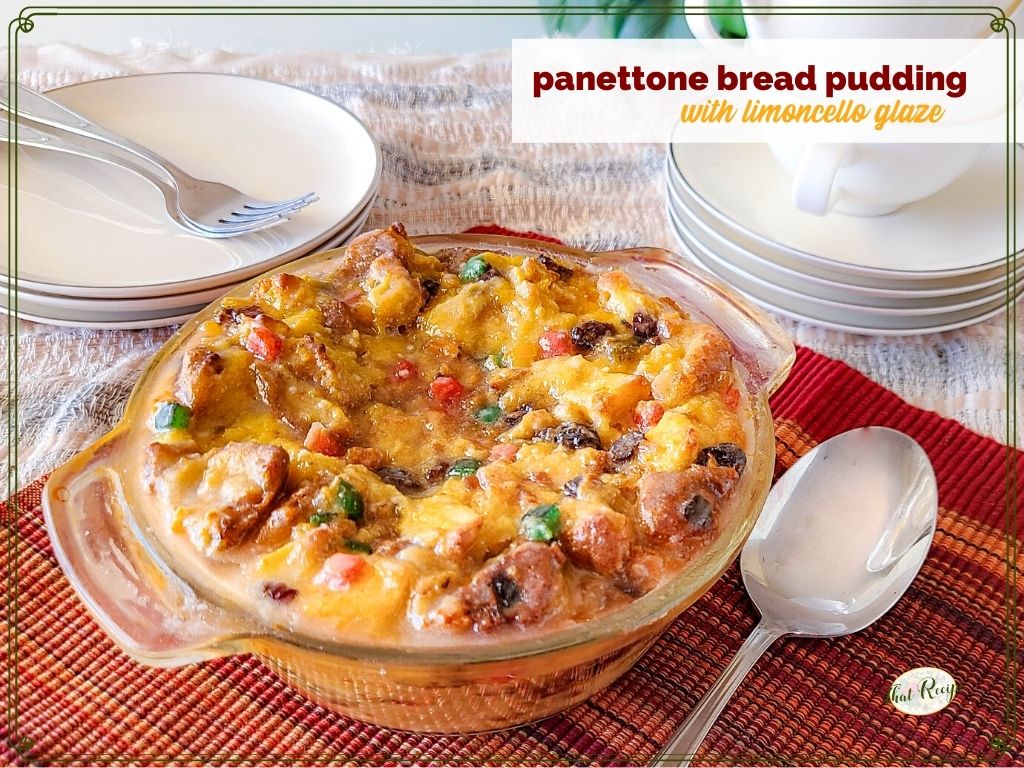 Ingredients
PUDDING
6-8

cups

stale Panettone Bread, cut in cubes

(see note)

4

cups

milk

(or 2 cups milk and 2 cups heavy cream)

1

cup

sugar

3

large

eggs plus one white

(save the yolk for the sauce)

2

tablespoons

lemon extract

½

cup

raisins or other dried fruit

½

cup

candied citrus peel
SAUCE
½

cup

butter

1½

cup

powdered sugar

1

egg yolk

(saved from the pudding)

½

cup

limoncello

(or a few tablespoons lemon juice or lemon extract to taste and some water or milk.)
Instructions
Preheat over to 350°.

Method 1 (more pudding like): Combine bread and milk. Let stand until bread is soft. Add remaining ingredients and mix thoroughly.

Method 2 (more cake like): Combine milk, sugar, egg and lemon extract. Add remaining ingredients and stir lightly until just combined. Let rest a few minutes until bread absorbs the liquid.

Pour into buttered baking dish, either 9 x 9 or 9 x 13 inches, depending upon the amount of mixture. Cook 45 minutes to 1 hour, until top is golden brown and knife inserted into the middle comes out clean. Serve warm. The sauce below is optional.

In a medium saucepan, combine butter and sugar over medium heat just until butter is melted and sugar is absorbed. Remove from heat and blend in egg yolk. Pour in limoncello gradually, stirring constantly. Sauce will thicken as it cools. Serve warm over pudding.
Notes
Bread Pudding is better when the bread is stale. If your Panettone is still fresh and soft, cut it up into pieces and leave it out on a baking sheet overnight to dry up a bit.
Sound fabulous? Share it!
Until next time, happy eating!
~Audrey