Jump to Recipe
Print Recipe
The classic Figgy Pudding of song gets a healthy sugar free and grain free makeover so everyone can enjoy this traditional treat.
Who needs a recipe for a scrumptious holiday dessert that is sugar free, gluten free and casein free? Behold the Grain Free Figgy Pudding!
What is Figgy Pudding anyway? Isn't it hard to make? If it is free of sugar and grains does it taste like cardboard?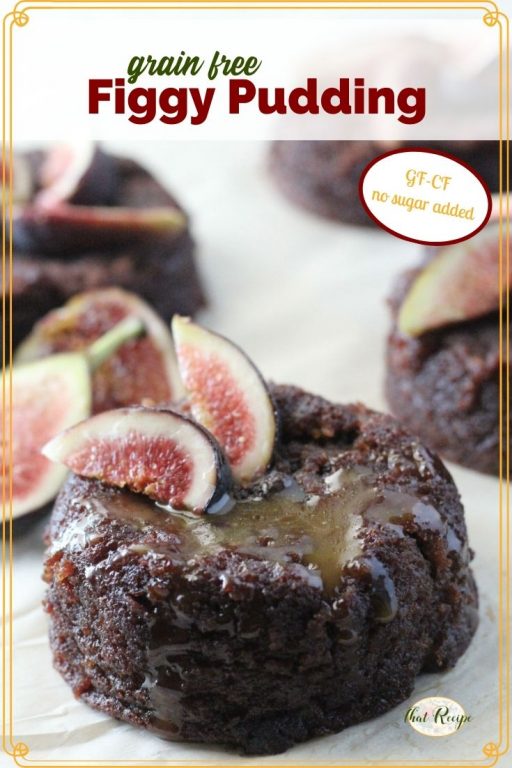 Figgy Pudding is simply a combination of fruits and spices boiled together to make a traditional Christmas dessert. It is also called Christmas Pudding or Plum Pudding.
Boiled pudding is different than the creamy stuff most people think of when they hear pudding. This is thicker and almost cake like, without the grains of course.
There are hundreds if not thousands of variations on this dish. Some use fresh figs, others dried, some no figs, some use a variety of other dried fruits. Some are steamed others are baked. Some use alcohol.
All can be delicious in their own way.
This version comes from Nourishing Holiday, Grain Free Gut Healing Recipes for Every Occasion and is not only easy to make it derives all of its sweetness from the fruit and honey.
Ingredients and Substitutions for Figgy Pudding
Here are a few ideas for switching up the recipe.
figs - the recipe below uses fresh figs, but those are hard to find in many places in December. You can use dried figs and soak them in the water for an hour or more if they seem too dry.
dates - like the figs, soak them before proceeding with the recipe if they seem too dry.
raisins - these go in at the end, but like the figs and dates, soak them in a little water if they are dry and drain before adding.
honey - you could also use agave syrup, maple syrup, etc. for a non sugar substitute.
butter - the recipe says to use ghee for a casein free substitute; coconut oil is another option.
eggs - or equivalent egg free substitute.
coconut flour - you could use another grain free substitute instead. I think almond flour would work and taste as well as the coconut.
vanilla - rum flavoring would be a nice alternative to get the flavor without the actual rum.
cinnamon - or nutmeg or cloves or a little of all three.
water - you could also swap in some or all alcohol if you prefer
baking soda -no real substitute here.
Grain Free Figgy Pudding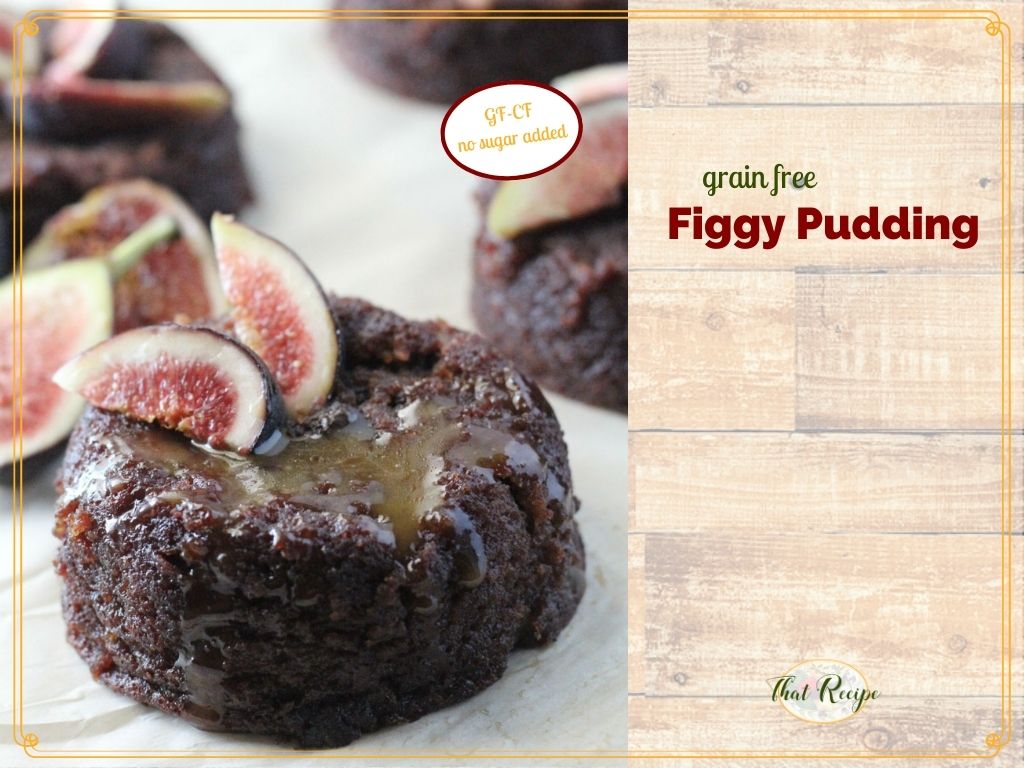 Ingredients
1 ½

cup

water

1

cup

coarsely chopped figs

(plus extra for garnish)

1

cup

dates

1

teaspoon

baking soda

½

cup

honey

¼

cup

butter

(Replace with ghee for casein-free option)

3

large

eggs

1

teaspoon

cinnamon

1

teaspoon

vanilla

¼

cup

coconut flour

½

cup

raisins
Instructions
Preheat oven to 350°.

Grease four one-cup ramekins.

Combine figs, dates, and water in a medium saucepan and bring to a boil over medium heat.

Turn heat down and simmer 10-15 minutes.

Pour mixture into the container of a high-powered blender, add baking soda, and blend on high until smooth.

Return mixture to saucepan and add honey, butter, eggs, vanilla, and cinnamon and whisk until combined.

Add coconut flour and whisk until smooth.

Fold in raisins.

Pour the batter evenly into prepared ramekins, filling each just over halfway.

Bake for 35-40 minutes.

Top with sliced figs and serve warm.