Jump to Recipe
Print Recipe
Gingerbread Spiced Sourdough Donuts are delicious treat for a holiday party, an after caroling treat or Christmas morning,
Do you love the sweet and spicy flavors of gingerbread? Then you're in for a treat with these Gingerbread Spiced Sourdough Donuts! A delectable twist on a classic pastry, these donuts will add a festive touch to your holiday baking.
Part cake donut, part yeast donut and loaded with warm spices like cinnamon, ginger and cloves these Gingerbread Spiced Sourdough Donut are a delightful treat anytime of year, especially in December.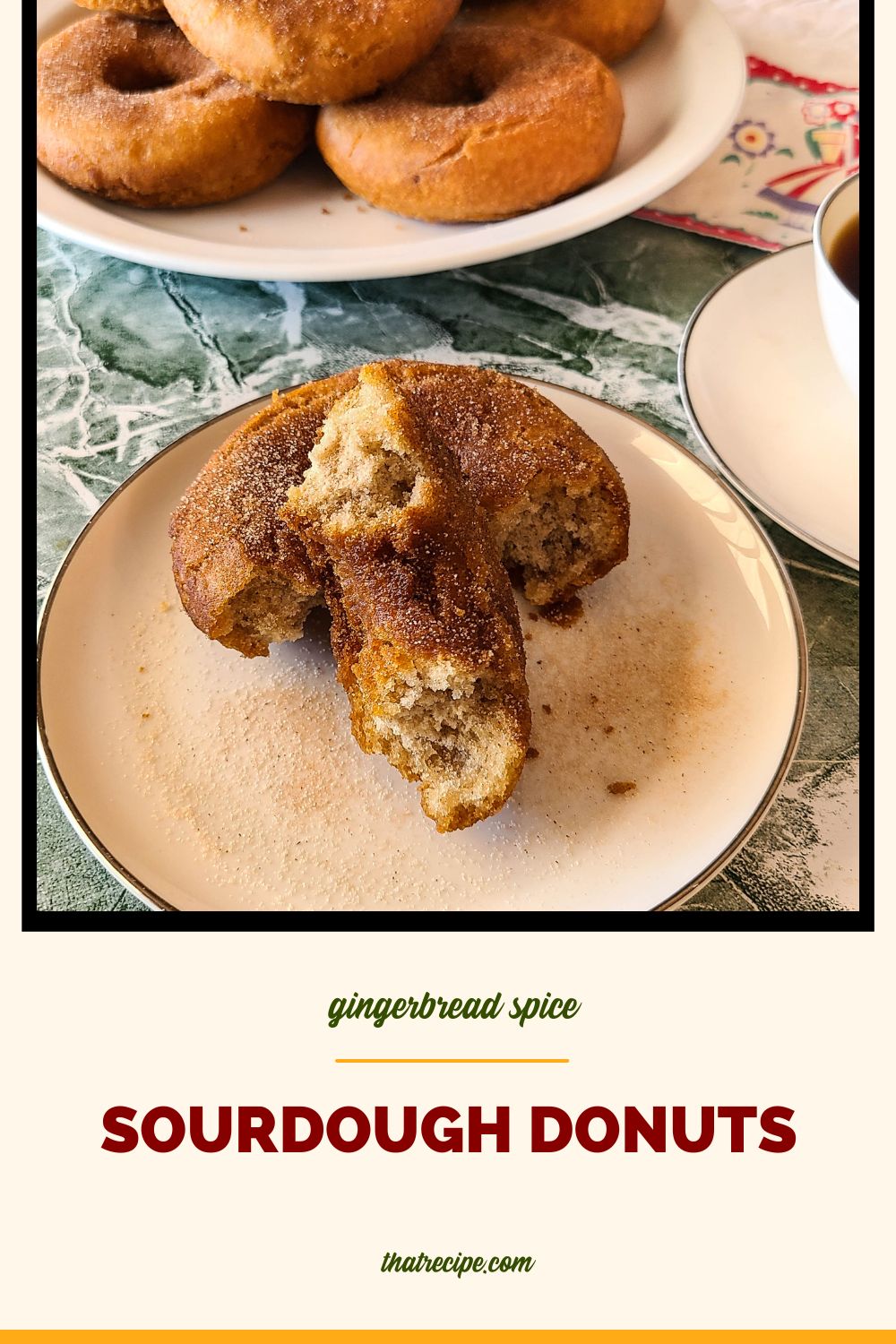 Where can I get sourdough starter?
My first recommendation for sourcing sourdough starter is to ask any of your local friends or family if they have one and are willing to share. The sourdough will be ready to use much faster than if you try to make it yourself.
If you want to start from scratch, Sourdough Home has one of the best tutorials on starting and maintaining sourdough I have found.
Can you use sourdough discard to make donuts?
I hate the term discard. Why would you throw away delicious sourdough starter even if it is inactive?
But, yes, you can use discard, or inactive sourdough for this recipe. The leavening actually comes from the baking soda. The more active the sourdough is, the fluffier the donut should be.
What spices are in gingerbread spice?
If you don't have gingerbread spice blend, you can make your own.
1 teaspoon ground cinnamon
1 teaspoon ground ginger
½ teaspoon ground cloves
¼ teaspoon ground allspice (optional)
¼ teaspoon ground nutmeg (optional)
Double the amounts if you want to make enough for the donuts plus gingerbread spice sugar for dusting the tops.
Do you need to fry Sourdough Donuts?
These taste the best when fried in oil. I hate frying because of the mess, but if done right they only sit in the oil for a few minutes.
I tried brushing them with oil and baking in an air fryer and the result was rather mediocre. They didn't seem to rise properly. If you try it and get great results, please share your technique in the comments below.
More Christmas Sweets Recipes
More Christmas Sweets Recipes: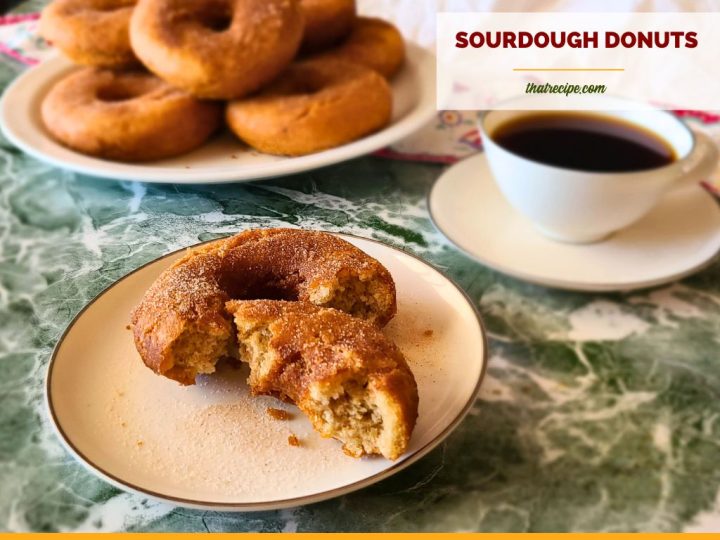 Ingredients
1

cup

thick sourdough starter

(discard is okay)

1

large

egg

1

tablespoon

vegetable oil

1

cup

sugar

2

teaspoons

gingerbread spice

2

teaspoons

baking powder

½

teaspoon

baking soda

½

teaspoon

salt

2

cups

all purpose flour

(more or less)

2

quarts

oil for frying

toppings if desired

(see note)
Instructions
In a medium bowl combine sourdough, egg, and 1 tablespoon oil.

Add sugar, spices, baking powder, baking soda, salt and 1 ¾ cup flour and stir just to combine. Do not over mix! You want a soft dough that you can roll out and cut, add more flour as needed, mixing as little as possible.

Roll out dough to about ½ inch and cut with a donut cutter (or a biscuit cutter or a glass, and cut the center with a knife).

Put donuts on a baking sheet to rise for about 60-90 minutes.

To speed it up, preheat your oven to the lowest setting then turn it off and place the donuts in the warm oven.

To prepare ahead: let the donuts rise for 60 minutes then refrigerate. Remove from the fridge to let warm up while the frying oil is heating.

If you do not have a deep fat fryer, add 1-2 quart oil to a large Dutch oven or other pot with at least 3 inch sides. Oil should be at least an inch high. Heat the frying oil to 375℉.

Cover a plate with paper towels and have it next to the stove (or fryer). Fry donuts a few at a time until golden, about 2-3 minutes a side. Remove from the oil and place on the paper towel to drain then move to a cooling rack or plate to add toppings (if desired).
Notes
You can serve these as is or top the donuts with one of the following
powdered sugar
granulated sugar
granulated sugar mixed with gingerbread spice (4 parts sugar to 1 part gingerbread spice, for example ½ cup sugar to 1 tablespoon spice)
simple glaze: thin powdered sugar with a enough milk to make a glaze (½ cup powdered sugar start with 1 tablespoon milk and adjust as needed)
gingerbread spice glaze: same as simple glaze but add gingerbread spice
Sound fabulous? Share it!
Until next time, happy eating!
~Audrey