Zip Van Winkle obviously does not understand that there was a time change yesterday. At 4:30 am this morning his eyes popped open and he was ready for action. Ugh! I wish I could be that energetic when I wake up. Of course, perhaps if he would allow me to sleep a little longer I might.
Since we were up ridiculously early, and I had a batch of Refrigerator Biscuits in the fridge, I decided we were having Biscuit Donuts for breakfast. I figured I was going to need the sugar to get me through the morning as Mommy Helper in his class.
Of course this meant I was going to have to get over my innate fear of frying. Well, I don't really fear it, but I do try to avoid for health reasons as well as the mess potential. These donuts are actually quick fried in a few minutes so they do not absorb a lot of oil, especially if you have it at the magic temperature of 375 degrees Fahrenheit.
All you need to make these are:
Refrigerated Biscuits (buy them in the can at the store or make this recipe).
Sugar - granulated, powdered, cinnamon and sugar, or icing - whatever you want to top them with.
Oil - 1 ½ - 2 quarts should be plenty
Deep Fat Fryer, Cast Iron Skillet or other heavy bottomed pan with at least 3" high sides (my directions are for the cast iron skillet - if you have a fryer you probably know how to use it)
candy/fat thermometer
slotted spoon or tongs
paper towels
Start by pouring the oil into the pan until it is about 1 ½ inches deep. Place thermometer in the back of the pan so it is in the oil, but not touching the bottom and you can easily monitor it. Start heating to 375 degrees (my thermometer is even labeled "donuts" at that mark).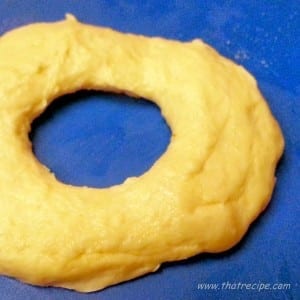 Open the biscuits, or if using the homemade version, cut them into circles. Flatten with your hand and make a whole in the middle. Make it very flat and the hole exaggerated like this photo - these will expand about 4 fold.
Put your sugar or cinnamon sugar in a small bowl if you are using it. If you are going to frost them, get that ready, but you will want to wait until they have cooled to frost or the icing will melt.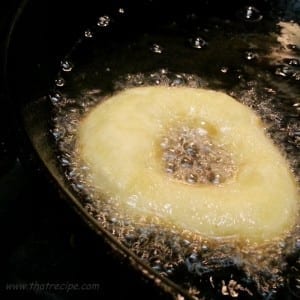 When the oil is at 375 degrees, GENTLY slide in the donuts a few at a time. Keep an eye on the temperature as you fry, when you add the donuts the oil will cool. Turn up the heat if needed, otherwise the donuts will take longer to cook, absorb too much oil and be a greasy mess. If the oil gets too hot the donuts will cook too quickly on the outside and be raw on the inside (do as I say not as I did on the first one, hee hee).
Let cook until the edges start to look brown then flip. They should only take a minute or two per side. Remove from the oil with the spoon or tongs and place on  the paper towels to absorb some of the oil. Dip in sugar. If frosting, put on a cooling rack to cool before proceeding.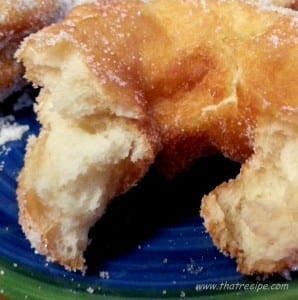 Devour. Well, that's what J and I did anyway. Sorry, Daddy...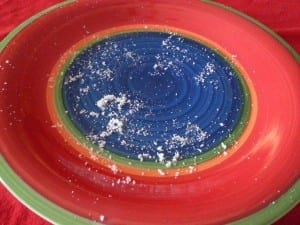 Of course next time I will have to try these Vanilla Cream Filled ones from XOXO Hannah. Krispy Kremes are my Kryptonite (well, one of many).
Until next time, happy eating.
~Audrey