Jump to Recipe
Print Recipe
Fluffy tender biscuit recipe made with three different leveners for extra lift. They take a little extra time to rise but it's worth it!
This week I decided to make Refrigerator Biscuits, mostly because I was intrigued by a recipe with not one, not two but THREE LEAVENERS! Baking powder, baking soda and yeast. It better have an "extra light texture" as proclaimed in the recipe description.
Normally, I make simple baking powder biscuits (dump ingredients, quick stir, roll, cut bake.) Quick, easy, and a bit dense. These have a few more ingredients and take a little longer, but have the added bonus of being able to be made ahead and stuck in the fridge for up to 5 days. You can also pre cut them and freeze them individually then place in a zip to lock bag. To bake them let them thaw completely and then rise for 20-30 minutes.
The biscuits are not going to rise to full size in the 20-30 minute rise period like traditional yeast bread. Don't worry, just wait until the come out of the oven!
Refrigerator Biscuits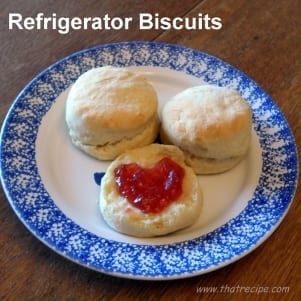 Ingredients
2

cups

buttermilk

1

packet

active dry yeast

(2 ¼ teaspoon)

1

teaspoon

baking soda

1

teaspoon

baking powder

1

teaspoon

salt

1

teaspoon

cream of tartar

2

tablespoons

sugar

4

cups

all-purpose flour

1

cup

butter or margarine
Instructions
Heat buttermilk until lukewarm (110 – 120 degrees) add yeast and stir until dissolved.

In a large bowl sift and then combine all dry ingredients. Cut in butter/margarine until it resembles small peas. Add the buttermilk and stir until completely incorporated. Refrigerate until ready to use.

To Bake: On a floured board roll out dough to about ½ inch thickness and cut biscuits, place on a baking sheet and let rest for 20 – 30 minutes. Bake in a preheated 450 degree oven for 10 minutes.
Notes
The dough keeps in the refrigerator for a few days, or you can cut them and freeze them individually. Let them thaw and then rise before baking for proper rising. 
Adapted from Miriam B Loo's Holiday Cookbook
Until then, happy eating.
~Audrey