These Cherry Root Beer Cupcakes are a simple spice cupcake with root beer concentrate and maraschino cherries.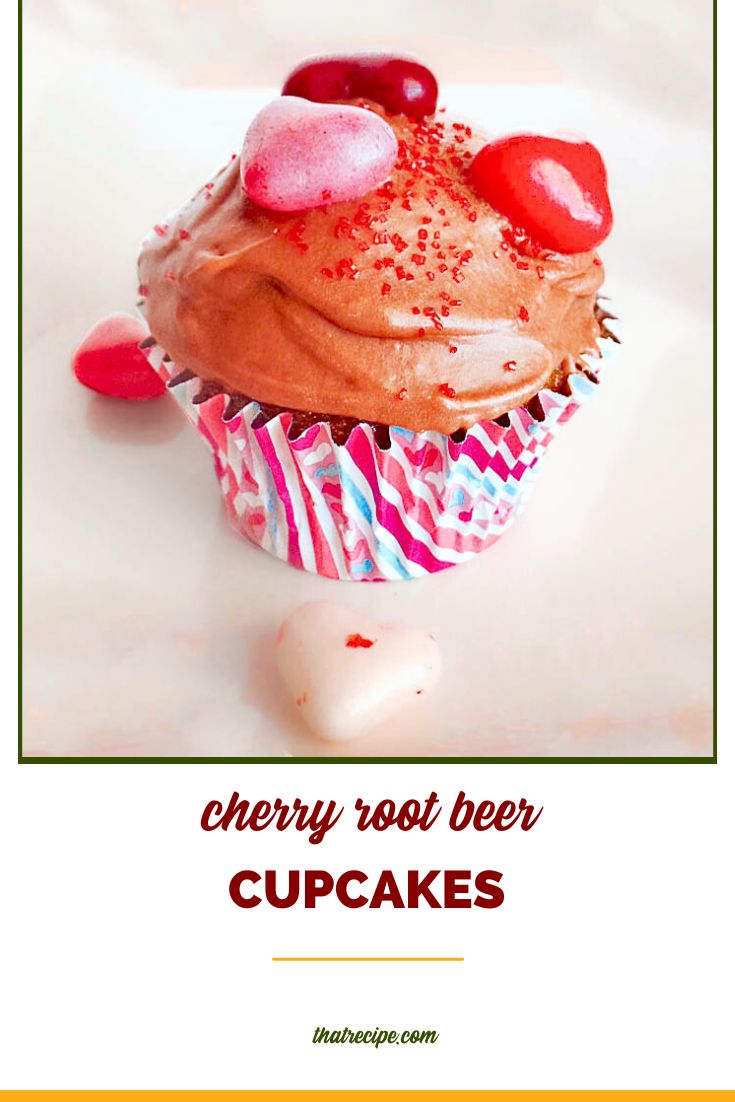 These cupcakes were for my son's teacher, so I forced him to help. And by forced I mean I said, "Do you want to make cupcakes?" then quickly got out of the way as he ran to get his apron and toque.
We pulled out the Cake Boss: Recipes from Mia Famiglia cookbook and used the Vanilla Cake recipe as our starting point.
The result is a mouthwatering moist spice cupcake with hints of cherry and vanilla.
His teacher and her family enjoyed them as much as we did.
Root Beer Concentrate
This recipe uses Root Beer Concentrate, NOT ROOT BEER. The concentrate can be used to make Root Beer. But, when added to baking it is like vanilla extract with loads of extra flavors.
I also add some maraschino cherries (complete with the syrup) for a nice pink hue. And I love cherries
The flavor is not overpowering root beer. The vanilla and spices in the concentrate give them a great spice cake taste that we loved.
I found it with the other extracts in the grocery store. If yours doesn't carry it you can ask them to order it or just order online.
Cherry Root Beer Cupcakes
Ingredients
CUPCAKES
1 ½

cup

cake flour

1

cup

sugar

6

tablespoons

vegetable oil

1

teaspoon

baking powder

1

teaspoon

root beer concentrate

¼

teaspoon

fine sea salt

2

large

eggs

½

cup

milk

1

jar

maraschino cherries

(10 ounces)
ICING
2

cups

powdered sugar

½

cup

butter

1

teaspoon

root beer concentrate

milk

(for thinning the icing)
Instructions
Preheat oven to 350℉. Line cupcake pan with cupcake liners.

Remove 12 cherries from jar for decoration if desired. Chop remaining cherries and set aside.

In a small sauce pan, cook down the cherry syrup to about one half it's starting volume.

In a large bowl of stand mixer, add flour, sugar, vegetable oil, baking powder, root beer concentrate and salt. Using the paddle attachment, mix on low until combined. Scrape down sides of bowl, then beat on medium low for 1 minute.

With the motor running add one egg at a time pausing in between until egg is thoroughly integrated. Scrape down sides of bowl, add chopped cherries then beat on medium low for 1 minute.

Pour half of the reduced cherry syrup into a measuring cup, add enough milk to equal ½ cup. With the motor running on the mixer, slowly add the milk into the batter. Scrape down sides of bowl, then beat on medium low for 1 minute.

Pour batter into the prepared cupcake pan. Bake until done, approximately 20 minutes.

While cupcakes bake, combine powdered sugar, butter, root beer concentrate and remaining reduced cherry syrup. Add milk a tablespoon at a time until it reaches desired consistency. Put in refrigerator until ready to use.

Remove cupcakes from oven and move to a cooling rack to cool completely.

When cool, ice cupcakes and decorate with reserved cherries, sprinkles, etc.
Until next time, happy eating.
~Audrey