When the category "Back to School/Children's favorite" was announced for the August edition of Fill the Cookie Jar, I asked my 6 year old what kind of cookie he wanted me to make. He immediately responded "Ninja Turtle!". Then he decided that sounded silly and changed to chocolate chip.
Since his cousins are visiting this week, I asked them what they wanted.
what were you thinking of making?
anything but oatmeal raisin
no peanut butter
snickerdoodles
chocolate chip
yeah, chocolate chip
chocolate chip is good
Six "kids" ranging in age from 6 to 22 and I got somewhat of a consensus. Lucky me. Except plain old chocolate chip seemed a little boring to me.
What a minute? How about M&M Cookies. (M&M is not a sponsor of this post, but I wouldn't object if they sent a few bags).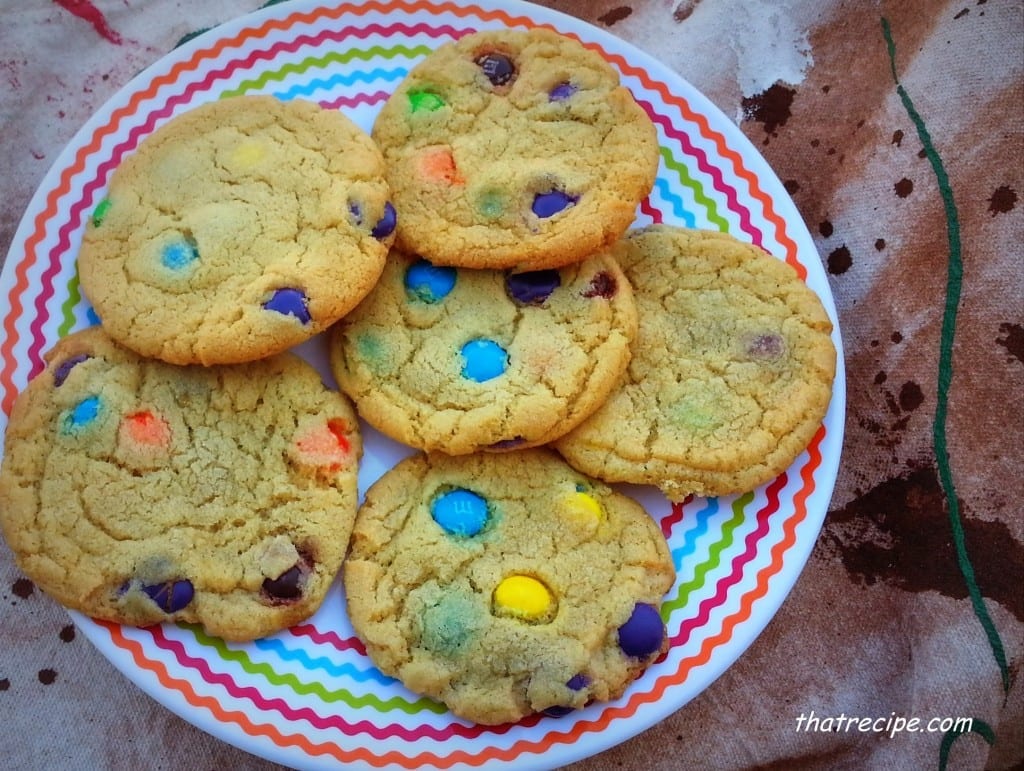 But you know my mind never stops: red, orange, blue, all I'd need is purple and I could do Ninja Turtle cookies. I casually mentioned my thought to my husband and he was off to the party supply store to pick us up a bag of purple.
Everything was falling into place. I had a vision in my mind of what to do. This was going to be so easy. Kiss... of... death...
I just freestyled the heads, put the M&Ms and candy eyes on and baked.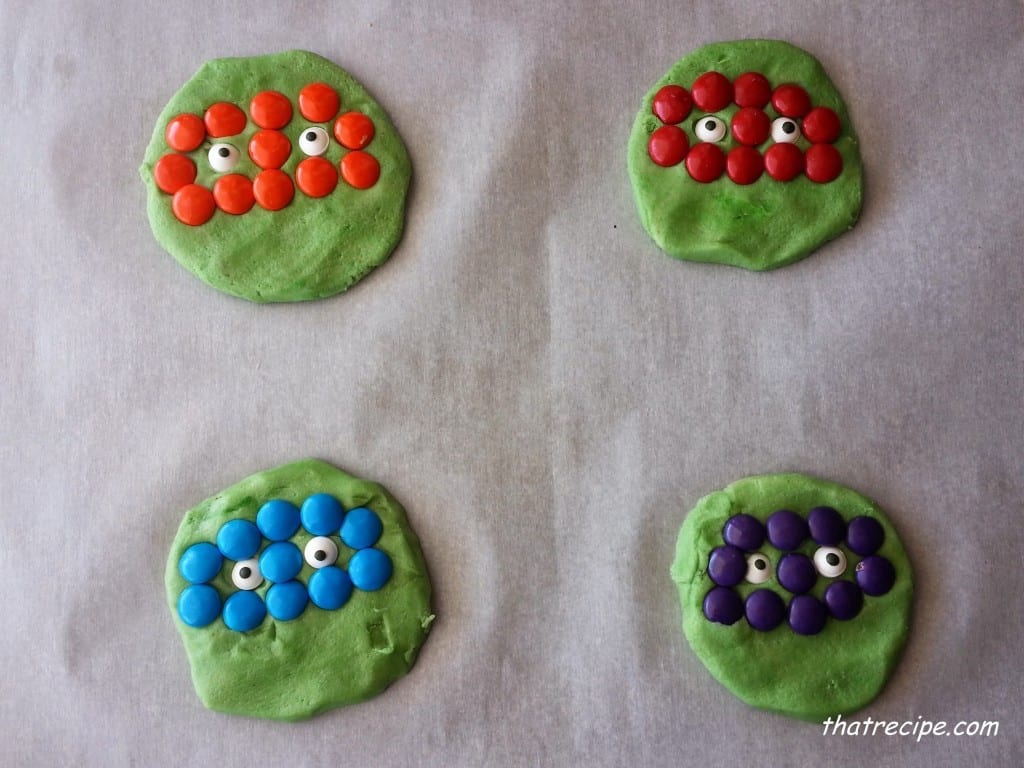 Thankfully, I was smart enough to only do one set of four first.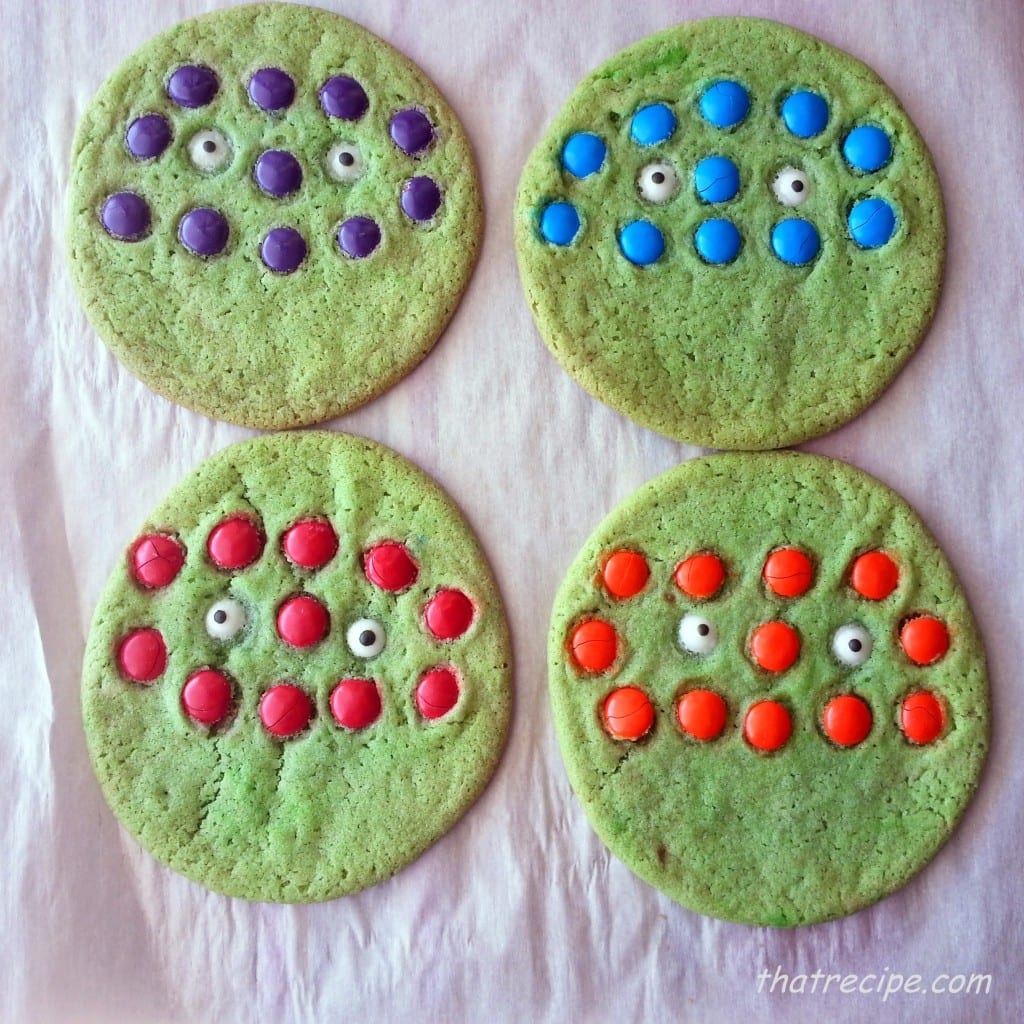 "Uh, those are too big," announced my diplomatic little critic. At least he was kind enough not to notice the eyes melted (they should not be baked!). The recipe is meant to have lots of candies mixed in the dough, without it the dough just oozed. My husband suggested I just do the letters like on their belts.
So, I added more flour to the dough and rolled them into a ball and smashed them flat.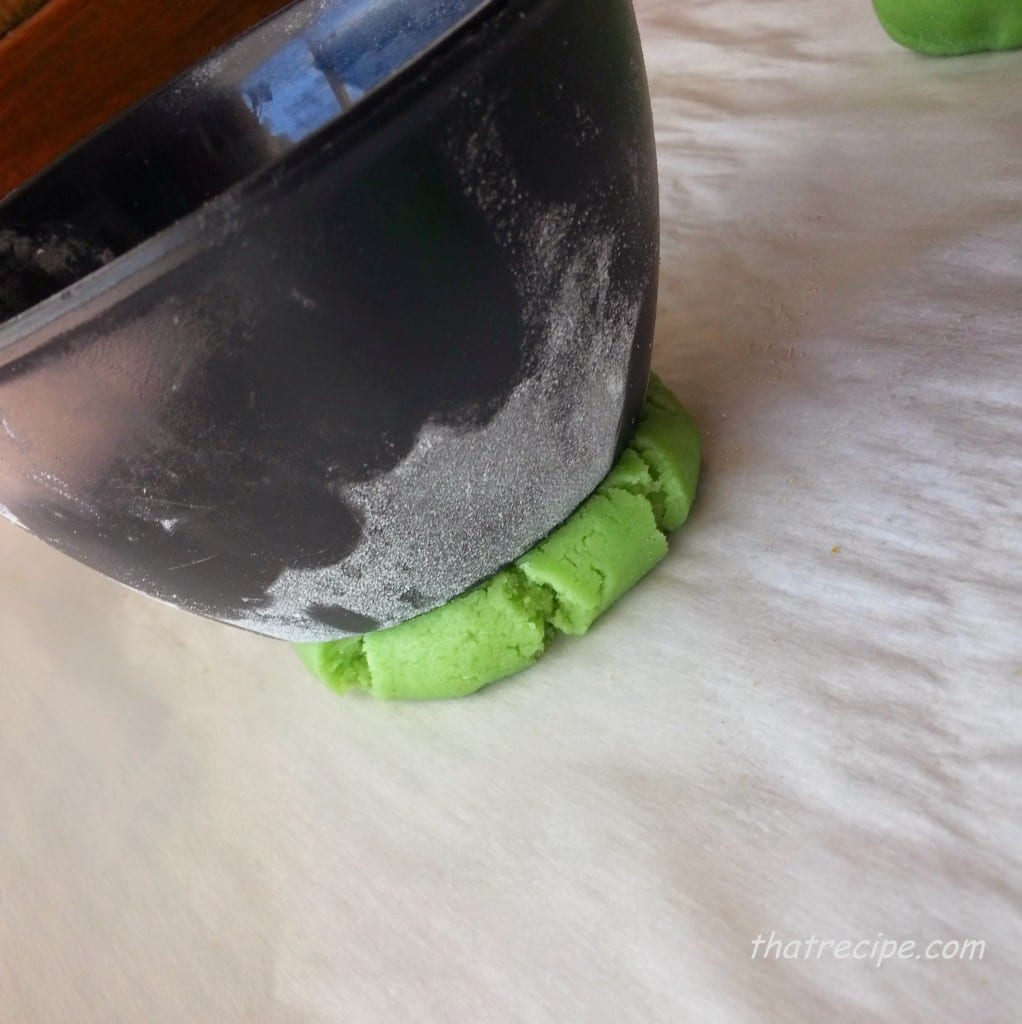 Then I stacked the M&Ms on edge very close together like this.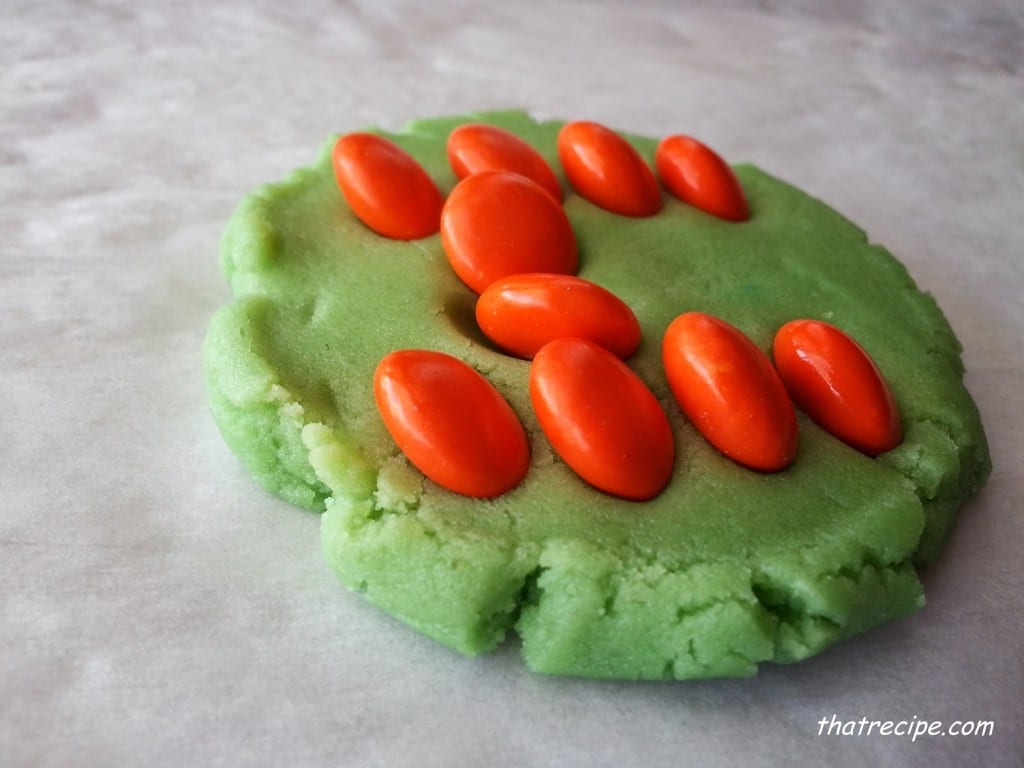 Success!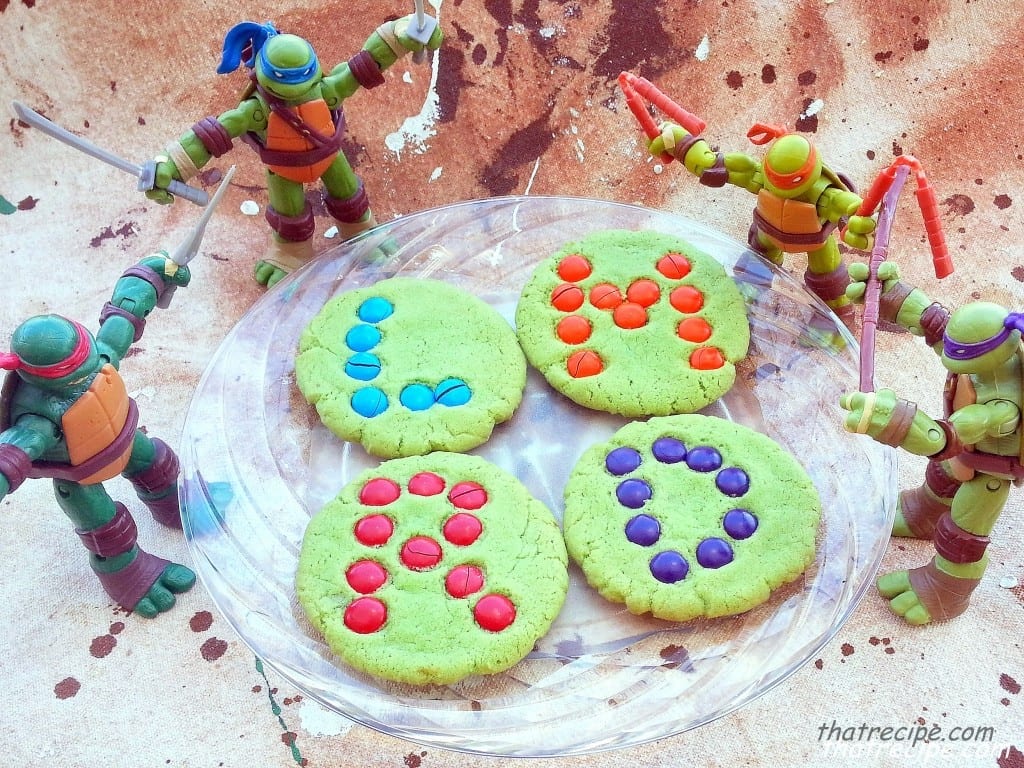 8/27/2014 UPDATE: I retried these recently to make the masks and it was sweet redemption! I used some red frosting to sitck on the eyes and make the mouth.
[click_to_tweet tweet="Make your TMNT fan happy with these M&M cookies shaped inspired by their favorite ninjas. #TMNTrecipes #M&Mcookies" quote="Make your TMNT fan happy with these M&M cookies shaped inspired by their favorite ninjas. #TMNTrecipes #M&Mcookies" theme="style2"]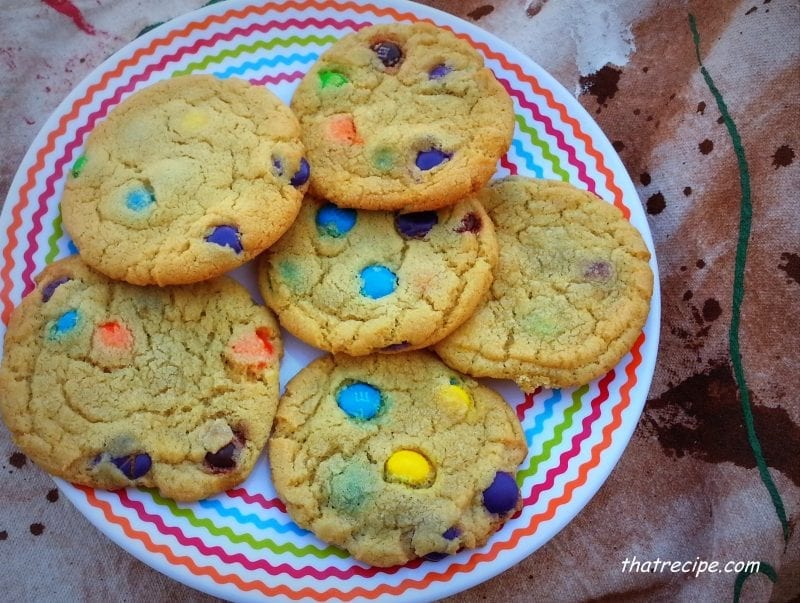 Ingredients
2 ¼

cups

all purpose flour

1

teaspoon

baking powder

½

teaspoon

baking soda

½

teaspoon

salt

1

cup

unsalted butter

(softened)

¾

cups

granulated sugar

¾

cups

brown sugar

1

teaspoon

vanilla

1

Large egg

1

cup

peanut M&Ms

½

cup

plain M&Ms
Instructions
Preheat oven to 350 degrees.

In a medium bowl mix flour, baking powder, baking soda and salt with a whisk (or sift all ingredients).

In a large bowl, cream butter and both sugars together on high until fluffy (a few minutes). Add vanilla and egg and mix on medium, scraping the sides of the bowl as needed to incorporate everything.

Add dry ingredients and combine on low speed until incorporated. Add M&Ms and mix with a wooden spoon.

Using a large cookie scoop or tablespoon drop heaping spoonfulls on a cookie sheet leaving 1 ½ to 2 inches between the cookies. Press to flatten each cookie slightly.

Bake until golden brown, about 15-20 minutes.

Variation: instead of putting the candies in the cookies, you can increase the flour by another ¼ to ⅓ cup and put the M&Ms on top in different shapes or designs.
Until next time, happy eating.
~Audrey