Are you looking to streamline your small kitchen appliances? The Ninja® Foodi™ is the solution; with one appliance you can pressure cook, air fry, dehydrate, steam, slow cook, sear, sauté, bake, roast and broil!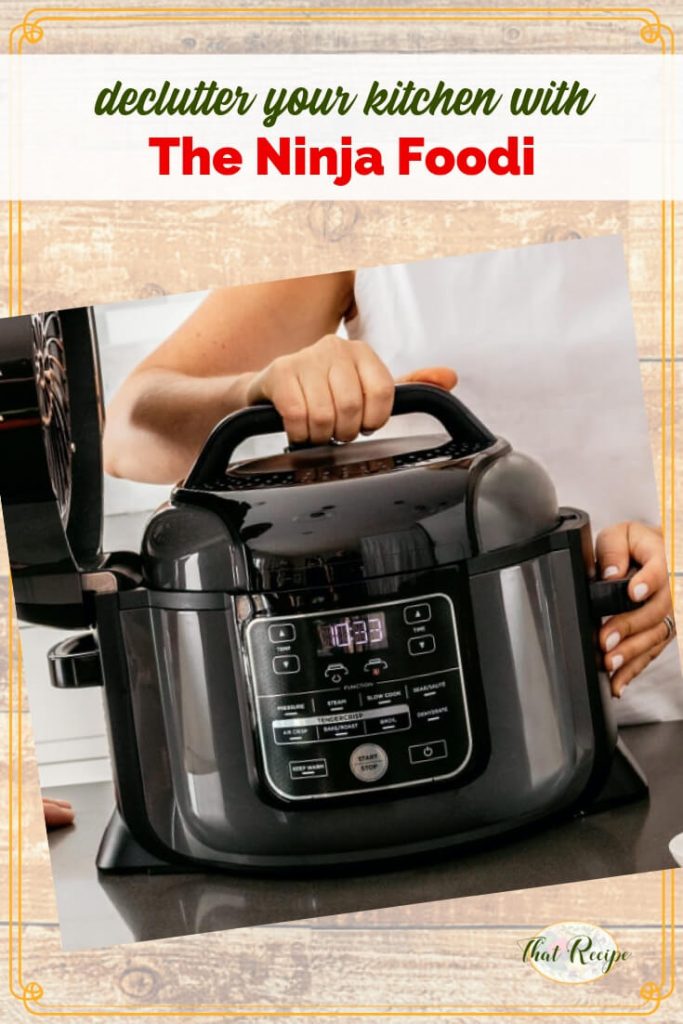 The Ninja Foodi allows you to get rid of your rice cooker, electric pressure cooker, slow cooker, dehydrator and fryer and replace it with one unit. Plus you won't need to heat up the house in the summer time turning on the oven.
Forgot to defrost something for dinner? Kids whining that they are starving? Too tired to cook a healthy meal? Not a problem.  
Slow cookers are great if you remember to put the food in and start them in the morning. Pressure cookers can cook food from frozen to done quickly. But one of the biggest complaints I hear about pressure cookers is that you can't get food to come out crispy, and let's be honest, some foods look rather bland versus oven roasting.
With the Ninja Foodi, you can pressure cook your dishes, like frozen chicken pieces, then add some sauce and finish it off in the air fryer mode for a beautiful oven roasted finish in as little as 20 minutes.
Ceramic Coating versus Teflon
I am not a big fan of non-stick coatings in general (my nice way of saying keep that cr@$ out of my kitchen). That stuff always chips off no matter how careful you are, and who wants those toxins in your food?
The Foodi has a PTFE free ceramic coating which means you won't find strange black bits of Teflon in your food. Food comes out easily and clean up is a breeze without worrying about poisoning your family. YEAH!
The Cons
There are a few drawbacks to be aware of.  The 6.5 quart Foodi weighs in at 25.8 pounds making it a bit bulky to be taking in and out of the cabinet. Luckily with all of it's features you will probably be using it regularly so you want it on your counter anyway. It is only a few inches larger than your typical electric pressure cooker.
Also, the basic lid is attached, with a separate lid you attach for pressure cooking as you see in the photo above. If you would typical store it on your counter underneath a cabinet, you will probably need to pull it forward to open the hinged lid, which could be annoying.
Which size works best for your family?
There are two models to choose from.
| | |
| --- | --- |
| Ninja® Foodi™ 6.5qt. | Ninja® Foodi™ Deluxe 8-qt. |
| Part# OP302 | Part# OP401 |
| 6.5 quart pressure cooker | 8 quart pressure cooker |
| 4 quart crisp and fry basket | 5 quart crisp and fry basket |
| holds a 6 pound chicken | holds a 7 pound chicken |
| 1400 watts | 1700 watts |
| 25.8 pounds | 31.2 pounds |
| 14.25 x 16.75 x 13.1 in | 14.25 x 16.75 x 14.1 in |
| 90 day money back guarantee | 90 day money back guarantee |
| 1 year warranty | 1 year warranty |
| $199.80 | $279 |

If you are looking to replace some kitchen appliances, or having a hard time deciding between an electric pressure cooker and an air fryer check out the Ninja Foodi and see all of the good things it can do.