Jump to Recipe
Print Recipe
Peppermint Bark Cheesecake is a delightful holiday treat with a chocolate cookie crust and white chocolate mint cheesecake filling. 
Peppermint Bark Cheesecake combines a thick chocolate cookie crust with a rich minty cheesecake filling for a delightful holiday dessert.
If you could use some cash for Christmas in the form of gift cards, be sure to scroll past the recipe for a chance to win part of $430 worth of gift cards to be given away on Thanksgiving night, just in time for Black Friday shopping.
For my Christmas present a few years ago, my little brother, tagged me in a photo on Facebook of his handwritten recipe for Peppermint Bark Cheesecake. It was the fastest and easiest way to get it to me.
So what if I have never tried to make a cheesecake before, I figured, I bought those springform pans forever and a day ago I might as well use them at least once.
First task was to reduce the recipe because his made FOUR 8" pie plate size or TWO 9" springform pan size. What can I say? He is a professional cook and making small amounts for normal household consumption is a challenge for him. Even he had to admit it made too much when I talked to him to verify how many egg whites to use. Two of his four cheesecakes went to work and one went in the freezer.
Peppermint Bark Cheesecake
Ingredients
CRUST
½

cup

butter

½

cup

sugar

1

cup

self-rising flour

(see note)

½

cup

cocoa powder

1

egg

1

cup

ground candy canes

(approximately 12 large or 36 small)

⅓

cup

butter

(melted)

1

egg

(beaten)
CHEESECAKE
24

ounces

cream cheese

3

eggs

1

egg white

11

oz

white chocolate

(melted)

½

cup

sugar

½

teaspoon

vanilla
TOPPING
hot fudge sauce or cocoa powder

crushed candy canes
Instructions
Preheat oven to 350.

Mix butter, sugar, flour, cocoa powder and egg. Roll out dough to the size of a cookie sheet then slide it on cookie sheet. Bake for 15-20 minutes (longer if you dough is thicker then ⅛"). Turn off oven and leave the cookie in until dry, about 45 minutes. It needs to be as dry as a chocolate wafer or graham cracker.

Meanwhile, pulse candy canes a few times in the food processor to crush them. Remove half and set aside for the filling.

Add the cookie to the food processor and pulse until it is crumbly but not so much it is like flour. Add melted butter and the beaten egg and combine by hand until just moistened.

Press into two 8" pie pans or one 9" springform pan. Put pans on a cookie sheet or wrap the springform pan in aluminum foil to prevent leakage.

Preheat oven to 325. Combine all cheesecake ingredients in a mixing bowl with the reserved candy canes. Mix until smooth and pour into the pan(s).

Bake for 35 minutes, pie pans , or 45-50 minutes for the springform. Watch closely for any cracks, the center should jiggle slightly when done. Remove from oven and cool on cooling rack, approximately 2 hours.

Chill in the refrigerator at least 8 hours.

Before serving, dust with cocoa powder or spread on hot fudge sauce and sprinkle with additional crushed candy canes.
Notes
If you don't have self rising flour use 1 cup flour plus ½ teaspoon salt and 1 ½ teaspoons baking powder.
Cash for Christmas Giveaway
It's time for a Christmas giveaway! Are you getting geared up for the shopping season? Do you need extra cash for Christmas?? Don't we all!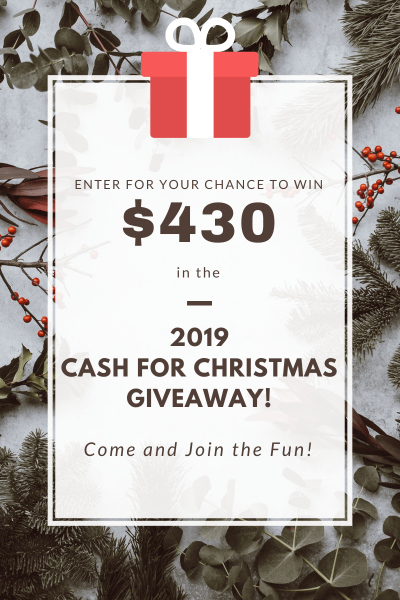 We are so excited to be giving away $430 in cash prizes for you to use starting this Thanksgiving weekend.
Here are the prizes:
1 - $150 Amazon Gift Card
1 - $100 Target Gift Card
2 - $50 Walmart Gift Card
1 - $50 Kohls Gift Card
2 - $15 Starbucks Gift Cards
There will be 7 winners in this giveaway. Each winner will receive a gift card code to use either in the online store or in the actual store.
Now its time to meet our wonderful co-hosts who have made this giveaway possible.

Starting at the top row we have:
Tammy - My Life Abundant | Heather -The Super Mom Life | Carrie - Curly Crafty Mom | Audrey - That Recipe & Munofore | Jodie - Jodie's Touch of Style | Linda - A Labour of Life | Leslie - Once Upon a Time & Happily Ever After | Trish - By Trish Sutton | Susan - Crafting A Family | Debi - Life Currents | Sinea - Ducks 'n a Row | Gladys - Mom to Grandma | Meredith - The Mom of the Year | Kellyann Rohr - This Blonde's Shopping Bag | Andrea - Living On Cloud Nine | Michelle - Our Crafty Mom | Kristin - White Arrows Home | Emily - Domestic Deadline | Kathleen - Our Hopeful Home | Jamie - As For Me and My Homestead & Coffee With Us 3 |Ahna - Ahna @ Hammers N Hugs | Lois - Walking on Sunshine Recipes | Christy - Ice Cream N Sticky Fingers | Donna - Blog by Donna | Beverly - Eclectic Red Barn | Lisa - Blogghetti | Erlene - My Pinterventures | Janelle - Num's the Word |Tammy - Creative K Kids
Please stop by and say hi to these wonderful ladies and their blogs.
The giveaway will end at 11:59pm on November 27th on the day beforeThanksgiving. You will have 48 hours to respond to the email claiming the prize. If you respond right away, we will get you the gift card code promptly so that you can shop with it on Black Friday! If we don't hear in 48 hours, we will have to choose another winner.
Open to anyone who can receive gift cards from Amazon, Target, Walmart, Kohls, and Starbucks