Jump to Recipe
Print Recipe
White Posole (Pozole) is a milder Mexican Hominy Stew traditionally served on New Year's for good luck and other special celebrations.
White Posole is a mild but flavorful Mexican hominy stew made for special occasions such as New Year's, weddings and birthdays.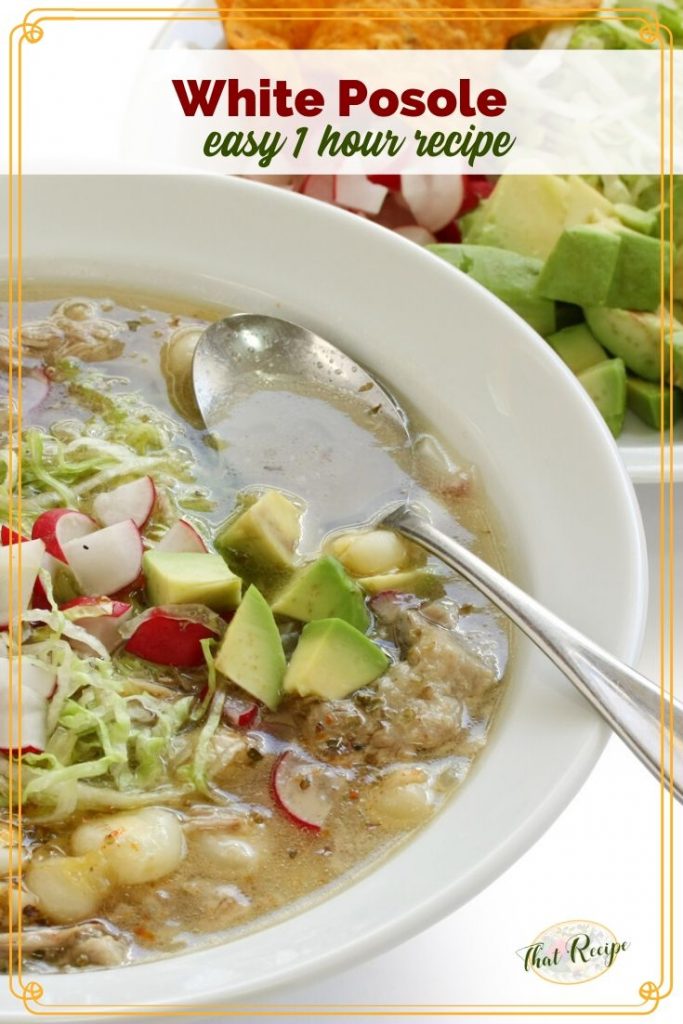 Whether you spell it posole (like we do here in Southern California) or pozole like in Mexico it is still a hominy stew. Just a regional difference in spelling.
This is a "white" posole and on the milder side. Red Posole contains chilies, giving it a vibrant red color and considerably more spice.
Unlike traditional recipes that cook for hours and hours, this version cooks up in under an hour and has far less fat.
But, make no mistake it is full of flavor.
Ingredients for White Posole
Pork shoulder is an inexpensive cut that makes a great stew.
Canned hominy is used here for the speed. Dried hominy takes considerably longer and even Bon Appetit notes that it makes little to no difference.
Vegetable broth can be used instead of the chicken broth.
Canned diced chilies and fresh jalapeno are both used. The diced chilies are mild, while the fresh jalapeno is going to add more heat.
Onions and garlic: fresh is best.
Spices include: cumin, ground cloves, black pepper, and cayenne to taste.
Optional extras for serving:
fresh chopped oregano, onion and cilantro
fresh salsa
lime wedges
corn tortillas or chips
shredded lettuce or cabbage
thinly sliced radishes
avocado wedges
chopped fresh tomato
Pork Posole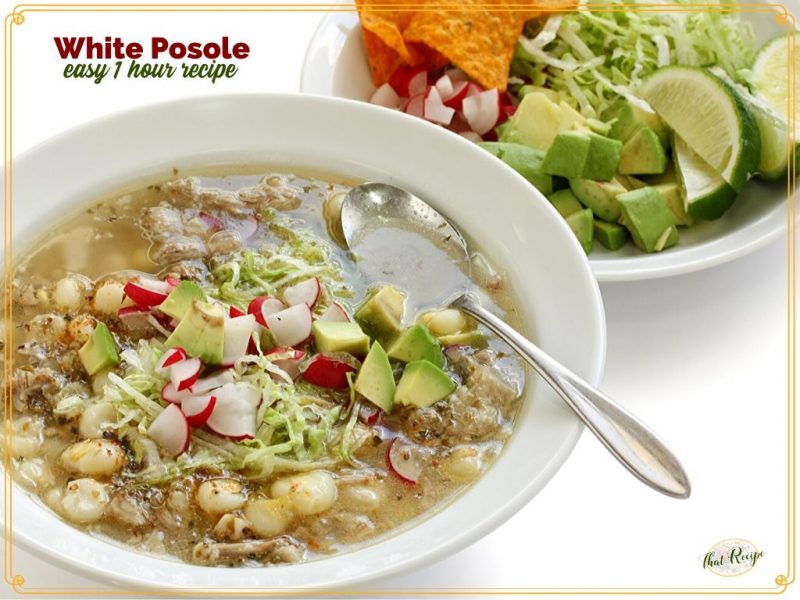 Ingredients
1

pound

boneless pork such as shoulder

(cut into 1 inch cubes)

½

cup

onion

(chopped)

1-2

clove

garlic

(finely minced)

½

teaspoon

black pepper

½

teaspoon

ground cumin

½

teaspoon

ground cloves

¼ - ½

teaspoon

cayenne

(ground red pepper)

2

cups

chicken broth

14

ounce

can hominy

(including liquid)

4

ounces

canned diced green chilies

1-2

jalapenos

(diced)
Instructions
Heat a heavy stew pot or large cast iron skillet or Dutch oven. Add pork cubes and brown, stirring constantly.

Add onion, garlic and spices. Cook until they are translucent, again stirring constantly.

Add the broth. Bring to a boil, reduce heat and simmer on medium for about 10 minutes.

Add the hominy, including the liquid, chilies and jalapeno (if using). Stir together.

Bring back to boiling, reduce heat and simmer on low for about 30 minutes, stirring occasionally. Add additional liquid if necessary. The meat should begin break apart and the sauce should be fairly thick.
Notes
Serve with any of the following:
fresh chopped oregano, onion and cilantro
fresh salsa
lime wedges
corn tortillas
shredded lettuce or cabbage
thinly sliced radishes
avocado wedges
chopped fresh tomato
Until next time, happy eating!
~Audrey