Gumbo is quintessential Cajun or Creole comfort food. A hearty stew made with shrimp or chicken and okra. My parents developed this easy Cajun Gumbo recipe that can be ready in under an hour.
Cajun Creole versus Creole Gumbo
Cajun Gumbo uses a roux, while Creole uses file (pronounced fee-lay) powder as a thickener and also adds tomatoes. This recipe is Cajun.
Browned Flour Roux
My mom uses Paul Prudhomme's browned flour recipe, which begins by literally browning the dry flour in a skillet to a nice toasty brown color before beginning. It takes about 10 minutes to do it properly (low and slow!) but it takes a lot of the guess work out of making the dark roux you need for Gumbo.
A word of warning
Mom's only caution for this recipe is to constantly monitor the heat when browning the flour and vegetables. When in doubt, turn the heat down a little and cook a bit longer.
This recipe is a little on the mild side as Cajun recipes go for a reason. Dad didn't like spicy foods. So we would make things mild and then add our own hot sauce and file at the end to suit our own tastes.
Cajun Gumbo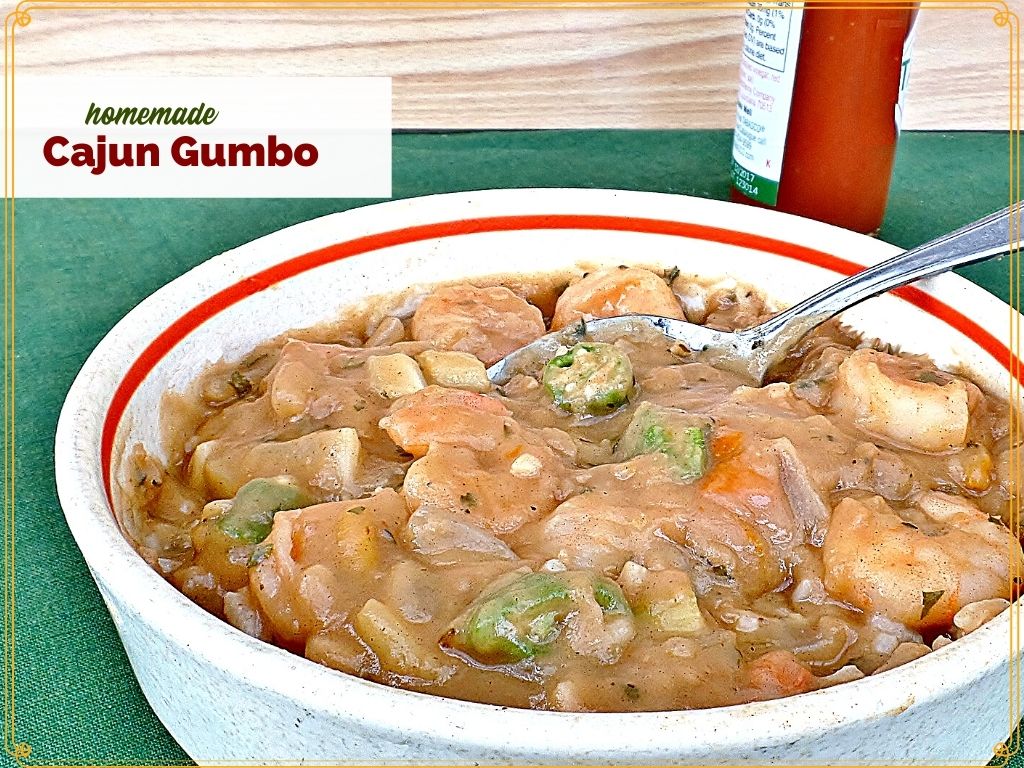 Ingredients
¾

cups

flour

2

tablespoons

oil

1

pound

chicken breasts and/or thighs

(cut in ½ inch pieces)

1

cup

celery

(chopped)

1

cup

onion

(chopped)

1

cup

bell pepper

(chopped)

¼

cup

fresh parsley

(chopped)

3-4

cloves

garlic

(minced)

1

tablespoon

thyme leaves

(chopped)

black and cayenne pepper

(to taste)

3 ½

cups

chicken stock

½

teaspoon

Worstershire sauce

1

pound

fresh or frozen okra

(cut into ½ inch rings)

4

cups

cooked rice or penne pasta

hot sauce and file powder

(for serving)
Instructions
Use medium heat and a dry, small skillet. Brown flour stirring constantly with a fork until medium brown, about the color of walnut shells. Watch carefully, to prevent burning. If it does burn, throw it out and begin again with fresh flour.

Heat a deep cast iron skillet or Dutch oven over medium-high heat. Test the temperature of the pan by lightly gently tapping the top edge of the pan with the tip of your index finger. Heat the oil in the hot pan until it begins to sizzle and turn heat down to medium. Add the chicken cubes or shrimp, vegetables, garlic, herbs and pepper and stir until lightly browned.

Add the browned flour and stir until all ingredients are evenly coated with the flour. Reduce the burner temperature as required to keep from burning ingredients.

Add the chicken broth and Worchester sauce; turn the burner heat up to medium-high and bring liquid to a boil. Reduce heat and simmer covered, stirring occasionally, until meat is cooked. Add okra and cook until it is done to your liking. Frozen okra requires less cooking time.

Correct the seasoning. Add salt if needed.

Serve over cooked rice or pasta with bread on the side. Place bottles of hot sauce and file' on the table so diners can add to suit their tastes--mild, medium hot or native Cajun Wow!
Until next time, happy eating.
~Audrey
Save