Jump to Recipe
Print Recipe
Homemade Rocky Road Ice Cream - rich chocolate ice cream with marshmallows, chocolate chunks and almonds with less sugar than traditional ice cream.
Rock their taste buds with this easy homemade Reduced Sugar Rocky Road Ice Cream recipe.
There is some debate about the origins of "Rocky Road" and what ingredients it contains.
Some say it started in Australia as a way to sell chocolate and nuts that didn't fair so well in transport - named Rocky Road because of its journey across the ocean to Australia.
Dreyer's Ice Cream claims it's founder invented it and named it because of the Rocky Road people had to deal with after the 1929 stock market crash and subsequent Great Depression.
Does it matter? It is delicious no matter how it got started.
Here in the US, it is traditionally chocolate candy (or ice cream) with mini marshmallows and nuts. Aussies add coconut and glace cherries. In the UK, cookies (biscuits) are added.
What kind of nuts to use can turn into another debate.
Ingredients for Rocky Road Ice Cream
By the powers vested in me by the Internet, I hereby proclaim YOU CAN ADD THE INGREDIENTS YOU WANT!
I went with mini marshmallows, raw almonds and some dark chocolate.
I simplified the recipe from many I saw out there and added only half and half instead of part whole milk and part cream. This made the recipe "fatter", but also simpler for me.
Since we are quickly approaching swim suit season I used a stevia baking blend, which has 75% less sugar in it. Use sugar, use your favorite no calorie sweetener, whatever you prefer.
I used raw almonds, but you could opt for peanuts or pecans. Toast them slightly and let them cool before mixing in the ice cream for even more delicious nutty flavor.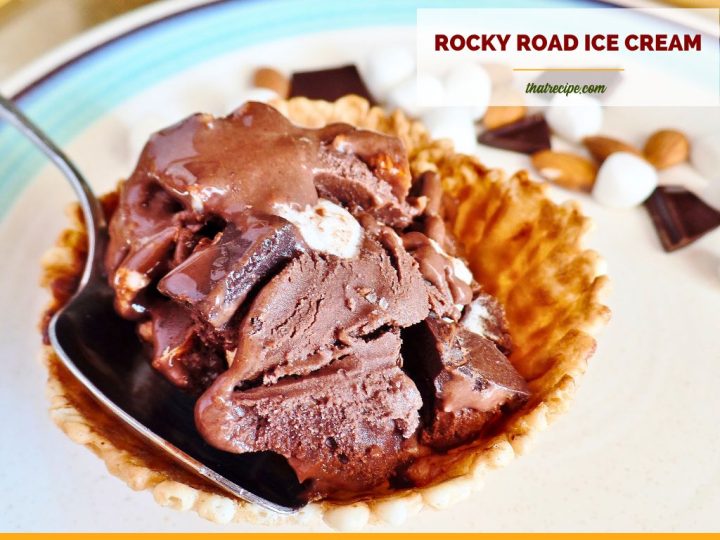 Ingredients
½

cup

stevia/sugar baking blend

(or 1 cup sugar or the equivalent of low calorie sweetener of choice)

1

cup

unsweetened cocoa powder

2 ½

cups

half and half

(divided use - or 1 ½ cups whole milk and 1 cup heavy cream)

3

large

eggs

1

tablespoon

vanilla extract

⅓

cup

mini marshmallows

⅓

cup

bite sized chocolate chunks

(milk, semi sweet or dark chocolate)

⅓

cup

chopped nuts

(almonds, peanuts, walnuts, etc.)
Instructions
In a medium saucepan, whisk together cocoa and sugar until blended.

Add 1 ½ cups half and half (or the milk if using milk/cream combo) and the eggs whisking until smooth.

Heat over medium heat until custard begins to thicken. Remove from heat and let cool slightly, about 5 minutes.

Slowly add remaining 1 cup half and half (or cream if using) and vanilla, whisking continuously until smooth. Refrigerate until cold (at least one hour).

Freeze in ice cream freezer per manufacturer's direction, adding marshmallows, nuts and chocolate in the last 5 minutes of churning. Freeze at least 2 hours until hard.
Sound fabulous? Share it!