Jump to Recipe
Print Recipe
This Rose Milk Gelatin is a refreshing floral dessert perfect for a tea party, bridal shower or baby shower. Similar to rose milk pudding.
This Rose Milk Gelatin is a surprisingly refreshing floral dessert that is perfect for a tea party, bridal or baby shower, etc.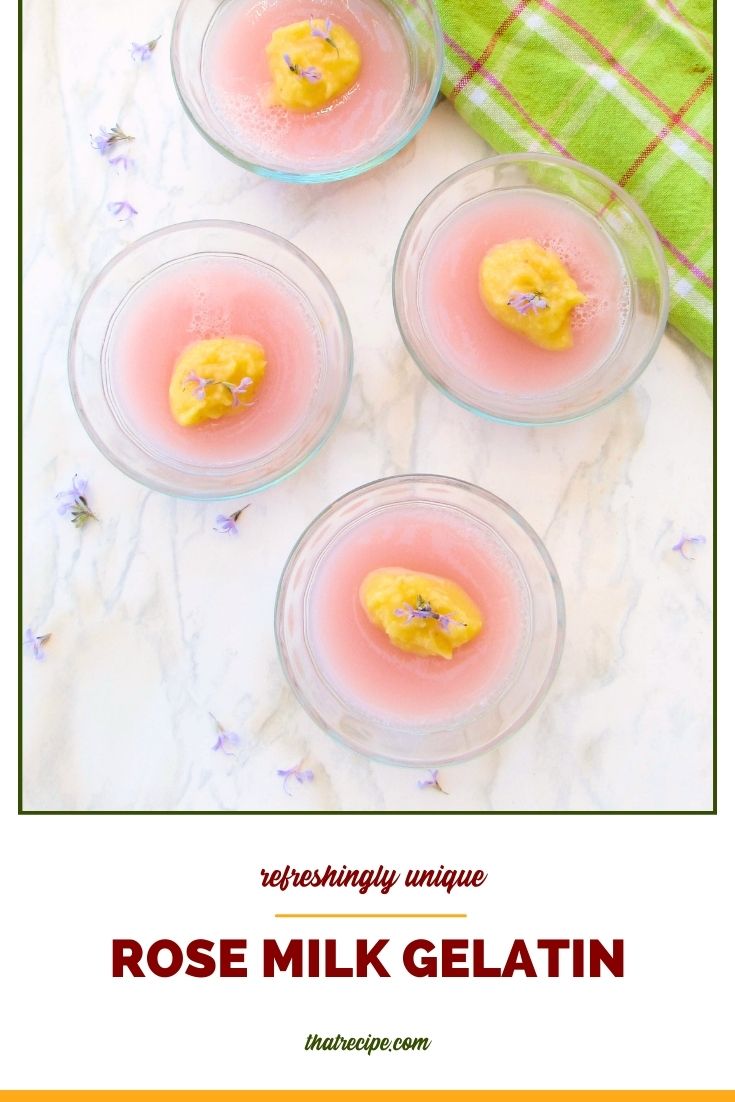 This recipe started as Almond Milk Curd and then a substitute here and a substitute there and suddenly it was a completely new recipe.
I thought it was unique, but I found out it is quite similar to Rose Milk Pudding. The pudding has more milk and thus a creamier texture, and this is more gelatin like.
Rose Milk Pudding is often served with nuts such as pistachios or almonds. I served mine with lemon curd and a few rosemary flowers I plucked off one of my rosemary plant. It was a wonderful combination.
What do roses taste like?
If you have never tried anything with edible flowers or extracts, it tastes pretty much like it smells. Which makes sense considering how closely taste and smell are related.
Be sure to use rose water made for culinary use and not essential oils. It can often be found with the extracts or in the liquor department of the grocery store, or do like I did and buy a bottle on Amazon and have it on hand for forever and a day! You only need a small amount for the rose flavor to come through.
The rosemary blossoms have a light rosemary taste. When using edible flowers, make sure your flowers are organically grown, unless you want a mouth full of pesticides. I am an organic gardener, so I know they are safe.
Rose Milk Gelatin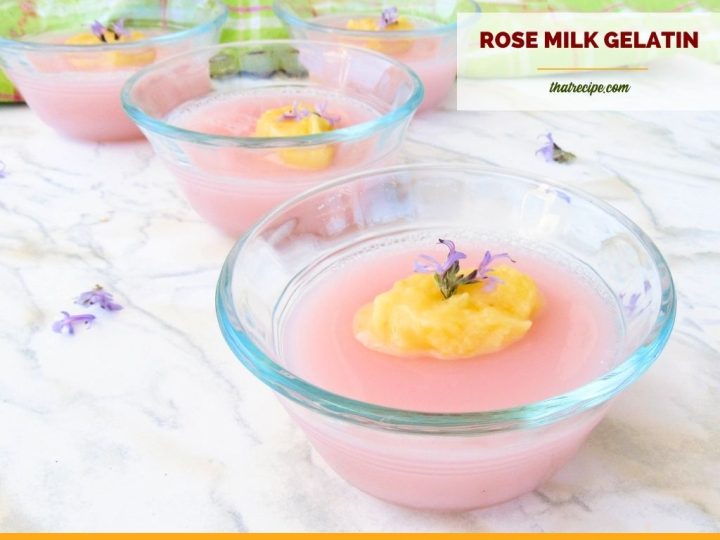 Ingredients
1

cup

cold water

1

envelope

unflavored gelatin

½

cup

sugar

½

teaspoon

rose water

1

cup

milk

1

drop

red food coloring

(optional)

¼

cup

whipped cream or lemon curd for topping

edible flowers for serving

(optional)
Instructions
Pour water into small saucepan. Sprinkle gelatin over water. Heat for 3 minutes over medium high heat for three minutes.

Add sugar, rose water, milk and food coloring. Cook for one minute. Pour into individual serving dishes and chill until firm.

Top with lemon curd or whipped cream and an edible flower, if desired, just before serving.
Until next time, happy eating
~Audrey