Jump to Recipe
Print Recipe
Almond Milk Curd (Hung Yun Dow Foo) is a light and refreshing almond flavored milk gelatin served with fruit or coconut in dim sum restaurants.
Looking for a unique Chinese dessert to serve at home? Try Almond Milk Curd, or Hung Yun Dow Foo, a ridiculously easy to make treat that is perfect dessert after a Chinese meal or just to cool off on a hot summer nights.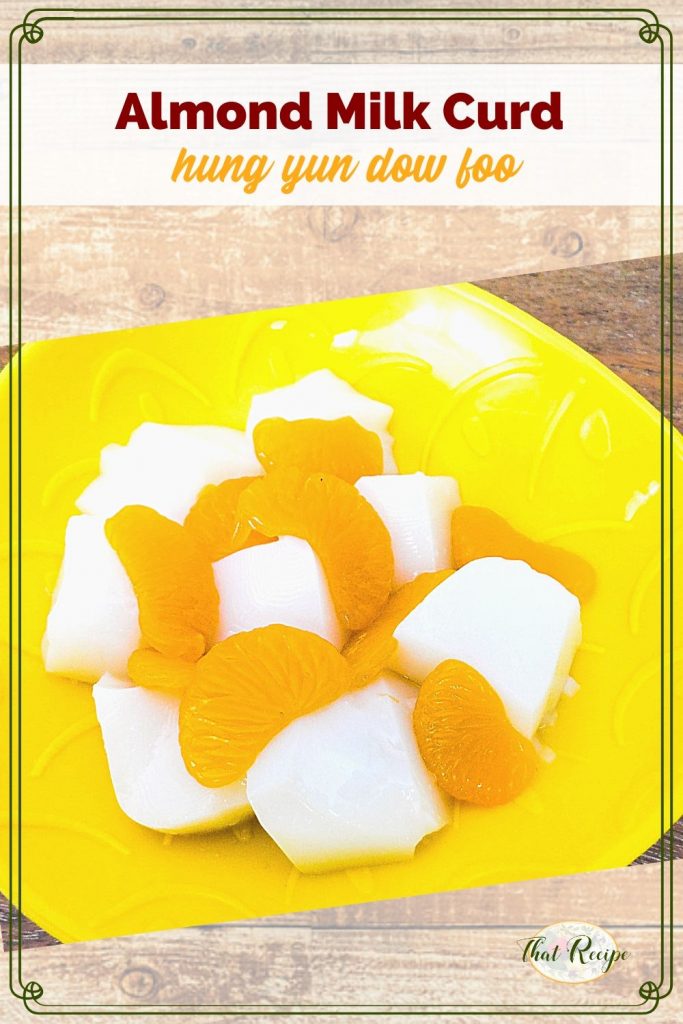 If you've ever been to a dim sum restaurant and had little squares of milk gelatin with shredded coconut you know how delicious Hung Yun Dow Foo is.
My mother used to make this when we were growing up to serve after Asparagus Beef or Almond Chicken Chow Mein or any other Asian dinner. Sometimes she made it in cute little individual lotus bowls (like these) instead of cutting it into little squares. Ramekins would work as well.
I didn't have many cravings when I was pregnant, but I remember seeing mandarin oranges on sale and the hormones ordered me to make it!! If you have been pregnant, you understand.
What Kind of Milk Should You Use for Almond Milk Curd?
Did you think this recipe used almond milk because of the name. In the 1970s and 1980s we did not have the luxury of a variety of non-dairy milks.
Now we have plenty of choices. Use dairy milk, almond milk, coconut milk or even soy milk. Whichever you prefer.
Almond Milk Curd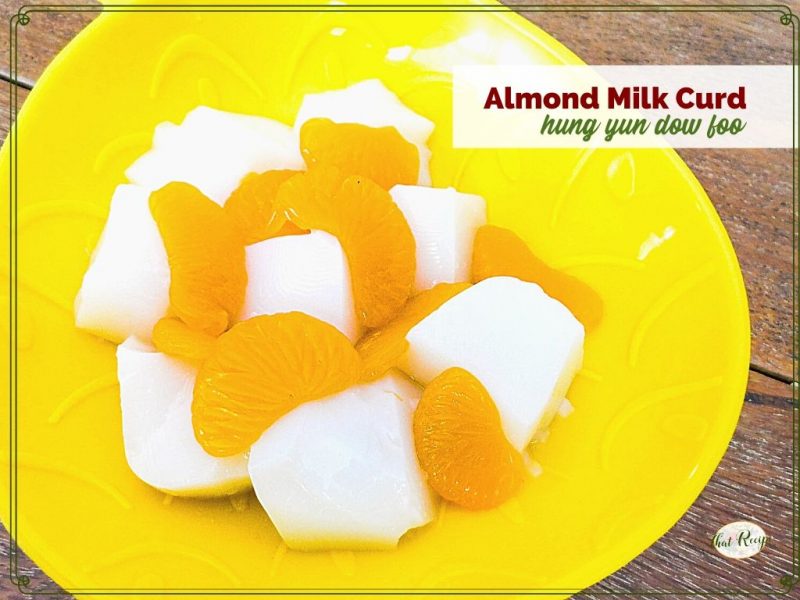 Ingredients
1

cup

cold water

1

Envelope unflavored gelatin

½

cup

sugar

1

tablespoon

almond extract

1

cup

milk

1

can mandarin oranges

(or other fruit)
Instructions
Pour water into small saucepan. Sprinkle gelatin over water. Heat for 3 minutes over medium high heat for three minutes.

Add sugar, extract and milk and cook for one minute. Pour into a square dish and chill until firm.

Cut into cubes, put into individual serving dishes and top with mandarin oranges.
Until next time, happy eating.
~Audrey