Jump to Recipe
Print Recipe
Humble yet hearty Vichyssoise is simple potato and leek soup that is delicious served either hot or cold.
Vichyssoise is a simple, hearty potato and leek soup that can be served hot or chilled.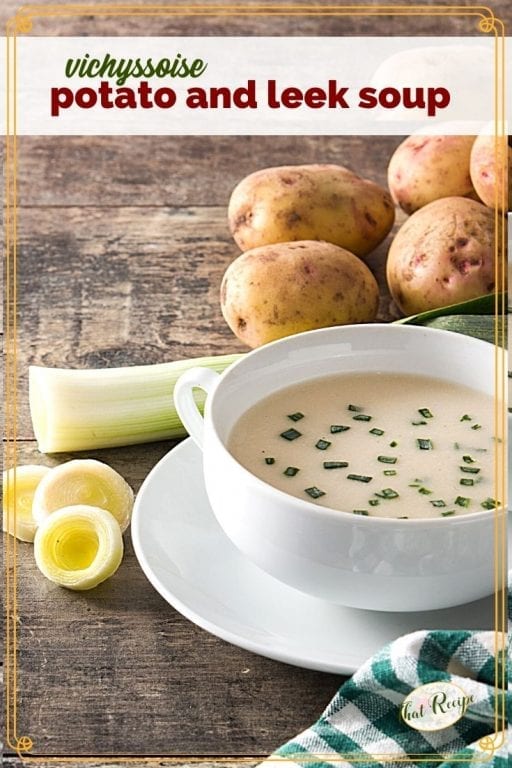 This recipe is from my Grandmother. Nope, not the French one. The Texan. Friends and family referred to it as "Ruth's Sick Soup". She always brought a container over when someone was ailin' and they always felt better soon.
She usually used onions instead of leeks, but for more authentic (and milder) French flavor go with the leek if you have it. Otherwise a white or yellow onion will do just fine.
National Soup Swap Day 2021
Happy National Soup Swap Day! Today, I'm linking up with other bloggers for a virtual soup swap hosted by Kate's Recipe Box - and we're all sharing some tasty soup recipes to warm you up!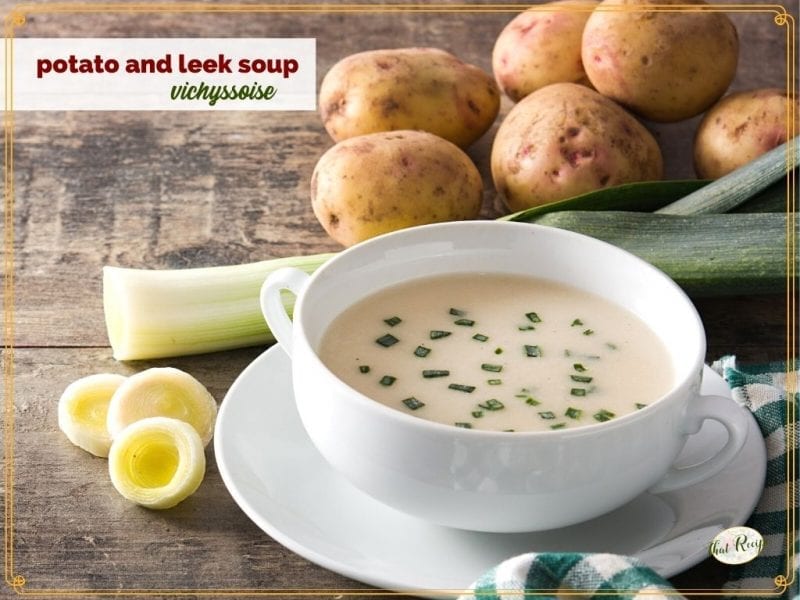 Ingredients
4

cups

russet potatoes

(peeled and cut in chunks)

1

cup

leeks, chopped and separated white from green

(or use chopped white or yellow onion)

1

quart

chicken or vegetable stock

(enough to completely cover the potatoes with extra liquid on top of them)

½

cup

celery

(chopped)

¼

cup

parsley

(chopped)

salt and pepper to taste

1

cup

heavy cream or milk

(optional)
Instructions
Add potatoes, onions (leeks), celery and parsley to a large pot. Add stock until vegetables are covered with liquid plus a bit more on top.

Cover and bring to a boil. Reduce heat to a simmer. Cook until potatoes are soft enough to begin to "mush".

Mash with potato masher for chunkier soup. For more pureed soup use an immersion blender or pour all ingredients into a blender or food processor and blend until smooth.

Thin with cream, if desired. Add salt and pepper to taste. Garnish with chopped leek greens (or parsley) if desired.