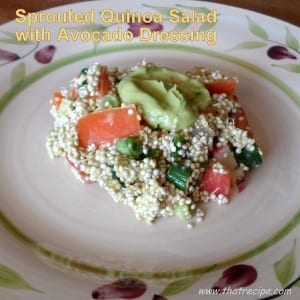 Here's another gem that I found while looking for the Oatmeal Bread recipe that I still haven't found: Sprouted Quinoa Salad with Avocado Dressing.  My friend, Kelle Saunders, was a student at the Optimum Health Institute and she was kind enough to share some of the recipes with me years ago. I don't know anything about the school or the curriculum, except what I have derived from the recipes and the website. They were advocating "Raw Food Diet" long before it became the latest trend.
Since it is officially Spring (YEAH!), I have quite a few seeds sprouting both in and out of my house. But those are intended to plant and grow into fruits and vegetables. But when I saw the notes on sprouts for eating I thought it would be a good time to try it – a fun activity for Spring Break (sshhh, you can tie in some basic botany lessons with cooking and sneak in learning while they are "on vacation"). For more information on seeds that can be used, the germanation process, nutrition and potential problems check out this Wikipedia entry.
I used a very simple sprouting jar and method.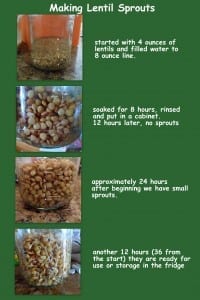 I poured 4 ounces of quinoa into a basic Ball/Mason quart jar and 4 ounces of lentils into another and then filled both with cold tap water to the 8 ounce line.
I topped each with a square of cheese cloth and secured with a rubber band and stuck them in a cupboard (out of toppling range of the ultra curious soon to be 5 year old and temperature variations).
About 8 hours later I emptied the water, rinsed and put the seeds back in the jars without any water.
The next morning the quinoa had already started sprouting! The lentils had no visible sprouts but had doubled in volume.
About 4 hours later I made the Quinoa Salad and Avocado Dressing for lunch. I ended up with about 8 ounces of sprouted quinoa, I think.
Before bed (12 hours-ish from the last rinse) I rinsed the lentils again and they had the makings of tiny sprouts.
By morning, the lentils had sprouted. I rinsed them and left them another 12 hours.
Then I stuck them in the fridge to slow down the process. Not sure what I am going to do with them – stir frys, salad, ???.
A quick search for "growing sprouts" turned up a slew of sites, some of which recommended specific water temperatures and sprouting vessels etc. I just know what worked for me – you may need to tweak it.
For the Quinoa Salad, use whatever ingredients are fresh and in season! Don't overspend on a tomato in December that won't end up tasting very good anyway.  I didn't have jicama or cucumber, but I did have radishes so I went with that.
—-
When I was at the local health food store, they had a 4 ounce container of "mixed sprouts" (peas and lentils) for $2.49. My lentil sprouts cost about 25 cents.
If you have any sprout recipes, particularly for lentil sprouts, please share.
This blog was shared on Weekend Kitchen Creations. Hop on over to check out some fun recipes like: Bruschetta Chicken Backe, Pancake Sausage Bites, Bacon Jalepeno Deviled Eggs and Cherry Jell-O Yogurt Bites.
Until next time, happy eating.
~Audrey