This is the year I am determined to use all three parts of my grape plant:
the fruit for jelly and raisins (I do this every year)
the vines for decorations
the leaves for Stuffed Grape Leaves.
Yes, if you or your friends/family grow grapes you can use those leaves to make this instead of buying them from the store. Cool!
Time for some research.
I actually had to pull things together from three different sources for this dish, and who knows how many more I looked at before choosing these three. Lucky for you, I have put them all together below. You are welcome.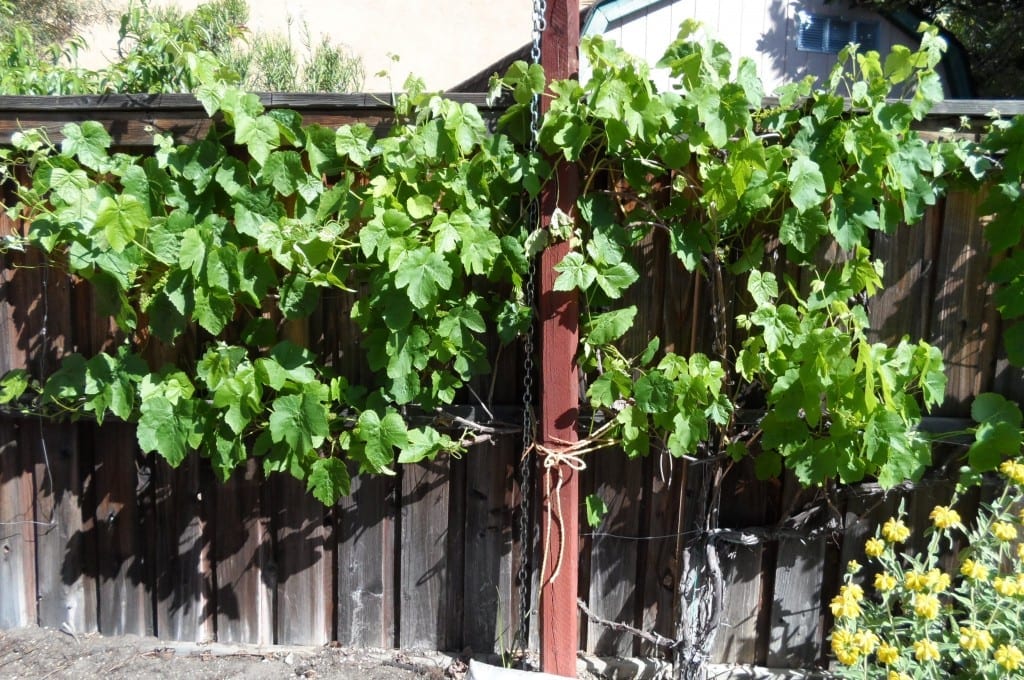 Picking and preparing the leaves. Per About.com, late spring early summer is the time to pick them, while they are still tender. Their method for choosing leaves seemed a bit overmuch for me, I just picked leaves about the size of my hand that were blocking the grapes from getting full sun. Something I do at this time every year but instead of into the composter they went into the kitchen. I snipped off the stems washed them, dumped them in a pot of boiling water, turned the burner off and let them sit for 5 minutes. Then I drained off the water and voila! grape leaves ready for stuffing.
If you don't have access to a grape plant, no problem, you can buy them jarred and ready to go in the grocery store, probably in the Middle Eastern section. I have never looked for them.
The filling. I decided to go with Emeril Lagasse's recipe, because I like Emeril and I had the ingredients. Per one snotty reviewer it may not be "authentic" but they were delicious and not the least bit "tough and tasteless" as his/her doom and gloom predictions. Especially for those of us without easy access to (or oodles of cash in our food budgets for) fresh ground lamb. Sheesh – pan a recipe without even trying it! How RUDE! and did nothing to deter me from trying it. If you want to use the traditional ground lamb for this, be my guest.
Rolling and Baking. Emeril's directions for rolling them made no sense to me until I found another link with pictures. About.com to the rescue again. Oh, that's what he was trying to say! After the first few it was pretty easy. I added a simple collage below to help you out.
The cooking was the longest part! It took the full 1 1/2 hours in my oven. I sampled them at 1 hour and was very dissappointed, but I splashed in a little more water, tightly covered it back up with foil and let them keep going.
They were incredible. And I am sure neither of the guys will want to try them so I get them all to myself, mwa ha ha ha!
Stuffed Grape Leaves
Print recipe
Stuffed Grape Leaves (Dolmades) are filled with ground beef or lamb and rice.
Ingredients
1lb lean ground lamb or beef
1 cup onion (chopped)
3/4 teaspoons salt
1/4 teaspoon pepper
1 1/2 tablespoon fresh fennel fronds (finely chopped)
1 tablespoon fresh mint leaves (chopped)
1/2 cup crushed tomatoes
1 cup uncooked long grain rice
1/4 cup grated Parmesan cheese
1 packet 500 grams grape leaves (or approximately 60 fresh leaves prepared)
3 tablespoons olive oil
1 lemon (juiced)
lemon wedges for serving
Directions
In a large skillet over medium-high heat, combine the ground meat, onions, salt and pepper and cook until onions are very soft and meat is browned, about 4 minutes.


Add the fennel fronds and mint and cook for 2 minutes. Add the crushed tomatoes and 1 cup water and cook until the liquid is mostly evaporated, about 6 minutes. Add an additional cup of water and bring to a boil. Add the rice, return to a boil, cover and cook until most of the liquid has evaporated, about 10 minutes.
Cover and set aside until cool enough to handle cool, approximately 20 minutes. Once the filling has cooled, stir in the Parmesan.

If using fresh leaves, be sure they are pesticide free. They should be at least as big as your hand, with no holes, tears or brown spots. Best time to pick is mid-spring.

Completely remove the stems, wash and put in a saucepan then cover with water. Bring to a boil then turn off heat and let sit for 5 minutes. Drain.

For pre-packaged grape leaves, soak them in warm water for a few minutes prior to using.
Line the bottom of a 9-inch square, 3-inch deep baking dish with 3 or 4 of the unrolled leaves. Preheat the oven to 400 degrees F.
To fill the leaves: click on photograph to enlarge.

Place a leaf vein side up. Add about 2 teaspoons of filling in a sausage shape along the bottom edge of the leaf.

Fold up the leaf portions sticking out on the bottom.

Fold the outer corners toward the middle.

Roll until it resembles a little cigar.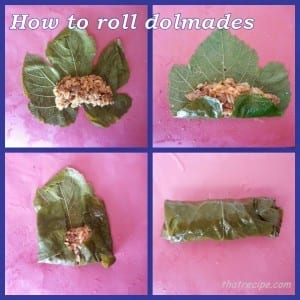 Place seam side down in the prepared pan. Pack them tightly together in 2 layers. Drizzle olive oil over the rolls. Cover the rolls with hot water. Then cover the pan tightly with aluminum foil.
Bake for 30 minutes. Add the lemon juice and recover with the foil. Bake for 30-60 minutes until all of the liquid is absorbed and the grape leaves are tender.
Serve warm or at room temperature with lemon wedges so diners can add extra lemon juice as desired.
Until next time, happy eating! ~Audrey