Jump to Recipe
Print Recipe
Portuguese Beans with Linguica are an easy to make sweet and spicy pork and beans dish. Recipe includes traditional stove top and pressure cooker preparation.
Portuguese Beans with Linguica are a spicy kin to American Pork and Beans and delicious as a main dish in chilly weather or a side dish for your summer cookouts.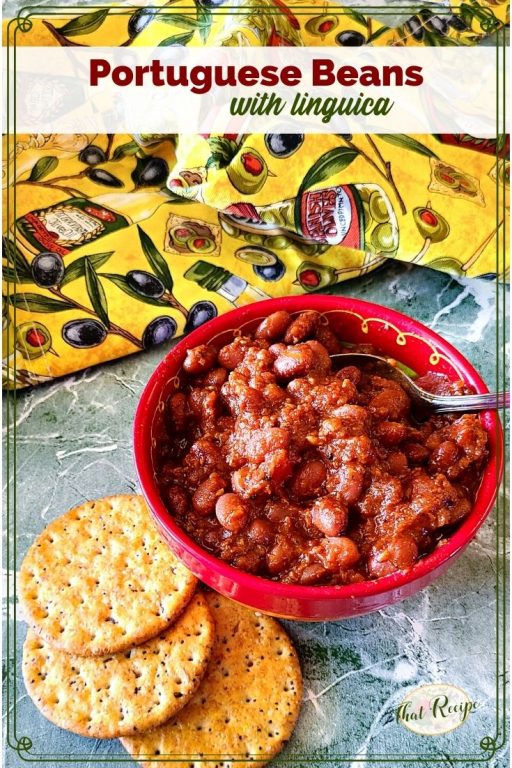 This recipe came courtesy of my cousin who is half Portuguese on the other side. We share our French ancestry, though our descendants came from the Basque region so still pretty close to Spain and Portugal.
Regardless of where you are from if you like a little kick to your pork and beans, you are going to love these.
What is linguica? What is the best substitute?
Linguica is a spicy Portuguese sausage. As you can imagine in a foodie family, especially Portuguese foodies, there is a debate as to which brand is best.
Get what you can find. It should be with the other sausages and bratwursts in your grocers meat section, if they carry it.
You can ask at the butcher's counter if they can order it if they don't have it. Or you can substitute chorizo or hot Italian sausage. If you don't eat pork, longaniza is a beef sausage that would make a good substitute.
If you use Italian sausage, add some paprika (sweet and smoked varieties, if you have both) for a more authentic flavor since both linguica and chorizo both use plenty of it.
Best Beans Recipes from #OurFamilyTable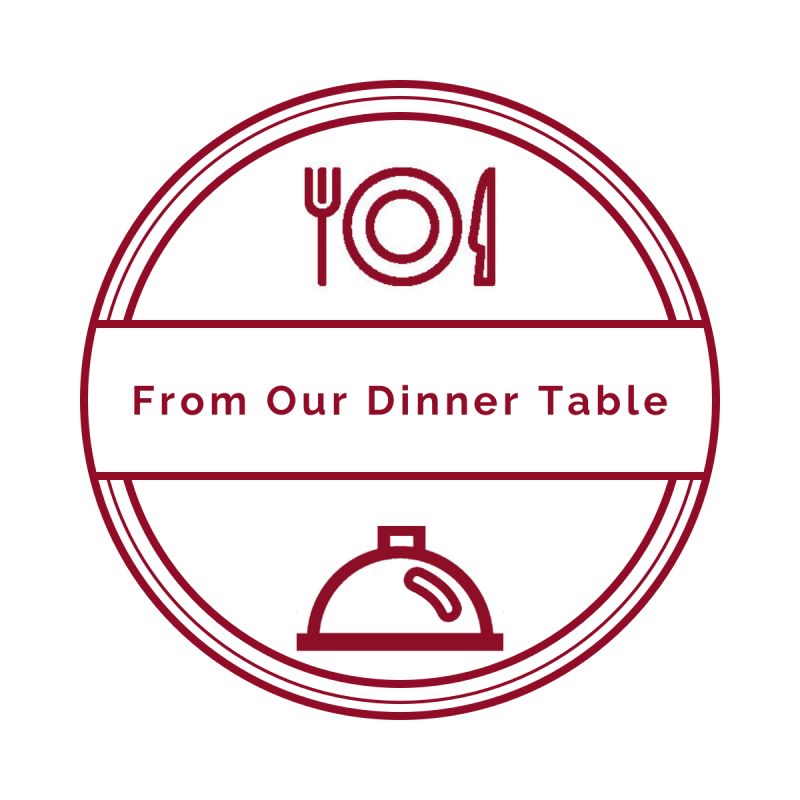 Beans are amazingly versatile. We have recipes here for beans dips, bean soups, cassoulet and more.
Best Bean Recipes

We share Recipes From Our Dinner Table! Join our group and share your recipes, too! While you're at it, join our Pinterest board, too!
Portuguese Beans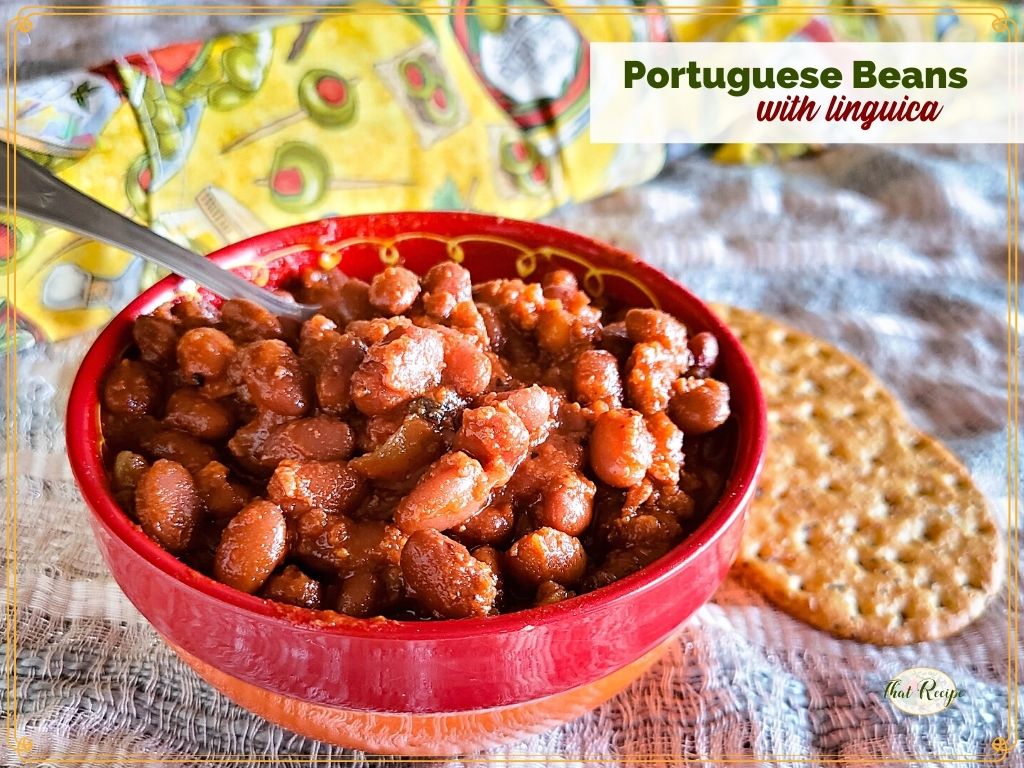 Ingredients
1

pound

pink beans

1

pound

linguisa

1

small

onion

(chopped)

1

clove

garlic

2

cans

16 ounce tomato sauce

⅔

cups

brown sugar

¼

teaspoon

cumin

¼

teaspoon

allspice
Instructions
STANDARD SOAK: Cover beans with water and soak overnight.

QUICK SOAK: Cover beans with water, bring to a boil for 2 minutes, turn off heat, cover and let sit for approximately one hour until beans are no longer hard.

Drain off water and refill until beans are covered again.
Stove Top Method
Bring to a boil, then reduce heat and cook several hours or until the beans are tender.

While beans are cooking, cook the linguica in a skillet and break up into small pieces (about ½ to 1"). When cooked remove the linguica from pan, pour off all but a little grease and sauté the onion and garlic gently until softened. Add the tomato sauce, brown sugar and spice.

When the beans are well done, drain and save the extra bean water. Stir about one cup of the bean juice into the sauce and add to the cooked beans with the linguica.

Let simmer for an hour or so before serving. The extra bean juice may be added if the beans seem dry or saved to enrich soup stock for another meal.
Pressure Cooker Method
Turn electric pressure cooker to SAUTE, for stove top turn to medium high heat.

Cook the linguica while breaking it up into small pieces (about ½ to 1").

When cooked remove the linguica from pan, pour off all but a little grease then sauté the onion and garlic until softened.

Add everything into the pot (linguica, beans, tomato, spices, sugar) along with a cup of water.

Seal the lid and bring to pressure and cook for 25 minutes on high. Remove from heat and use a natural press release for 10 minutes.

If the sauce seems dry add an extra ½- 1 cup of water.

If beans are not tender enough, bring back to pressure and cook for an additional 5 minutes with a natural pressure release.