Jump to Recipe
Print Recipe
Stuffed Grape Leaves (Dolmades) with a savory beef or lamb filling. Includes directions for using fresh grape leaves.
This easy Stuffed Grape Leaves recipe uses beef (or lamb) filling in fresh grape leaves picked from my very own backyard. If you grow grapes, why not try it yourself? Otherwise you can buy canned leaves in the International section of the store.
The leaves came off one of my huge grape vines. The best time to pick them is in early Spring when the grapes are just beginning to form so they are sturdy enough for filling but not too tough. I am an organic gardener so I know my leaves are safe. Just be careful of your source if you decide to do it yourself.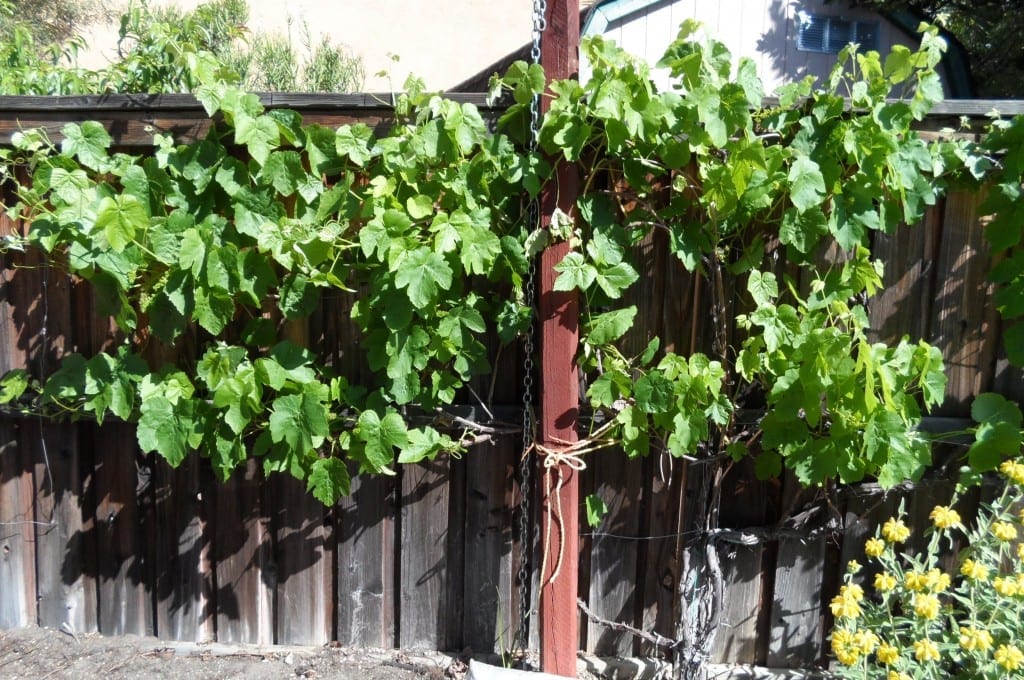 Traditionally, Dolmades should be made with ground lamb. But if that is out of your budget or hard to find, ground beef makes a delicious substitute.
Here's a photo to show you how I rolled them since the written directions were a little confusing the first time I read them.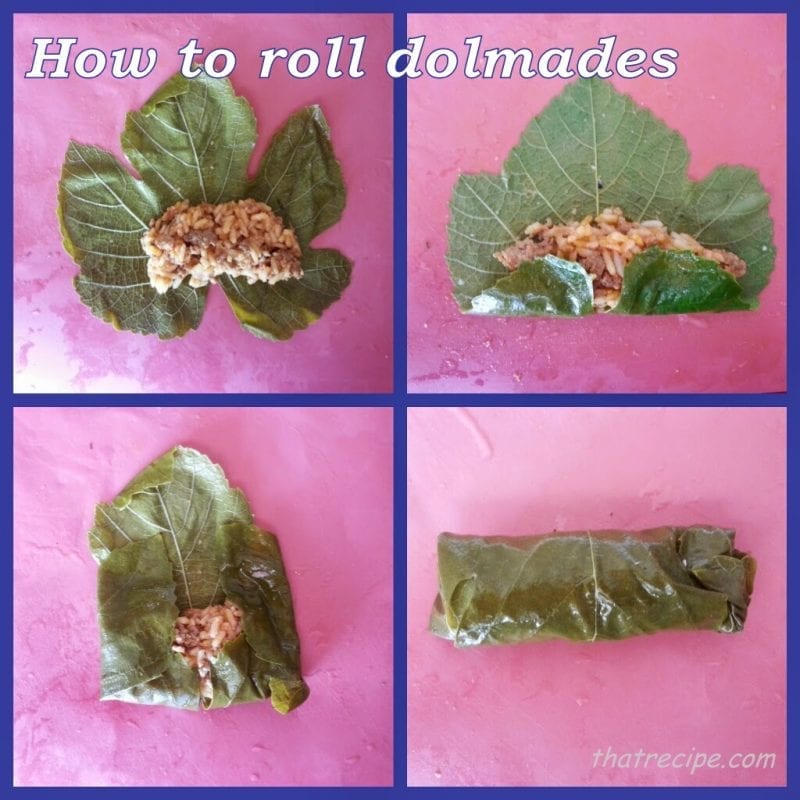 I also made raisins and red grape lavender jelly with the fruit and grape vine wreathes and tomato cage Christmas trees with the vines at the end of the season.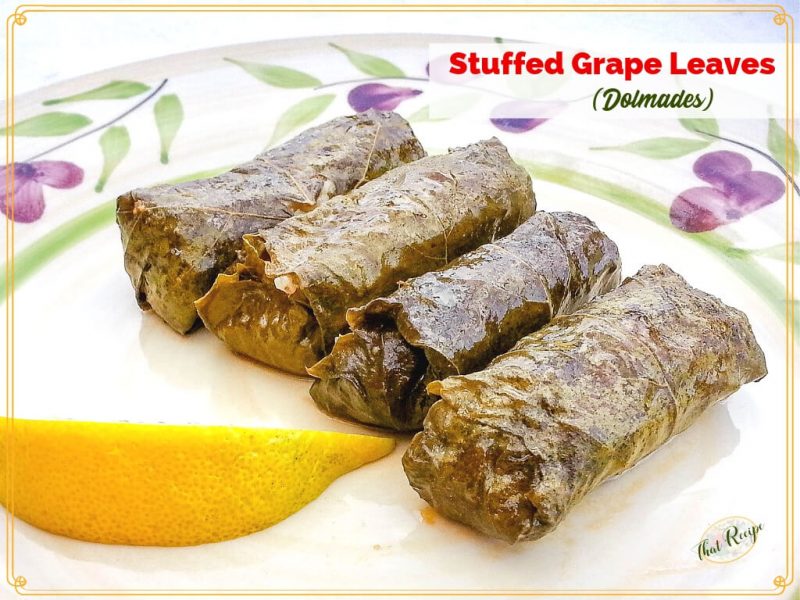 Ingredients
1

pound

lean ground lamb or beef

1

cup

onion

(chopped)

¾

teaspoons

salt

¼

teaspoon

pepper

1 ½

tablespoon

fresh fennel fronds

(finely chopped)

1

tablespoon

fresh mint leaves

(chopped)

½

cup

crushed tomatoes

1

cup

uncooked long grain rice

¼

cup

grated Parmesan cheese

1

packet 500 grams grape leaves

(or approximately 60 fresh leaves prepared)

3

tablespoons

olive oil

1

lemon

(juiced)

lemon wedges for serving
Instructions
In a large skillet over medium-high heat, combine the ground meat, onions, salt and pepper and cook until onions are very soft and meat is browned, about 4 minutes.

Add the fennel fronds and mint and cook for 2 minutes. Add the crushed tomatoes and 1 cup water and cook until the liquid is mostly evaporated, about 6 minutes. Add an additional cup of water and bring to a boil. Add the rice, return to a boil, cover and cook until most of the liquid has evaporated, about 10 minutes.

Cover and set aside until cool enough to handle cool, approximately 20 minutes. Once the filling has cooled, stir in the Parmesan.

If using fresh leaves, be sure they are pesticide free. They should be at least as big as your hand, with no holes, tears or brown spots. Best time to pick is mid-spring.

Completely remove the stems, wash and put in a saucepan then cover with water. Bring to a boil then turn off heat and let sit for 5 minutes. Drain.

For pre-packaged grape leaves, soak them in warm water for a few minutes prior to using.

Preheat the oven to 400 degrees F.

Line the bottom of a 9-inch square, 3-inch deep baking dish with 3 or 4 of the unrolled leaves.

Place a leaf vein side up. Add about 2 teaspoons of filling in a sausage shape along the bottom edge of the leaf.

Fold up the leaf portions sticking out on the bottom.

Fold the outer corners toward the middle.

Roll until it resembles a little cigar.

Place seam side down in the prepared pan. Pack them tightly together in 2 layers. Drizzle olive oil over the rolls. Cover the rolls with hot water. Then cover the pan tightly with aluminum foil.

Bake for 30 minutes. Add the lemon juice and re-cover with the foil. Bake for 30-60 minutes until all of the liquid is absorbed and the grape leaves are tender.

Serve warm or at room temperature with lemon wedges so diners can add extra lemon juice as desired.
Until next time, happy eating! ~Audrey