Jump to Recipe
Print Recipe
Grilled Chicken White Pizza is a simple meal featuring garlicky alfredo sauce, and leftover chicken on a pizza crust that is grilled up in just a few minutes.
Make pizza night special with this semi homemade Grilled Chicken White Pizza. Perfect for those nights when you don't want to heat up the kitchen.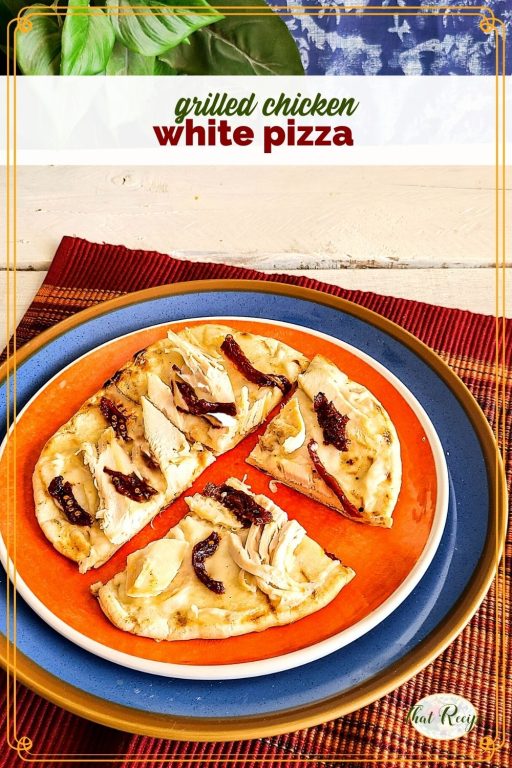 This recipe can be completely homemade if you wish using a homemade pizza crust and alfredo sauce (recipe below or try this white bean "faux-fredo").
Or you can use a jarred alfredo sauce and either store bought frozen bread dough that has been thawed or a premade pizza crust. Or a combination of the two.
Add some leftover grilled chicken and roasted red peppers or sun dried tomato or fresh herbs or anything else you fancy an your pizza. Yes, even pineapple.
Tips for Grilled Pizza
Pizza can be tricky to grill on a typical gas grill because you want the dough to cook and cheese to melt while the bottom of the crust gets lightly charred but not burnt.
Clean and oil the grates: give the grates a good scrub then coat with a little oil applied with a rag before grilling
Keep the dough thin: a thicker crust will take longer to bake through, and no one likes a soggy crust.
Indirect heat if you can: If you want a thicker crust, this is a must! If you have four or more burners, preheat the grill then turn off the center two (if possible) and place the pizza over that to cook the crust and melt the cheese, moving it over the heat to crisp the bottom crust at the very end.
Our grill only has two burners, so for a thicker crust pizza I place a pie pan directly on the center of the grill and the pizza pan on that; then finish with the last few minutes directly over the flame.
Use the right tools: you either want a pizza pan with holes like this that can easily be lifted on and off the grill
Or use a pizza peel (pizza spatula) to set the pizza directly on the grate.
One work around for not having the pan or peel is to put the rolled out dough on a pan or baking sheet and flip it onto the grill to cook for jus a minute or two before adding the toppings to the cooked side and charring the other. We lost half an individual pizza when my son had loaded a thinly rolled crust with toppings and I couldn't get it onto the grates cleanly.
More Grilling Recipes from #OurFamilyTable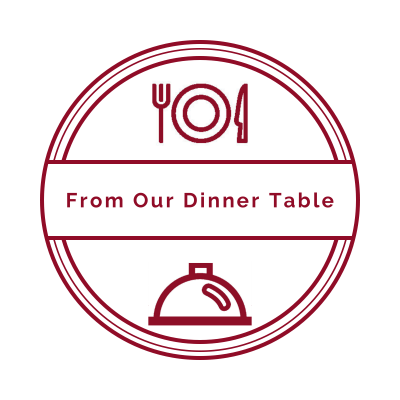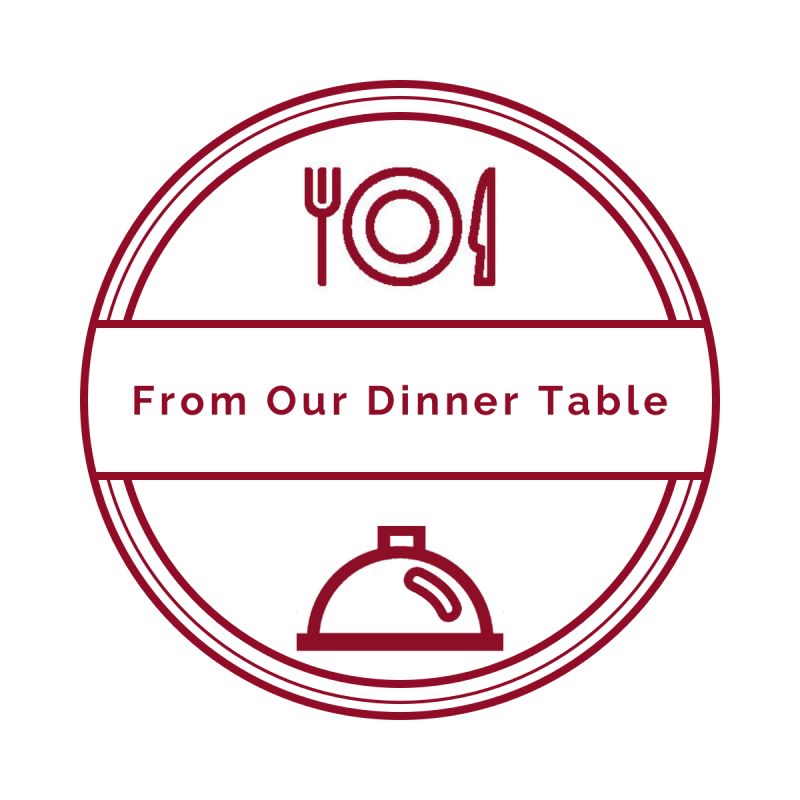 Get More Great Grilling Recipes:
We share
Recipes From Our Dinner Table
! Join our group and share your recipes, too! While you're at it, follow our
Pinterest board
, too!
Grilled Chicken White Pizza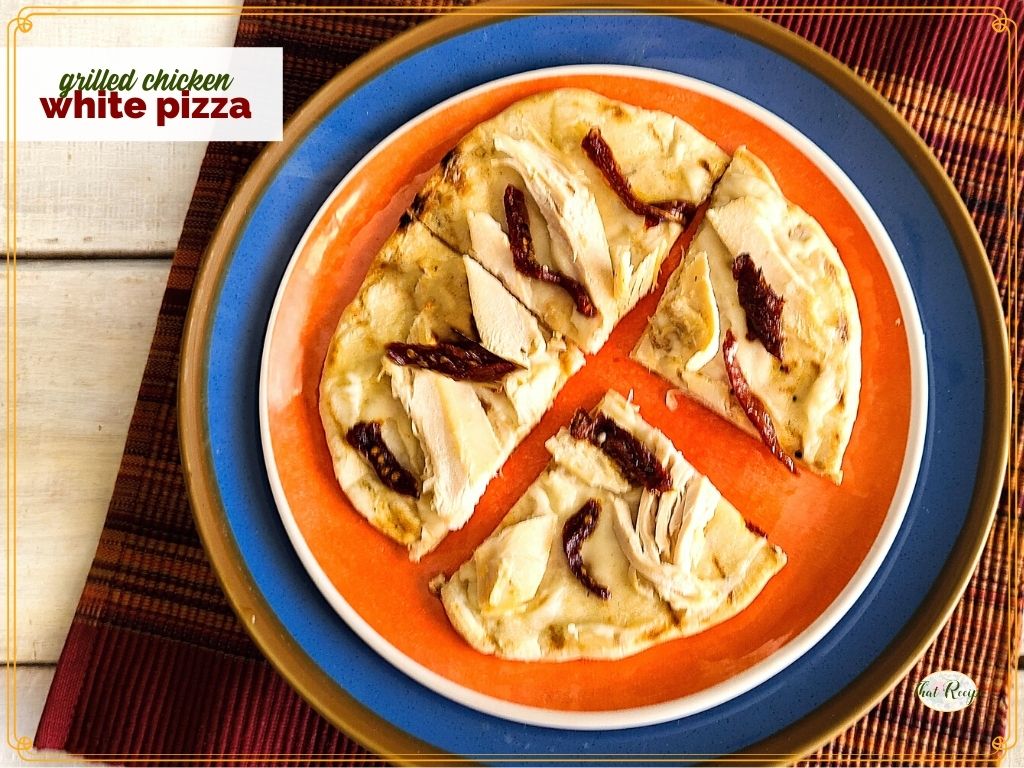 Ingredients
1

recipe

pizza crust

1 - 1½

cup

alfredo sauce

(store bought or recipe that follows)

1

cup

mozzarella cheese

(grated or sliced thinly)

½

pound

grilled chicken breast

(cut in thin strips)

herbs, vegetables, etc.

(optional)
Instructions
Roll out the pizza dough into one large circle or four smaller crusts for individual pizzas.

Place pizza dough on the pizza pan for large pizza.

For individual pizzas, if you do not have a pizza peel to move them off of the grill I recommend putting the dough on a plate then flipping it immediately onto the grill for a minute or two then removing it to flip back over and add toppings to the lightly grilled side.

Add alfredo sauce, cheese, sliced chicken and any additional toppings (roasted red peppers and basil are my favorite!).

Place the pizza on the grill and lower the heat directly under the pizza. Close the lid and let cook until cheese is melted and bottom is slightly charred.
Notes
For the crust you can use store bought frozen bread dough that is thawed, or make this recipe that takes about an hour to rise.
Easy Alfredo Sauce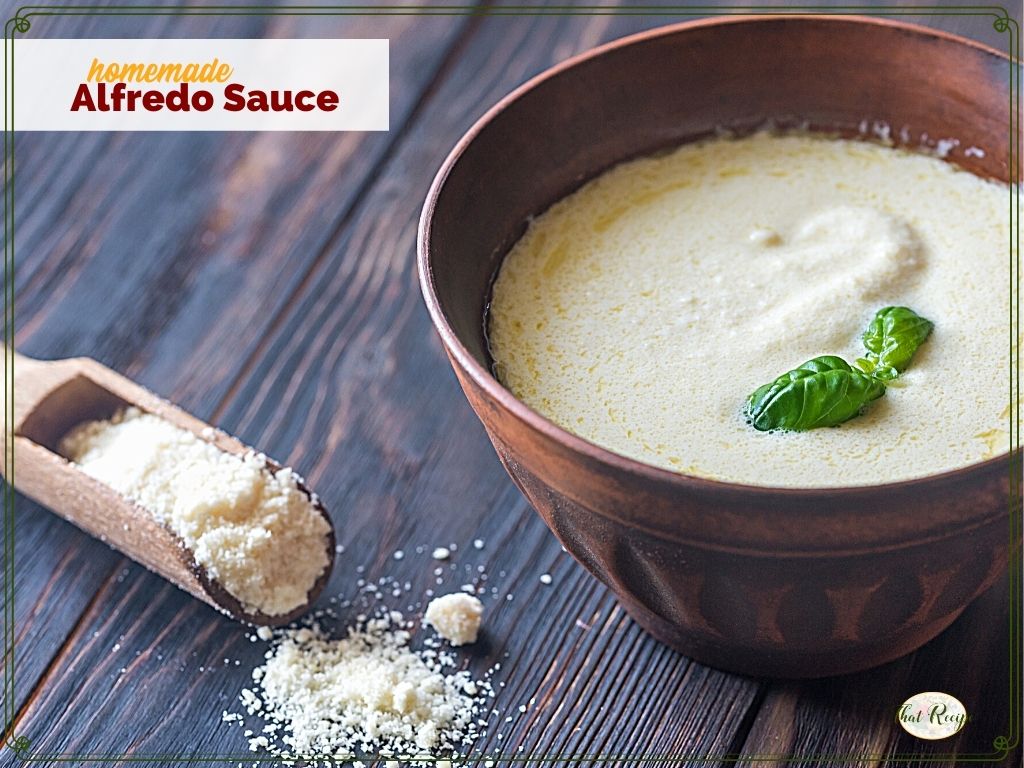 Ingredients
¼

cup

butter

(or more to taste)

1

clove

garlic

(minced)

¼

cup

flour

¼

cup

grated Parmesan cheese

2

cups

milk
Instructions
In a medium saucepan, add butter and garlic and cook for a few minutes over medium heat until butter is melted.

Add flour and cook, while stirring, for another minute or two.

Add Parmesan cheese and stir in until melted.

Slowly pour in milk and stir until smooth. Continue cooking until sauce reaches desired thickness.
Sound fabulous? Share it!
Until next time, happy eating!
~Audrey