This flavorful Sage Marinated Grilled Duck Pizza recipe comes to you courtesy of our Cookout Week sponsor MapleLeaf Farms.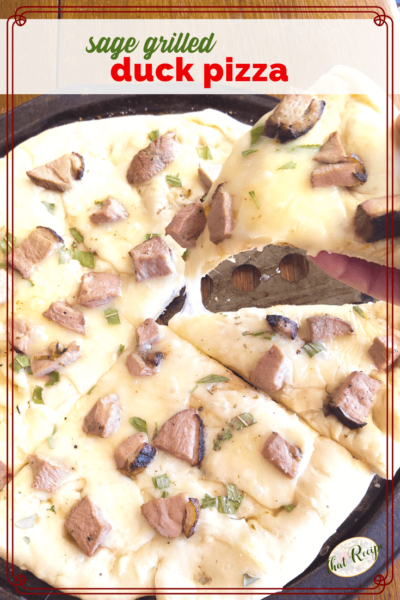 #CookoutWeek Recipes and Giveaway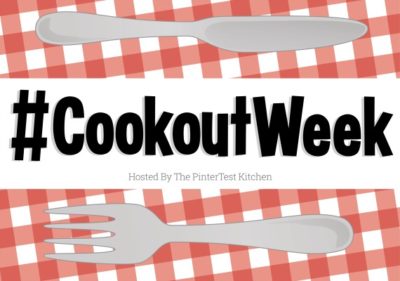 During the next week, I am joining over 50 of my blogger friends to celebrate summer by posting delicious cookout-themed recipes. If you love grilling, frozen treats, picnics, berries, s'mores, campfire meals, and other summer goodies... you are in the right place! Keep scrolling after the pizza recipe to see what people are sharing today.
This week, we are also hosting a HUGE giveaway thanks to our generous #CookoutWeek sponsors. Enter below to win. Here's what one lucky will will receive:
That's a prize pack worth over $750!
To enter, follow our sponsors and bloggers on social media by entering your information below:
Here's a full list of the bloggers participating in #CookoutWeek 2018! You can find yummy recipes by checking out any of the links below:
The PinterTest Kitchen ♥ 2 Cookin Mamas ♥ A Day in the Life on the Farm ♥ A Kitchen Hoor's Adventures ♥ April GoLightly ♥ Authentically Candace ♥ Blogghetti ♥ Body Rebooted ♥ Bottom Left of the Mitten ♥ Cheese Curd In Paradise ♥ Chef Sarah Elizabeth ♥ Coconut & Lime ♥ Cookaholic Wife ♥ CookwithRenu ♥ Daily Dish Recipes ♥ Everyday Eileen ♥ Fairyburger ♥ Faith, Hope, Love, & Luck Survive Despite a Whiskered Accomplice ♥ Family Around the Table ♥ Fix Me a Little Lunch ♥ For the Love of Food ♥ Frankly Entertaining ♥ Frugal & Fit ♥ Get the Good Stuff! ♥ Hardly A Goddess ♥ Herbivore Cucina ♥ Join Us, Pull up a Chair ♥ Jolene's Recipe Journal ♥ Jonesin' For Taste ♥ Karen's Kitchen Stories ♥ Kelly Lynn's Sweets & Treats ♥ Mildly Meandering ♥ Moore or Less Cooking ♥ Our Good Life ♥ Oven Tales By Syama ♥ Palatable Pastime ♥ Sarah Cooks the Books ♥ Savory Moments ♥ Seduction In The Kitchen ♥ Strawberry Blondie Kitchen ♥ Sweet Coralice ♥ Tampa Cake Girl ♥ Technotini ♥ That Recipe ♥ The Baking Fairy ♥ The Beard and The Baker ♥ The Freshman Cook ♥ The Simple Supper ♥ The Spiffy Cookie ♥ The Weekday Gourmet ♥ This is How I Cook ♥ Who Needs A Cape? ♥ Wildflour's Cottage Kitchen
Comment below with your favorite cookout recipe!
MapleLeaf Farms
I was so excited when it was announced that MapleLeaf Farms was coming on board as a Cookout Week sponsor. Look at this wonderful package of products they sent us and what one lucky winner will be receiving as part of the prize package.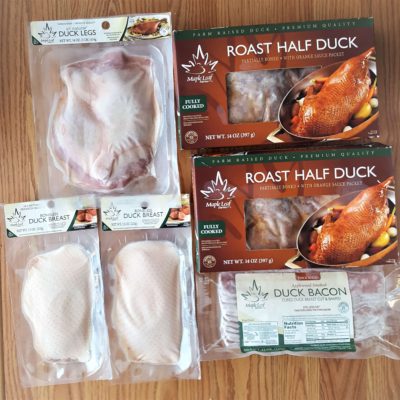 I love duck, even though I have never tried cooking it myself before. The last time I had it in a restaurant it was a little too fatty and gamy tasting to my liking so I haven't tried it for awhile
This was not a problem with MapleLeaf Farms White Pekin duck. It was so moist and flavorful. Their duck has similar calories and fat to chicken or turkey breast and is a great source of iron, niacin and selenium.
For this recipe I prepared the duck breast just as I would chicken breast and look how juicy it came out.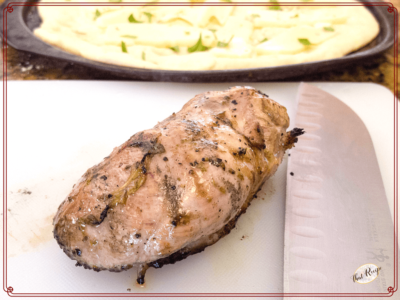 The ducks are raised on small family owned farms using strict care guidelines. Visit their site for more information about their duck care guidelines and environmental programs.  I love a company that cares!
And be sure to follow them on Instagram for more delicious recipe ideas.
[click_to_tweet tweet="Try something a little different on your grill: Sage Marinated Grilled Duck Pizza. So flavorful and simple! #duckrecipes #grilledpizza " quote="Try something a little different on your grill: Sage Marinated Grilled Duck Pizza. So flavorful and simple!  #duckrecipes #grilledpizza " theme="style2"]
Sage Grilled Duck Pizza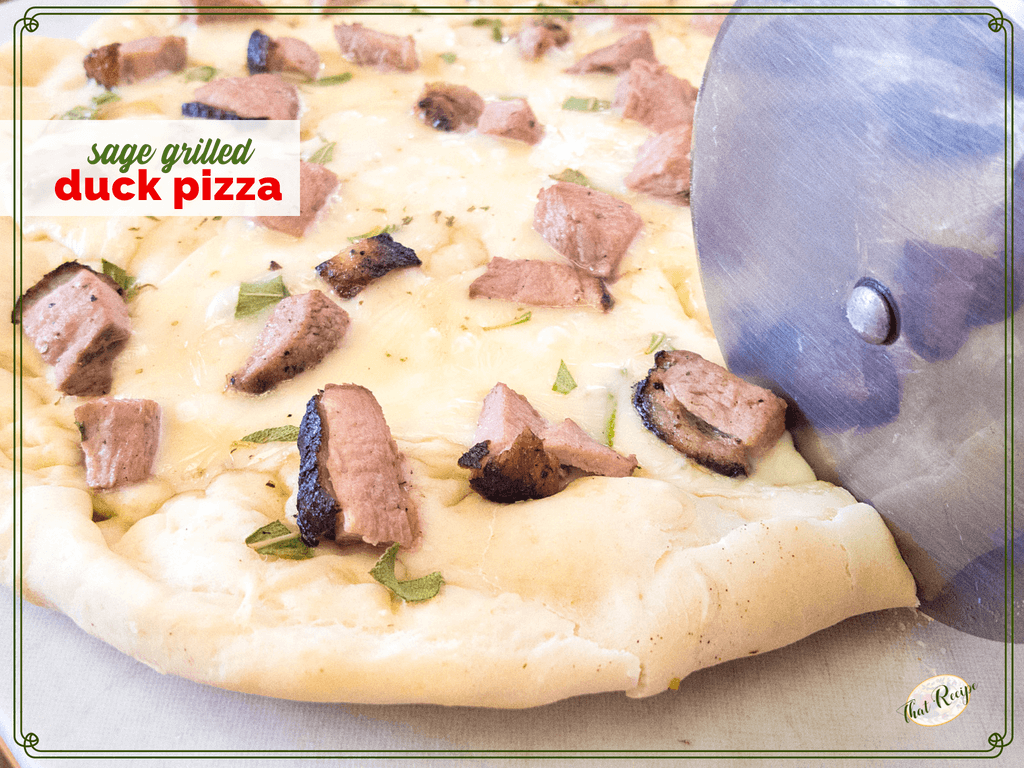 Ingredients
1

duck breast

6-7

fresh

sage leaves

1

clove

garlic

¼

teaspoon

freshly ground pepper

½

lemon

¼

cup

olive oil

1

uncooked pizza crust

(see notes)

2

cups

grated mozzarella cheese

6-7

fresh

sage leaves

(chopped)

additional sage leaves on stem

(optional)
Instructions
Crush sage leaves, garlic and pepper in a mortar and pestle to make a paste. If you do not have a mortar and pestle just chop them all together very finely. In medium bowl whisk together the herb paste with the juice from the lemon and olive oil. Add duck breast and marinate at least 2 hours.

Grill the duck breast over medium high heat, turning once, until it reaches an internal temperature of 130 degrees. Remove from grill and cover with an aluminum foil tent for 5 minutes.

Heat the grill to 400 degrees.

While the duck is cooking and resting, put the pizza crust on a pizza pan and top with cheese and chopped sage.

Slice the duck breast thinly and add to the pizza.

Create some indirect heat on your grill:
- If you have 4 burners on your grill, turn off the middle two.

- If your grill only has two burners place two metal bread pans (or bricks covered in foil) on the grill to raise the pizza away from direct flame.

- If you are using charcoal, push the coals to the sides.

Grill the pizza until the cheese melts and the crust is cooked. For extra sage flavor, put the additional sage stems on the grill grate around the pizza. It will smoke and burn up.

Slice and serve the pizza.
Notes
For an easy homemade pizza crust use half of this recipe (save the other half in the fridge or freezer for another use).