Jump to Recipe
Print Recipe
Make your own grilled flatbreads with this easy recipe. Toss on the grill to serve along with other grilled meats, or make pita pocket breads.
These easy Grilled Flatbread are wonderful alongside any grilled meals. Or turn them into pita breads or use as a delicious pizza crust.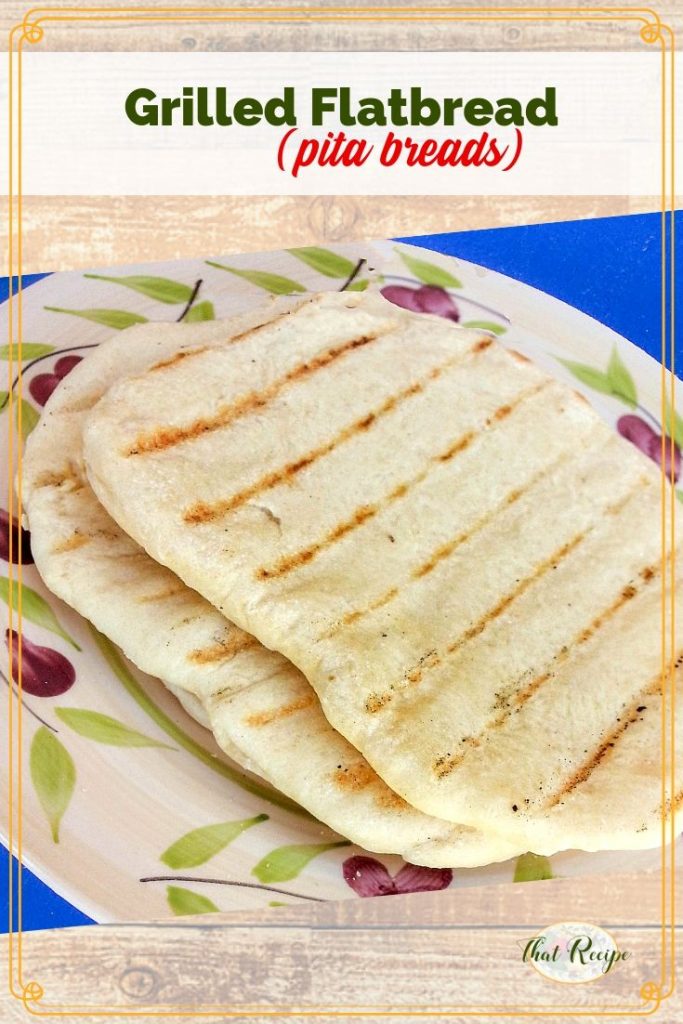 One of the things that makes this recipe so great is its versatility:
whole-wheat flour, all-purpose or a combination of both can be used
make them plain or add spices to the dough
serve them alongside whatever else you are grilling as a basic bread
let them puff up than collapse and you have a pocket bread perfect for stuffing
brush them with some olive oil and spices for a thin grilled focaccia
use it as a pizza crust for one or two large pizzas or several small ones
no grill? bake them in the oven (directly on the rack is fine) or even in a griddle on the stove.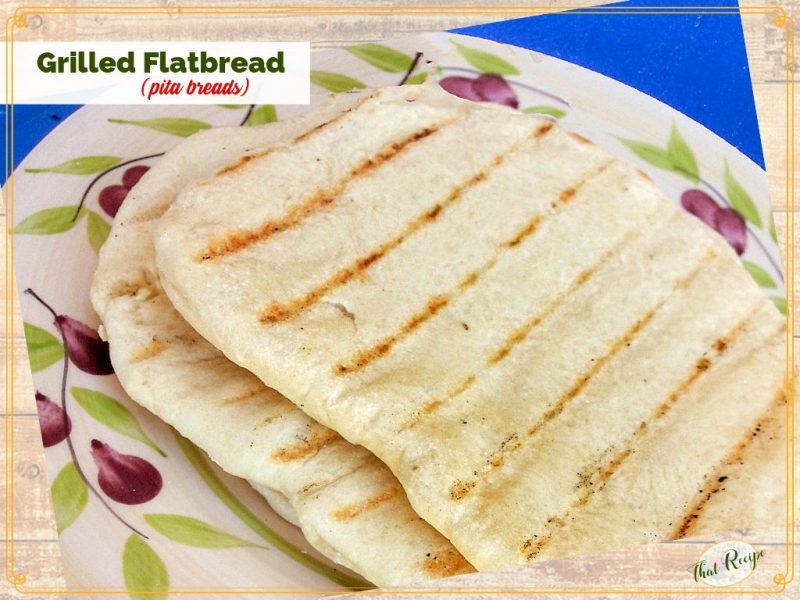 Ingredients
¾

cups

warm water

1

packet

yeast

(2 ¼ teaspoons)

½

teaspoon

sugar

2

cups

flour

(all-purpose or whole wheat)

½

teaspoon

salt

1

tablespoon

olive oil
Instructions
In the measuring cup of warm water, add yeast and sugar and allow to sit for a few minutes until it becomes frothy.

While yeast is proofing, mix flour, salt and oil in a medium bowl. Add yeast mixture to the flour mixture and knead until dough is elastic, approximately 5 minutes. Let rise for 1 ½ hours.

If you use the dough only cycle of a bread maker, eliminate the proofing stage and dump all of the ingredients in the pan as directed by the machine's manufacturer.

For grilled bread, divide into 4 -6 pieces depending on how large you want them to be. On a floured board roll into a circle approximately 8 inches in diameter. Grill over medium low heat for a few minutes per side.

For pita pocket bread, allow the bread to puff up and then collapse. Otherwise slice the air pockets as they appear.

For pizza dough, make one large or several small. Lightly grill on one side over direct heat to get grill marks. Remove crust from grill and add toppings to the cooked side. Grill over INDIRECT heat until cheese melts (the crust will probably burn before the cheese melts if you try to grill on direct heat).
~Audrey