Jump to Recipe
Print Recipe
Mititei, or little meats in Romanian, are small beef and garlic sausages flavored with warm spices like cloves and all spice. Grill them up at your next cookout.
Spice up your next cook out with some grilled Mititei, mini beef and garlic sausages grilled to flavorful perfection.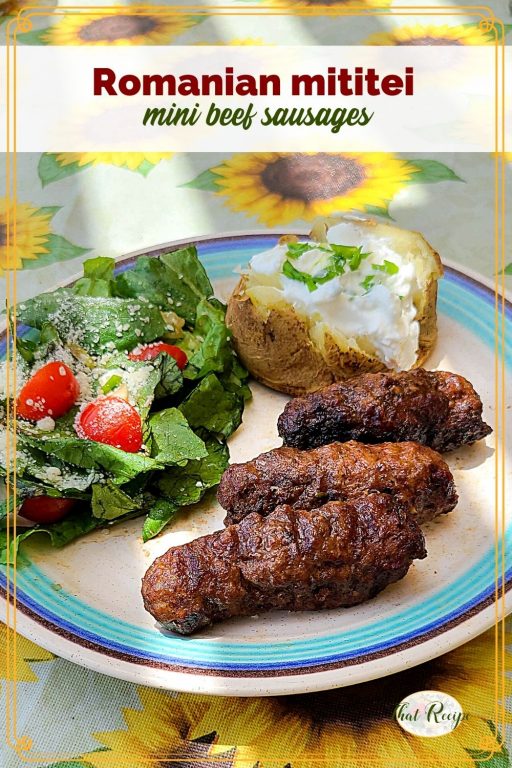 Welcome to #SummerGamesWeek 2021 hosted by Amy from
House of Nash Eats!
We are celebrating the start of the Tokyo Games with over 50 recipes representing more than 25 countries competing in the upcoming Summer Games! Come join me and my fellow Summer Games Week bloggers as we bring you recipes from appetizers to drinks to entrées and desserts!

This is a Humaciu family recipe that I got from my mother in law, who I am assuming got it from her Romanian mother in law. Mititei translates to "little meats". They are small sausages, without casings, that are a staple of Romanian cookouts.
I enjoy making my own sausage and seeing the different flavor combinations used in different cuisines. This one is a beef sausage with lots of garlic as well as allspice and cloves.
One of my favorite parts of this sausage recipe is NO CASINGS! You can read about my sausage stuffing adventures in this post. Not hard, just time consuming and not worth the effort to do anything but a large batch. Mititei are basically mini hamburgers that are shaped into short little rolls (think breakfast sausages only thicker) instead of flat patties.
While these are simple and quick to make, they really benefit from sitting overnight, or longer, in the fridge to let the flavors meld together. So, plan accordingly.
What fat percentage beef should I use?
The original recipe calls for grinding your own rump roast. For those that don't have the time or equipment, just get some pre ground beef at the store like I did.
Rump roast is in the 25% or more fat range. I went with 20% and wouldn't recommend going lower than 15% or they could get dry when grilling.
More #SummerGamesWeek Recipes
I chose to represent my family's heritage with my recipe choices this week:
Mititei - mini beef sausages from Romania (my father in law)
Fried Polenta on Tuesday - cornmeal cakes from Italy (my dad's father)
Tea Brack on Wednesday - fruit laden tea bread from Scotland and Ireland (my mother)
Chocolate Walnut Torte on Thursday - from Hungary (my mother in law)
Tomates Farcies on Friday - stuffed tomatoes from France (my dad's mother)
And here are even more recipes from some of my favorite bloggers:
Monday #SummerGamesWeek Recipes
Mititei (mini beef sausages)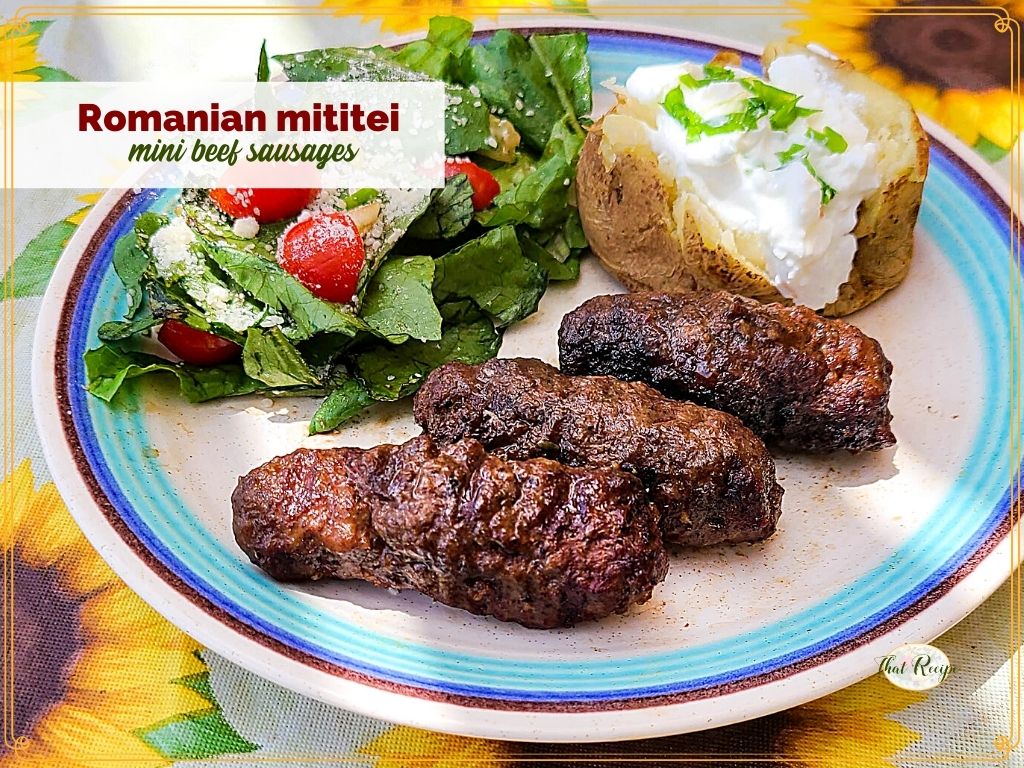 Ingredients
2

pounds

20% ground beef

4

cloves

garlic

(minced)

½

teaspoon

baking soda

½

teaspoon

thyme

(crushed)

½

teaspoon

ground cloves

½

teaspoon

ground allspice

½

cup

beef stock

salt and pepper to taste

additional beef stock for basting
Instructions
In a large bowl combine ground beef, spices, baking soda and ½ cup beef stock.

Roll out sausages about 4 inches by 1 inch.

Cover sausages and refrigerate overnight (can be up to 3 days).

Preheat clean grill (gas, charcoal, wood - you choose!) to medium high heat.

Grill sausages, turning with tongs (do not pierce with a fork). Baste with additional beef stock a few times while turning.
Sound fabulous? Share it!
More Homemade Sausage Recipes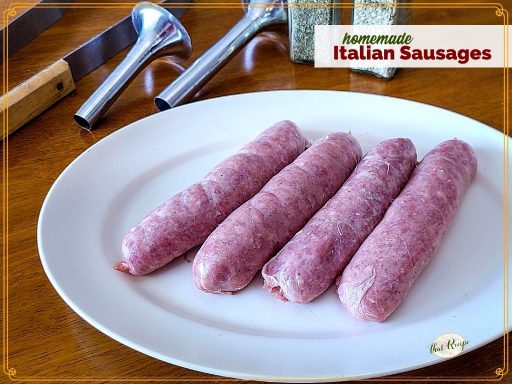 Until next time, happy eating!
~Audrey