Jump to Recipe
Print Recipe
Homemade Italian Sausage filled with garlic, fennel, red pepper flakes and other spices. Keep it loose or stuff it in casings.
Making Italian Sausages at home is surprisingly easy and it allows you to customize the seasoning to your liking. From mild to spicy the choice is yours.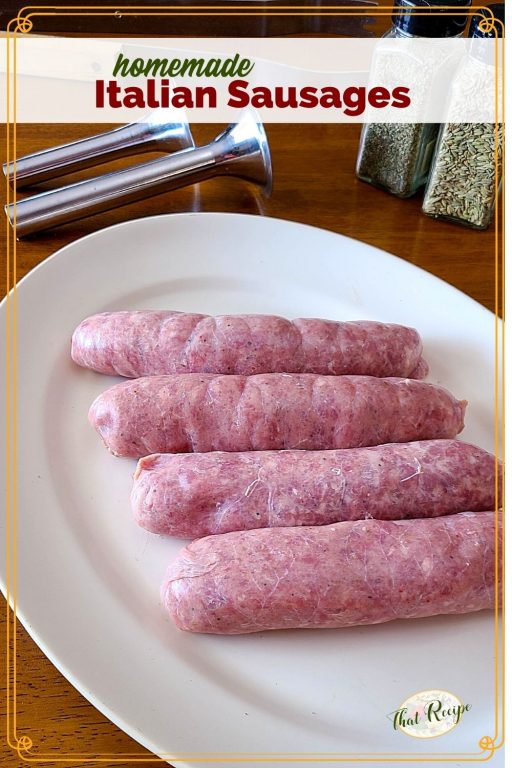 Sausage has been around since about 3100BC. The technique hasn't changed much over the years: grind up the bits and pieces of meat and fat, add some spices and stuff the mixture into the animals intestines. Yeah, I know the last bit sounds gross, but that's what casings are.
My mother-in-law's father was a butcher and according to his kids he made the BEST sausages including Hungarian Kolbaz (paprika, garlic and allspice) and Breakfast Sausage (sage, nutmeg, and pepper). Same technique, different flavorings.
I frequently use this spice mix to flavor ground pork when I need loose Italian Sausage. But this time I decided to go "whole hog" and buy some casings to actually stuff them. Easy, but it is a bit time consuming. So, if you are going to go to the trouble, make at least ½ of the recipe below and freeze the extras to have on hand for everything from pasta sauce to grilled Italian Sausage sandwiches.
Sausage Making Equipment
If you have a good kitchen supply place and/or butcher near you, you can pick up these items in person. Otherwise, do as I did and head over to Amazon.
Meat Grinder Sausage Stuffer Mixer Attachment (similar to what I have)
Manual Meat Grinder and Sausage Stuffer
Hog Casings
Videos for Sausage Making
You may want to watch a video or three before stuffing the sausages for the first time. There are plenty on YouTube, but here are three that caught my eye.
Homemade Italian Sausage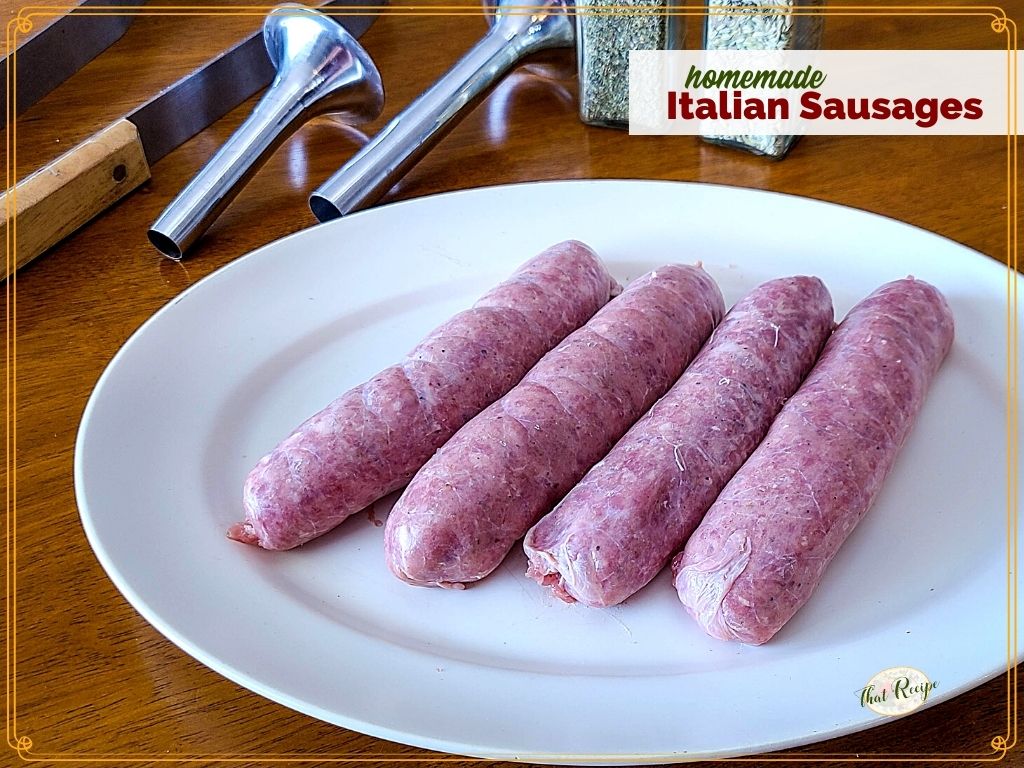 Ingredients
10

pounds

coarse ground pork butt or pork shoulder

2

cups

ice cold water

3-4

cloves

garlic

5

tablespoons

salt

4

tablespoons

fennel seeds

1

tablespoon

anise seed

1

tablespoon

sugar

½

tablespoon

coarse ground pepper

1½

teaspoon

dried oregano leaves

1-2

teaspoons

red pepper flakes

(more or less to taste)

1

teaspoon

caraway seeds

1

teaspoon

coriander

hog casings for stuffing
Instructions
Grind pork through medium fine plates.

Blend remaining ingredients in a blender, blend on low 30-60 seconds.

Mix spices with ground pork until thoroughly blended for 3-5 minutes

Stuff into casings per manufacturer's directions or store loose sausage in zip to lock freezer bags.
Sound fabulous? Share it!
Until next time, happy eating!
~Audrey