This Chocolate Chip Brown Sugar Pie recipe is sponsored by Imperial Sugar. The recipe and all opinions expressed in the post are my own.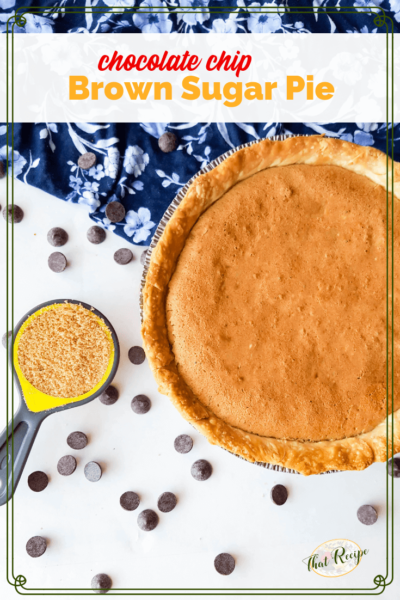 If you need a rich decadent treat this holiday season, you are going to want to Pin this recipe. The brown sugar turns caramel-like upon baking and then there is the chocolate chips mixed in every bite. Add a flaky crust and this pie is heavenly!
#Choctoberfest 2018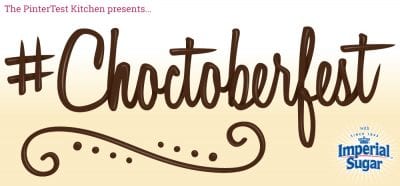 This recipe is part of a week long celebration of all things chocolate brought to you by over 100 bloggers and some amazing sponsors. Be sure to keep scrolling to the bottom of the page to see what some of the other bloggers are sharing on their blogs today.
Be sure to head over to my Mexican Hot Chocolate post to enter the Choctoberfest giveaway for a prize package of:
A 100-Piece Cake Decorating Kit from our blog sponsors The PinterTest Kitchen. This set includes a cake turntable, piping bags, piping tips, flower nozzles, scrapers, and more.
An Instant Pot and a 40-Pound Case of Granulated Sugar from our gold sponsor Imperial Sugar. Imperial Sugar provides high-quality sugar and sweetener products and over 100 years of time-tested recipes. Sweet things happen when people come together in the kitchen, and that's why Imperial Sugar has been at the heart of family traditions and celebrations for generations.
Coconut Oil and Chocolate Silk Greens from our silver sponsor Barlean's, your trusted source for chocolatey goodness superfood nutrition. Barlean's has a commitment to staying ahead of the innovation curve in providing the absolute highest quality product.

A Chocolate Gift Pack from our silver sponsor Forte Chocolates. You'll receive 12 of their most popular chocolate bars. With Forte Chocolates, you can celebrate life through chocolate. They also have a line of chocolate developed specifically to use in savory recipes.
A Chocolate Gift Pack from our silver sponsor Divine Chocolate. You'll receive one of each of their baking bars, a white chocolate bar, and their top 5 everyday bars. Divine Chocolate is the only Fairtrade chocolate company in the world that is owned by cocoa farmers. Their baking bars are also a delicious vegan option.
A Selection of Sprinkles from our silver sponsor Sprinkle Pop. Sprinkle Pop's bespoke sprinkle creations are one of a kind, just like you! At Sprinkle Pop, you can also order a custom sprinkle mix; there isn't a sprinkle mix that you can dream up that they can't create.
Imperial Sugar
Another thing that made this recipe incredible is "good sugar". Yes, I am a sugar snob.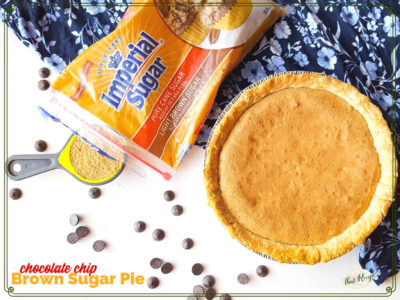 Some claim that beet sugar works the same as cane sugar. Let's just say, I have not found this to be the case. If the label doesn't say pure cane sugar I don't buy it. Imperial Sugar gets it.
For 175 years, Imperial Sugar has been a trusted name in family kitchens all across the south. Sweet things happen when people come together in the kitchen, and that's why Imperial Sugar has been at the heart of family traditions and celebrations for generations. We're the secret ingredient in family-favorite recipes handed down from one generation to another. Home cooks know that when you bake with love and Imperial Sugar, that's when memories are made.
They have hundreds of recipes on their site, plus some very helpful how to baking videos (tempering chocolate, tips for making hard candy, storing and softening brown sugar, etc.)
Follow them on social media for updates and recipes:
Facebook ~ Instagram ~ Twitter ~ Pinterest
This rich, caramel-ly Brown Sugar Chocolate Chip Pie is a decadent dessert for many occasions.
Click To Tweet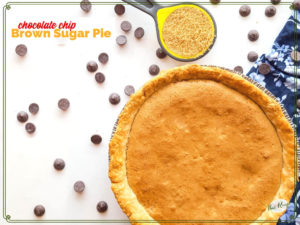 Chocolate Chip Brown Sugar Pie
We update the classic Southern Brown Sugar Pie with a layer of dark chocolate chips making this decadent rich pie even more amazing.
Ingredients
1 1/4

cups

brown sugar

2

eggs

2

teaspoons

real vanilla

3

tablespoons

flour

1/4

cup

butter

melted

4

ounces

dark or semi-sweet chocolate chips

1

unbaked pie crust
Instructions
Preheat oven to 350 degrees.

Line a pie pan with the pie crust. Decorate edging as desired.
[optional] Place pie pan on a baking sheet to make moving in and out of oven easier.

In a mixing bowl, beat together remaining ingredients, except chocolate chips for 2 minutes.

Stir in chocolate chips and pour into pie crust.

Bake 40-50 minutes. The center may be a bit gooey when done, but it should look set. You may need to cover the crust part way through baking if it browns too quickly.
Recipe Notes
Use your favorite single crust pie crust for this recipe. This is my favorite recipe.