Jump to Recipe
Print Recipe
Rosettes are a Christmas tradition in Norway and Sweden, a crispy fried shell coated with powdered sugar.
Crispy powder sugar dusted Rosettes are a Christmas tradition in many cultures and a wonderful way to celebrate #NationalCookieDay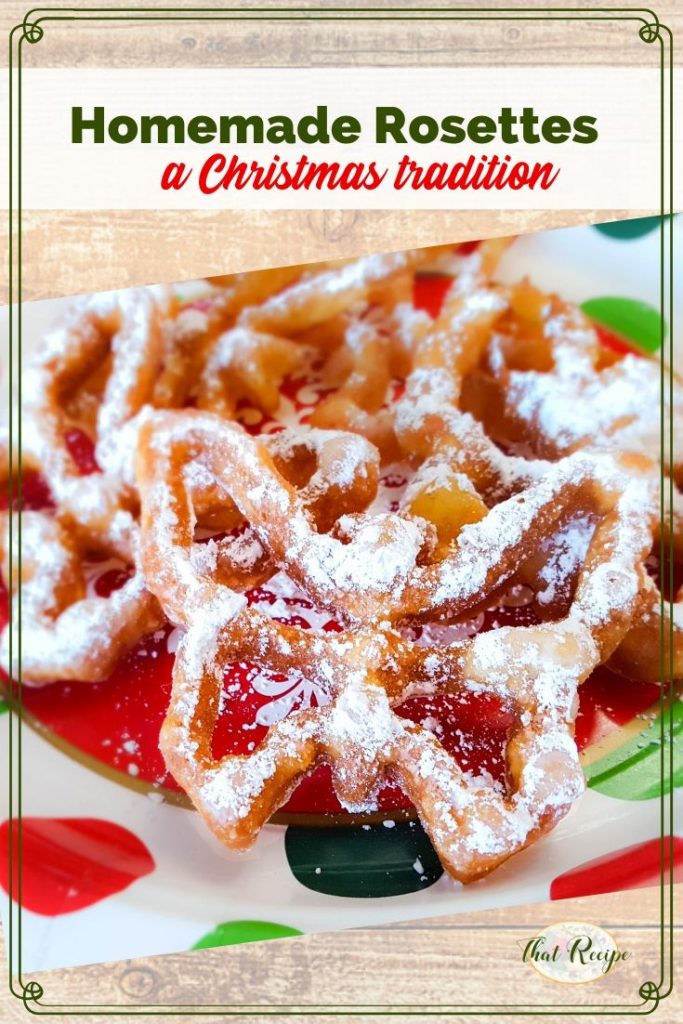 Rosettes are simple to make, but you do need a rosette iron. If you can't find them in the back of your mother's cupboard (where I originally got mine) you can get them from Amazon.
You need to monitor the oil temperature carefully. Too hot and the overcook in a second and if it isn't hot enough they will be a soggy mess.
The final tip for making sure they don't stick is to heat the iron for at least one full minute so it is hot thoughout and then tap off the excess oil or the batter will slide off.
More Cookie Recipes for #NationalCookieDay

Here are some more cookie recipes from some bloggers that love cookies as much as I do. Thanks to Erin of The Spiffy Cookie for hosting this National Cookie Day celebration. Go visit her blog and follow her!
Rosettes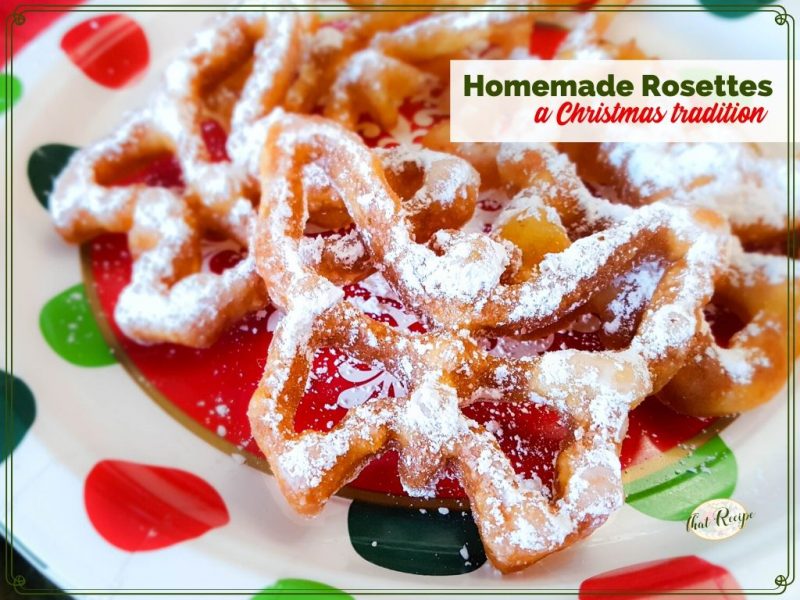 Ingredients
vegetable oil for frying

2

eggs slightly beaten

2

tablespoons

sugar

1

teaspoon

salt

1

cup

milk

1

cup

flour

2

tablespoons

vegetable oil

powdered sugar for serving
Instructions
Heat 2 to 3 inches of oil in a small deep saucepan to 400 degrees.

Lay out a layer or two of paper towels near the stove.

In a medium bowl, beat eggs, sugar and salt. Mix in remaining ingredients until smooth.

Heat rosette iron in oil for 1 minute. Tap excess oil on paper towels then immediately dip top into batter (do not let batter come over the top). Fry in hot oil for 30 seconds.

Remove rosette on the paper towel. It should slide off easily, but may need a little nudge with a fork. If the rosette is not crispy, the batter is too thick. Thin with a little more milk.

Repeat with remaining batter, heating iron in oil each time to prevent sticking.

Dust with powdered sugar before serving.
Get even more Christmas cookie recipes in my Bake the Season Bright book available on Amazon Kindle.