These Pineapple Cakes or Pineapple Tarts (Feng Li Su in Taiwanese) are a delightful pastry of pineapple jam covered in a flaky shortbread crust.
We needed a fruit can to make a vase for the Kindergarten May Day "flower store". Didn't he pick out some beauties?!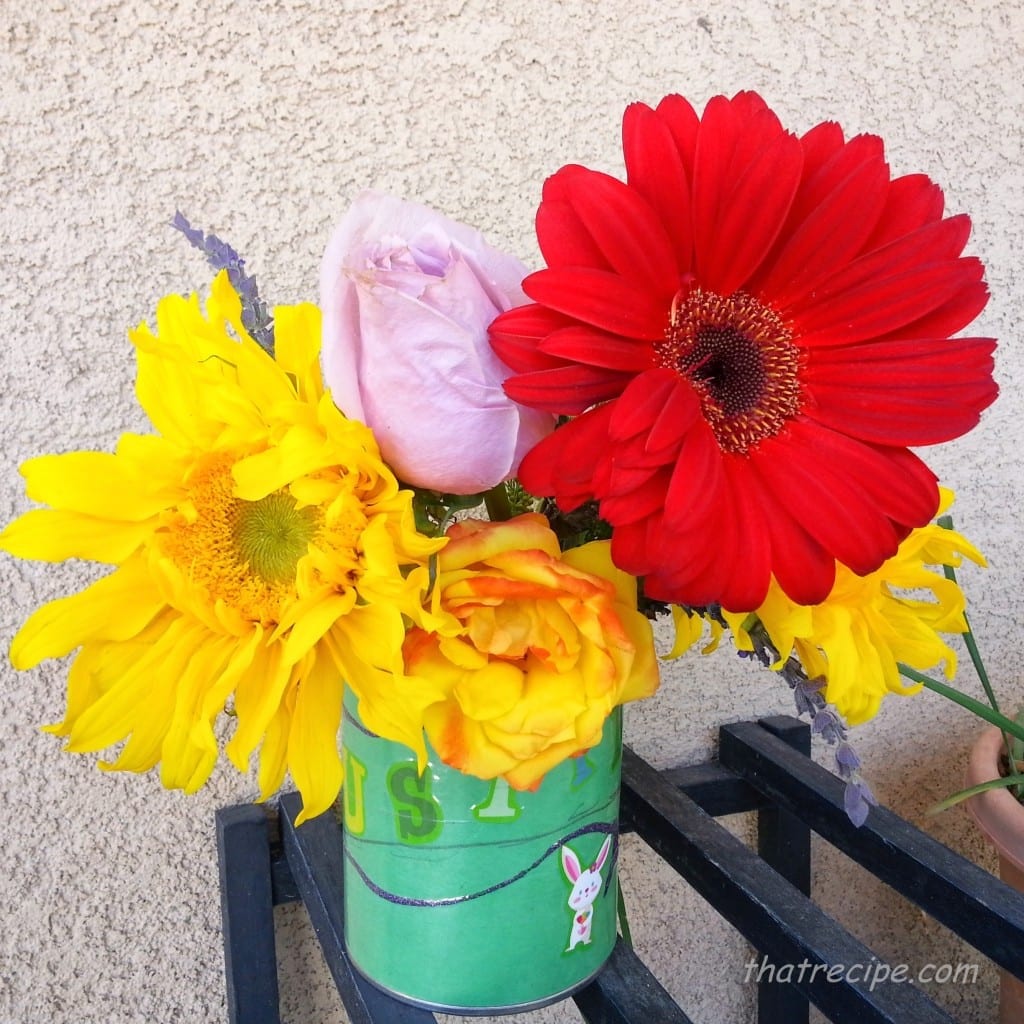 I ended up buying two cans of pineapple because they were on sale. I knew I would use the juice to make Hawaiian Bread, but I struggled to come up with what to make with the fruit.  Then I remembered the Pineapple Cakes someone always brought into the office for Chinese New Years.
They were these delicious little squares of flaky crumbly crust filled with a scrumptious pineapple filling. Oh yeah, that's what I wanted. But, I had no idea what they were called or how to describe them in order to search for a recipe. After some research I ended up with several recipes that I combined into the one below.
The recipe is easy to make, but reducing the pineapple takes some time and of course shaping each one takes a bit more. I didn't have the molds you are supposed to use so I just shaped them into a square by hand. The dough is pliable so it is simple task.
The crust was not as crumbly as the ones I remembered. They were much more like shortbread. Meaning THEY WERE BETTER! Seriously, these were so fabulous that I bought two more cans of pineapple to make them again. And this time I promise to share with my mother.
Taiwanese Pineapple Cakes
Tawainese Pineapple Cakes (Feng Li Su or Fengli Su) are a cookie like pastry filled with sweet pineapple jam often given as gifts.
Ingredients
JAM
2

cans

20 ounce size pineapple chunks

1/3

cup

sugar
PASTRY
1.5

cups

cake flour

7

tablespoons

unsalted butter

4

tablespoons

powdered sugar

1/2

large

egg

slightly beaten

4

tablespoons

powdered milk

1/4

teaspoon

salt
Instructions
jam
Drain pineapple and reserve juice for another recipe. Squeeze fruit to release excess liquid. Pulse in the food processor a few seconds to break it up into bits. Put into large non-reactive skillet.

Add sugar to pineapple and cook over medium heat until mixture is thick and caramelized, about 30 minutes. Let cool completely.
pastry
Preheat oven to 350 degrees. Cream together butter and sugar. Add the beaten egg and mix until incorporated.

Sift in flour, milk powder and salt to the butter mixture to form a soft dough. Do not over-mix. Divide into 16 balls. Divide jam into 16 balls.
cakes
Flatten pastry ball with your hand, put jam ball on top. About 1:1 ratio of dough to jam.

Work the dough around the jam until it is completely covered, then shape into a small square.

Place on cookie sheet and repeat with remaining balls. Bake until pastry starts to brown, about 20 minutes. Move cakes to rack to cool.