Jump to Recipe
Print Recipe
This easy Almond Chicken Chow Mein is a deliciously simple noodle dish perfect for Chinese New Year or any night of the week.
Almond Chicken Chow Mein is an easy dish to make at home any night of the week. It also makes a fabulous dish for special occasions.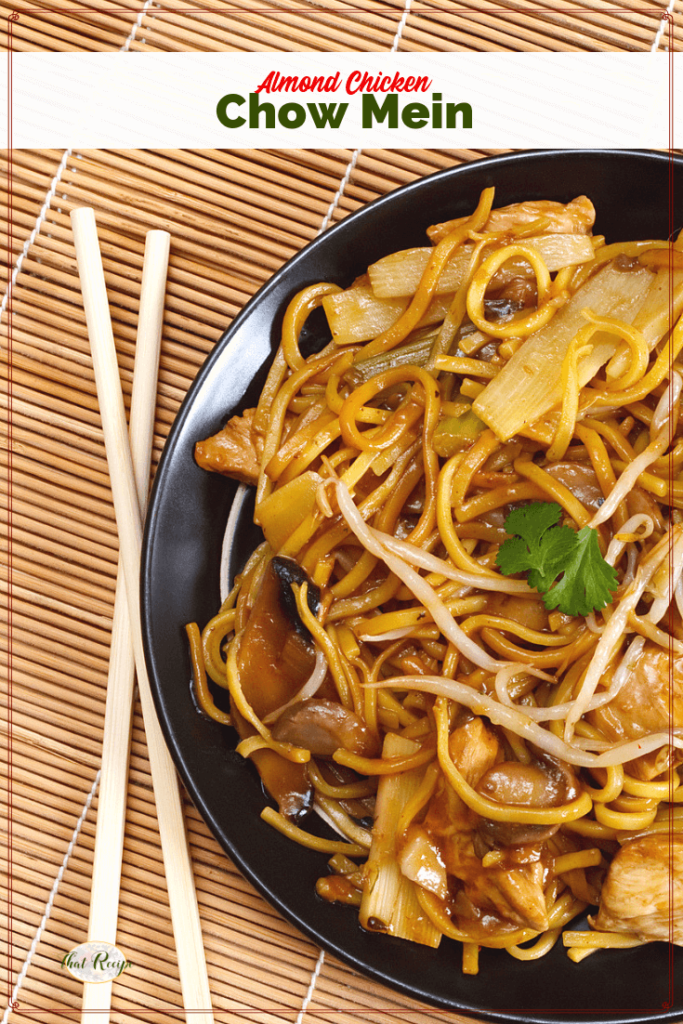 This simple Chicken Chow Mein recipe came from a class my mother took in the 1970's. She even bought an electric wok (in classic 70's burnt orange) to make this and a few of the other dishes from the class.
Fear not! You don't need a wok to make this. A large skillet will do just fine.
Once everything is chopped it only takes about 10 minutes to cook it. You can throw everything into the wok at once, but it comes out so much better if you take the little bit of extra time to cook it as directed to allow everything it's proper amount of cooking time.
Where to find ingredients for Almond Chicken Chow Mein
Unlike some of the other Chinese recipes on the site, this one has pretty basic ingredients you should easily find at most well stocked grocery stores.
Bok choy or Chinese pea pods and bean sprouts are going to be in the fresh produce aisle, though you can get canned bean sprouts if fresh aren't available.
Chow mein noodles are in the Asian food section. Get the long noodles that look like angel hair pasta. In fact you can use spaghetti or angel hair as a substitute if needed.
Black mushrooms, bamboo shoots and water chestnuts should all be in the Asian food aisle. The mushrooms will be in a clear plastic container while the others are canned.
Almond Chicken Chow Mein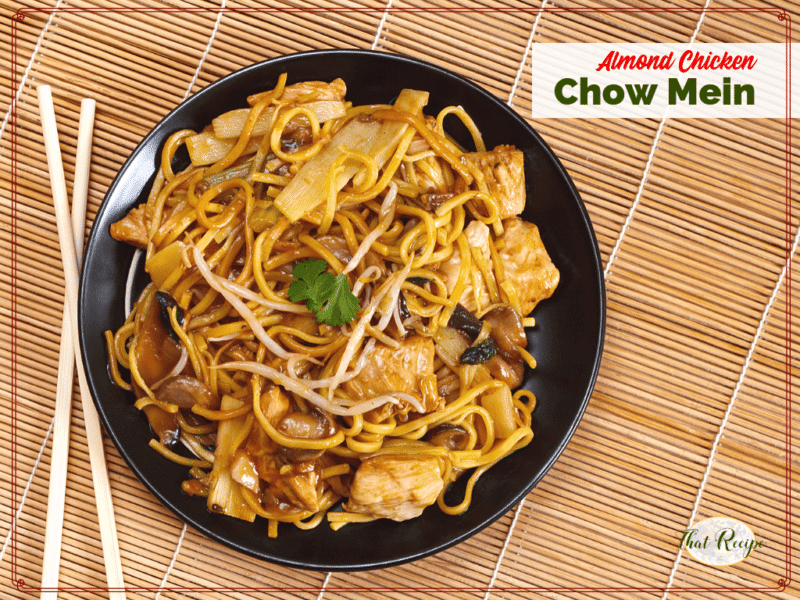 Ingredients
1

pound

chow mein noodles

6

tablespoons

oil

(divided use)

1

pound

boneless skinless chicken breast cut in thin strips

3-4

Chinese black mushrooms

(presoaked an hour and cut in thin strips)

4-5

water chestnuts

(peeled and sliced)

1

small

onion

(diced)

1

stalk

celery

(sliced thinly on the diagonal)

1 ½

cup

bok choy or 1 cup Chinese pea pods

1

cup

bean sprouts

½

cup

bamboo shoots

(chopped)

¾

cup

toasted almonds

(chopped (divided use))

1

package

dry chicken gravy mix

1

cup

chicken stock
Instructions
Cook noodles about 1 minute in boiling water, drain.


While noodles are cooking heat 2 tablespoons oil in wok until very hot, add cooked noodles and cook for a few minutes adding additional oil if the noodles stick. Remove from wok and set aside.

Add 2 tablespoons oil to wok saute chicken and mushrooms for 2-3 minutes. Cover and cook an additional 2 minutes and remove from wok.

Add 2 tablespoons oil to wok add water chestnuts, onion, celery, bok choy, bean sprouts and bamboo shoots. Saute over high heat for 2 minutes, add chicken and mushroom and saute for one minute. Add ½ cup almonds.

Add chicken stock and gravy mix, and bring to a boil. Add noodles and mix well, breaking the noodles as you stir - unless it is for New Years, then leave the noodles long for good luck.

Garnish with additional almonds.
More Lunar New Year Recipes