Jump to Recipe
Print Recipe
Toffee Chocolate Chip Cookie Ice Cream Sandwiches are fun, easy and make a festive treat for any occasion.
Toffee Chocolate Chip Cookie Ice Cream Sandwiches are fun, easy and make a festive treat for any occasion.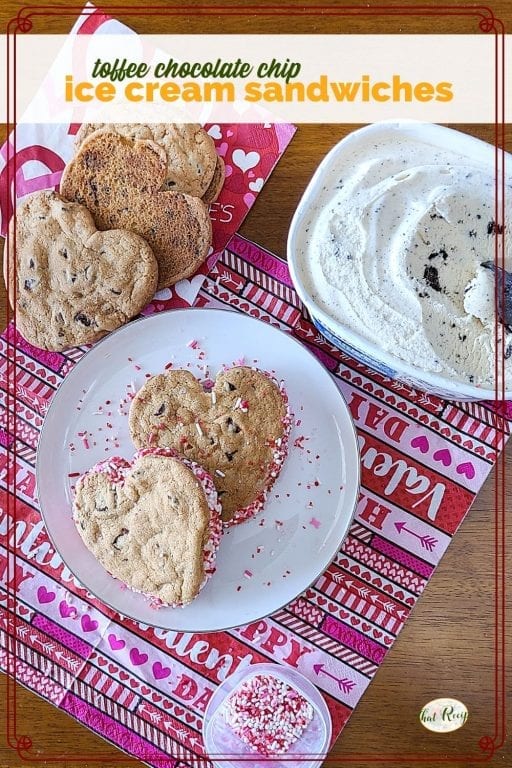 When one of my fellow Food Bloggers told me about the Good Cookie event I knew I had to participate. And the first person I contacted was one of my high school besties.
Ria's daughter, Zoe, gained her angel wings a few days after her 16th birthday after a valiant battle with Ewing's Sarcoma. I thought Zoe's little brother, now a college freshman, could use a care package of cookies. Ria told me that he loved chewy chocolate chip or toffee chip cookies.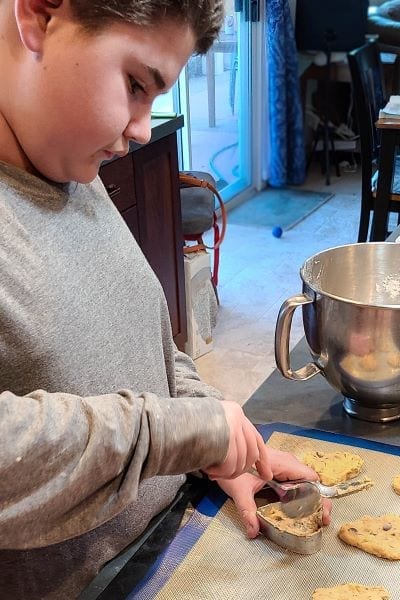 On my son's "day on" for Martin Luther King Jr. Day, he helped me to make the cookies: toffee and chocolate chip cookies in heart shapes. Well, they were heart shapes after a little trimming.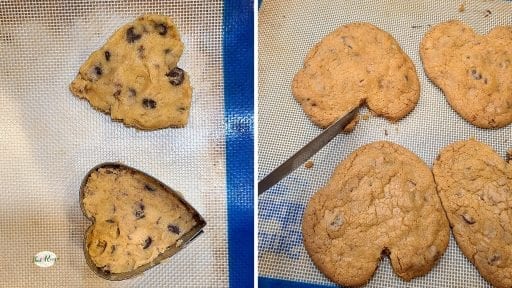 I made some Penuche frosting and added more toffee chips to that then sandwiched the cookies together.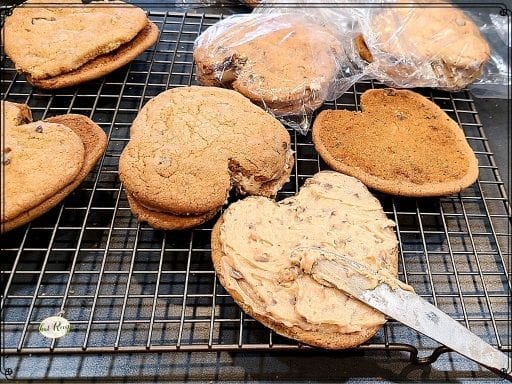 Unfortunately, I used all of the frosting I made with the last of my Dixie Crystals powdered sugar, but there were still a few cookies left for my helper.
Oh no!
The remainder became ice cream cookie sandwiches with some festive Valentine's Day sprinkles.
Good Cookie Food Bloggers' Valentine's Event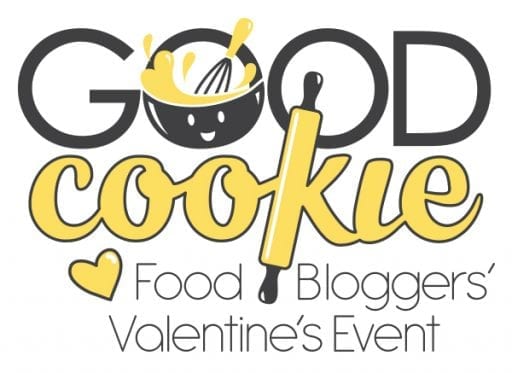 Cancer is the #1 cause of death of children by disease in the U.S. There are 40,000 U.S. children actively battling cancer right now.
Cancer doesn't care that there is an ongoing worldwide pandemic at the moment, children are still being diagnosed with cancer. Which is why we are raising funds to support ongoing pediatric cancer research!
Help us make a difference by donating to Cookies for Kids' Cancer! Our goal is to raise at least $3000 because three amazing companies, OXO, Mediavine and Dixie Crystals, have each pledged to match our donations raised through this campaign up to $3000!
That means when we raise $1, it turns into $4!
Be sure to visit the other bloggers participating in the Valentine's Day event and check out their recipes!
Heart Shaped Chocolate Cake
from Julie of The Little Kitchen
Easy Chocolate Mousse
from Allison of Celebrating Sweets
Chocolate Marshmallow Cookies
from Sheila of Life, Love, and Good Food
Lemon Biscotti
from Jenn of Ever AFTER IN THE WOODS
Easy Cream Cheese Candies
from Kelly of Live Laugh Rowe
Cornflake Cookies from All The Good Cookies
from Wendy of A Day in the Life on the Farm
Strawberry Mochi Cookies
from Heather of Delicious Not Gorgeous
Red Velvet Valentine Brownies Recipe
from Jennifer of The Rebel Chick
Red Velvet Cupcakes Recipe
from Faith of An Edible Mosaic
Chinese Five-Spice Snickerdoodle Cookies
from Bridget of Bake at 350
Chocolate Molten Lava Cake
from Ashley of Spoonful of Flavor
Double Chocolate M&M Cookies
from Melissa of Persnickety Plates
Raspberry Lemon Macaroons
from Sue of It's Okay to Eat the Cupcake
Raspberry Curd
from Holly of A Baker's House
Red Velvet Brownies
from Kelly of Kelly Lynn's Sweets and Treats
Toffee Chocolate Chip Ice Cream Cookie Sandwiches from Audrey of That Recipe
Creamy Raspberry Sherbet Pandemic Punch
from Laura of Untwisted Vintage
Chocolate Dipped Strawberry Cake Balls
from Lindsey of Lindsey Loo's Bakery
Chocolate Covered Oreo Pops for Valentine's Day
from Heather of Totally Tailgates
Amaretto Cherry Swirl Cake
from Samantha of Haute Pepper Bites
Gluten Free Double Chocolate Bundt Cake
from Elaine of Small Farm Big Life
Easy Strawberry Mousse
from Caroline of Caroline's Cooking
Cornflake Cookies from All The Good Cookies #HelpingCookies
from Wendy of A Day in the Life on the Farm
Vanilla Bean Cherry Chocolate Kiss Cookies
from Colleen of Faith, Hope, Love, & Luck Survive Despite a Whiskered Accomplice
Neapolitan Cookies Recipe
from Lisa of Blogghetti
Small Batch Almond Thumbprint Cookies
from Lauren of Healthy Delicious
Kahlua Truffles
from Camilla of Culinary Adventures with Camilla
Red Velvet Brownie Cups
from Nikki of Soulfully Made
Triple Chocolate Trifles
from Coleen of The Redhead Baker
Cast Iron Skillet Cookie For Two
from Aimee of Aimee Broussard
Festive Puppy Chow
from Erin of The Speckled Palate
Chewy White Chocolate Raspberry Cookies
from Jessica of A Kitchen Addiction
Hot Chocolate Bombs for Valentine's Day
from Anna-Marie of Beauty and the Beets
Chocolate Sandwich Cookies
from Lisa of Taste Cook Sip
Peanut Butter Snickerdoodles
from Betsy of The JavaCupcake Blog
Cherry Blossom Cookies
from Carolann of Apron Warrior
Chocolate Mint Frappuccino Cookies
from Peabody of Sweet ReciPEAs
Mini Chocolate Covered Strawberry Cheesecakes
from Kate of Kate's Recipe Box
Almond Flour Peanut Butter Cookies
from Shashi of Savory Spin
Funfetti Cookie Bars
from Becca of The Salted Cookie
Grapefruit Poppyseed Cake
from Michelle of Cold Weather Comfort
White Rabbit Candy Cookies
from Linda of Ketchup with Linda
Baby Yoda Valentine's Day Cookies to Support Cookies for Kid's Cancer
from Jenn of justJENN recipes
Salted Peanut Butter Pretzel Cowboy Cookies
from Bree of Baked Bree
Red Velvet Hot Chocolate Bombs
from Erin of The Spiffy Cookie
Homemade Hot Chocolate Mix
from Gwynn of Swirls of flavor
Cherry Chocolate Chip No Bake Cheesecake
from Stefanie of Stef's Eats and Sweets
Valentine's Day Homemade Ding Dongs
from TammyJo of The Chocolate Cult
Guava Macarons with Coconut Buttercream
from Lindsay of Anchored Baking
Valentines Pink Dessert Charcuterie Board for Kids
from Nicole of For the Love of Food
Hot Chocolate Cookies
from Amanda of A Cookie Named Desire
Cóctel de Camarones
from Rebekah of Kitchen Gidget
Cuccidati (Italian Fig Cookies)
from Amy of The Nifty Foodie
Lemon Poppyseed Heart Shaped Sandwich Cookies
from Lisa of Garlic & Zest
Valentine's Day Almond Flour Brownies
from Kaitlin of I Can Cook That
Peanut Butter Chocolate Cake
from Trang of Wild Wild Whisk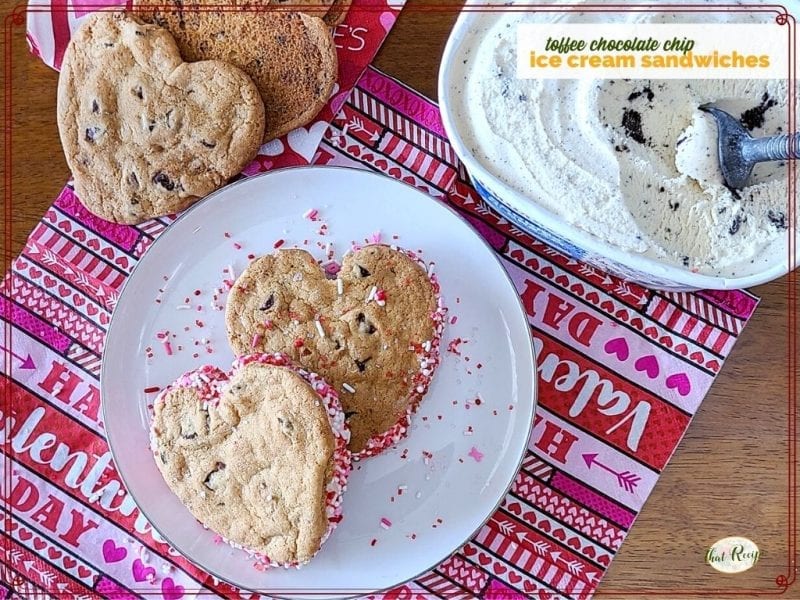 Ingredients
2¼

cups

all-purpose flour

1

teaspoon

baking soda

½

teaspoon

salt

½

cup

butter

¾

cup

granulated sugar

¾

cup

light brown sugar packed

1

teaspoon

vanilla extract

2

large

eggs

4

ounces

toffee bits

4

ounces

semi sweet chocolate chips

1

quart

ice cream, any flavor

sprinkles, chopped nuts, leftover toffee bits

(optional)
Instructions
Heat oven to 350°F. Line baking sheets with parchment paper or silicon baking mat

In a medium bowl whisk together flour, baking soda and salt set aside.

In a large mixing bowl, beat butter, granulated sugar, brown sugar and vanilla until well blended. Add eggs one at a time, beating well after each addition.

Gradually add flour mixture, beating until well blended. Stir in toffee bits and chocolate chips

Drop by rounded teaspoons onto prepared cookie sheet.

Bake 9 to 11 minutes or until lightly browned. Move cookies to cooling rack to cool completely.

Let ice cream soften slightly before making sandwiches:

- turn one half of the cookies upside down

- spread with ice cream

- top with another cookie

- roll cookie edge in sprinkles, nuts, toffee, etc. if desired.

- eat immediately or wrap in plastic to freeze for later.
Notes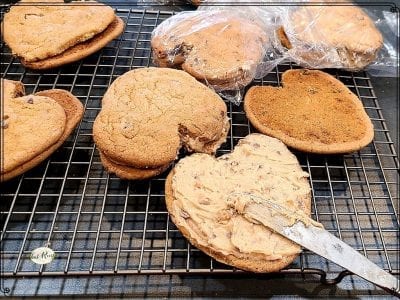 Variation: Toffee Crunch Sandwich Cookies
Prepare one batch Penuche Frosting. Mix in 4 ounces of toffee chips. Swap for the ice cream above.
Sound fabulous? Share it!
Until next time, happy eating!
~Audrey