Jump to Recipe
Print Recipe
Chocolate Cranberry Biscotti - twice baked crunchy chocolate Italian biscuits studded with dried cranberry for dipping in coffee, latte, cappuccino, etc.
I love making Biscotti because they are almost impossible to mess up. You bake them until they are crunchy and then bake them again. And then you get a nice warm beverage of choice, dunk them in and devour ....
I made these Chocolate Cranberry Biscotti as part of our Crazy Ingredient Challenge. The CIC is a group of bloggers that choose two ingredients that might not normally be paired together and create a recipe with them. Then we all post on the same day and share our recipes. Be sure to scroll past the recipe to see what the others came up with this month.
I admit I was a bit skeptical about the flavor of cranberry and cocoa together, but they worked together nicely. Personally I would add the cherry flavored cranberries or dried cherries next time, because I love cherries! But the cranberries were good.
Before I got a chance to dip these in chocolate and make them festive, I spied my husband taking a bite out of one. Or more accurately, I heard him take a bite out of one. In mock horror I asked if he knew they were supposed to be dunked. He did, but said they were good anyway. Which I guess means they are really good!
[click_to_tweet tweet="Chocolate Cranberry Biscotti are perfect for dipping in coffee, latte, cappuccino, etc. They also make great gifts. #chocoaltebiscotti #biscottirecipe #homemadegifts" quote="Chocolate Cranberry Biscotti are perfect for dipping in coffee, latte, cappuccino, etc. They also make great gifts. " theme="style2"]
Chocolate Cranberry Biscotti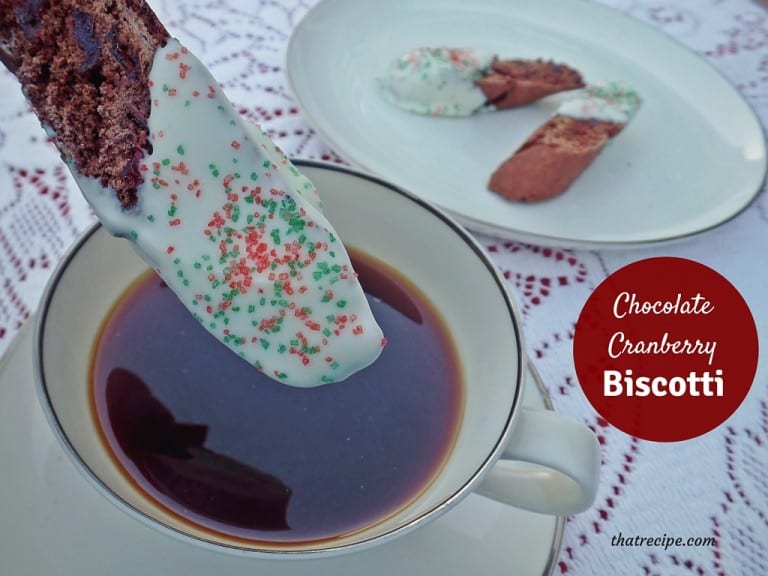 Ingredients
1 ⅓

cup

all purpose flour

½

cup

cocoa powder

1

teaspoon

baking powder

¼

teaspoon

salt

1

cup

sugar

2

Large eggs

¼

teaspoon

vanilla extract

½

cup

dried cranberries

(or dried cherries)

chocolate for drizzling or dipping

(milk, dark or white chocolate)
Instructions
Preheat oven to 350 degrees. Line a baking sheet with parchment paper.

In a medium bowl whisk together flour, cocoa powder, baking powder and salt.

In a large bowl whisk together sugar and eggs until a light lemony color. Add in dried cranberries.

Mix in dry ingredients until a dough forms.

Shape dough into two loaves approximately 12 inches by 2 inches. Place on the baking sheet a few inches apart.

Bake until loaves are just beginning to crack, about 30 minutes.

Remove from oven and remove parchment paper and loaves to a cooling rack for 10 minutes. Turn oven down to 325 degrees.

Cut loaves with a serrated bread knife into ⅜ inch thick slices ON THE DIAGONAL. Place cut side up on the baking sheet.

Bake for 10-15 minutes until crisp, turning each cookie over halfway through baking.

Let cool completely. Dip in or drizzle with chocolate as desired for decorating.
Until next time, happy eating.
~Audrey