Jump to Recipe
Print Recipe
How to make Cold Brew Coffee Boba, cold brewed coffee with chewy boba pearls for a fun drink with a little something extra.
Cold Brew Coffee Boba is a blend of cold brewed coffee and chewy tapioca pearls for a shot of caffeine with a smooth taste and a little snack at the bottom.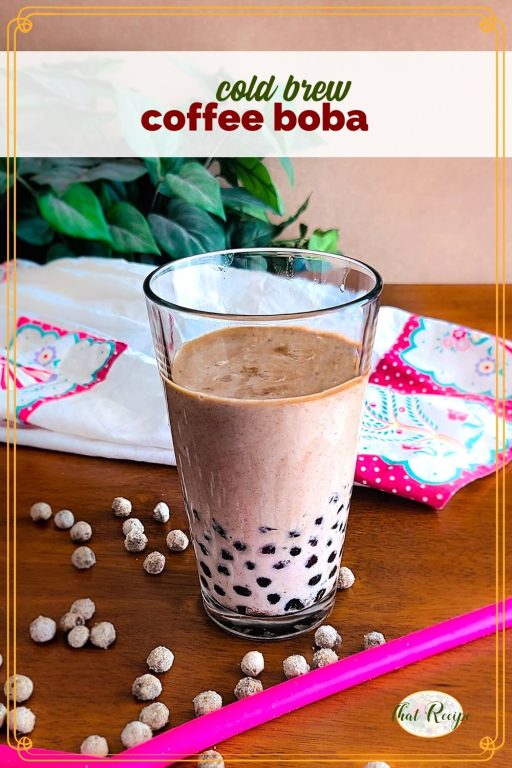 The last few years, once it starts to warm up, I unplug my coffee pot and switch to cold brew for my morning cup 'o Joe for the next 6+ months until the weather gets chilly again.
Letting the coffee steep in the water for 24-36 hours (I go up to 48 at times) creates a far less bitter brew. But it is strong! So you will need to mix it with milk or even some water if you prefer.
My coworkers in the computer industry got me hooked on boba drinks, aka bubble tea, back in the day. Normally, boba is made with brewed tea and milk. But, I checked the rule book and there is nothing that says you can't add boba pearls to anything you want.
Cold Brew Coffee Boba Equipment
Making cold brewed coffee is easy and the only equipment you really need is a coffee grinder, since you want percolator grind, not the pre-ground varieties that are ground for drip coffee makers.
You will also need something to strain the coffee grounds after letting them steep in the water. You can use a metal strainer lined with a coffee filter or a few layers of cheesecloth. Be sure to wet the cheesecloth first though, so it doesn't absorb the coffee concentrate.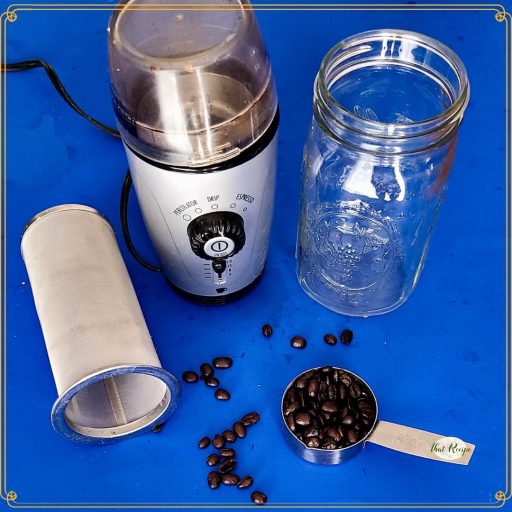 I treated myself this year to a fancy metal strainer that fits in a wide mouth mason jar (about $15 on Amazon). No cheesecloth to wash and less of a chance for me to spill that precious liquid.
For the boba you just need a small pan to cook them in and wide straws for serving so you can suck up the pearls. Go with straws that are at least ½ inch (13mm) wide: either disposable or reusable.
Cold Brew Coffee Boba Ingredients
The ingredients are relatively simple: coffee, water, milk, boba and sweetener.
Use your favorite coffee, flavored is fine.
Use your favorite milk or cream. Some people use evaporated milk or even sweetened condensed milk. You can choose non-dairy variety if you prefer.
Use your favorite coffee sweetener or none at all.
Which brings us to the boba. Regular tapioca that you use for pudding are too small. Your grocery store may carry the larger boba pearls in the Asian food aisle, or you can go to a specialty Asian market, or the good old internet. I went with these black sugar pearls for this recipe.
To make for a brunch:
Make up a big batch, or two, of cold brew concentrate a few days before your brunch. Then cook up the boba pearls in the morning before your brunch and give them a chance to chill. Set up a Coffee Boba bar with the concentrate, cooked pearls and different options for milk, flavorings and sweeteners.
Brunch Week Recipes
Join us this week as we celebrate #BrunchWeek hosted by Christie at A Kitchen Hoor's Adventures. We'll have loads of recipes including beverages, egg dishes, salads, breads and desserts.
Monday #BrunchWeek Recipes
Beverages
Cold Brew Coffee Boba from That Recipe
Appetizers and Salads
Breads, Grains, and Cereals
Egg Dishes
Main Dishes
Desserts
Cold Brew Coffee Boba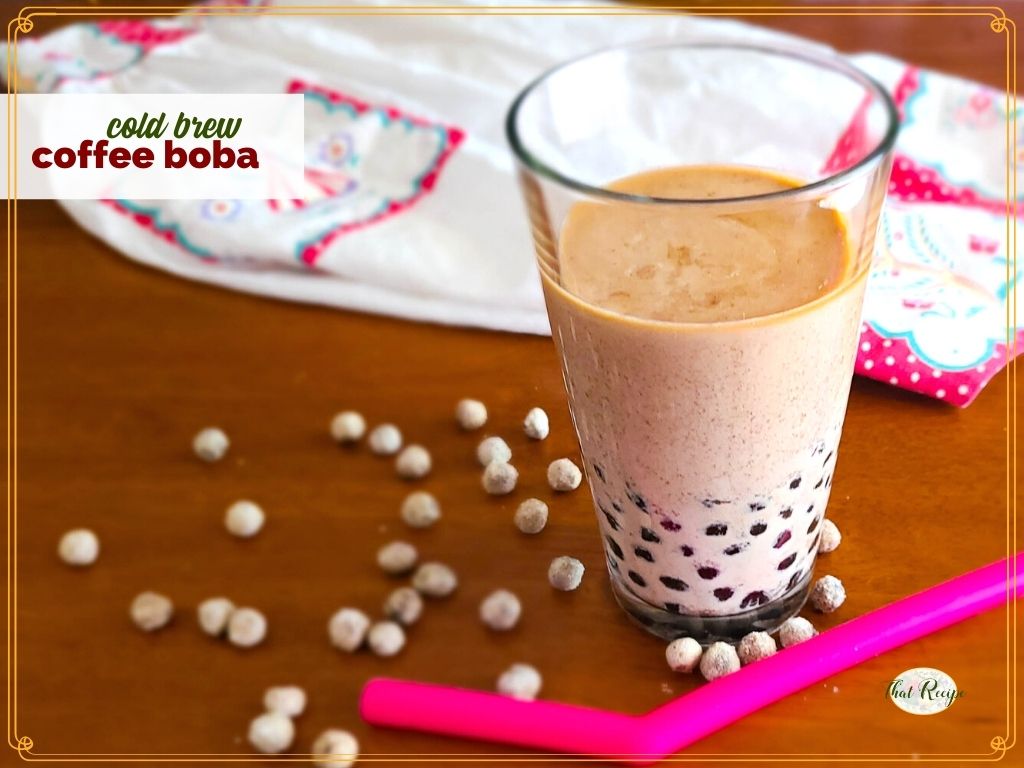 Ingredients
Cold Brew Coffee Concentrate
⅔

cup

coffee beans

(ground for "percolator")
Boba Drink (per drink)
¼-½

cup

boba pearls cooked according to package directions

(see notes)

milk (dairy or non-dairy), cream, or water

(to taste)

sweetener (sugar or non-calorie sweetener)

(to taste)
Instructions
Cold Brew Coffee Concentrate
At least 24 hours before serving prepare the Cold Brew Coffee Concentrate. In a 1 quart container (I use a mason jar), combine percolator ground coffee and enough water to fill the container. Cover and let sit 24-36 hours on the counter.

Line a metal strainer with a coffee filter or several layers of wet cheesecloth, place it over a bowl (I use a quart sized liquid measuring cup). Pour coffee concentrate into the strainer to remove the grounds.
Coffee Boba Preparation
Add cooked boba pearls to a glass. Add some ice (optional).

Pour in 4 ounces of cold brew coffee concentrate.

Add milk to taste, I usually go for 4-6 ounces depending on how long I let the concentrate steep.

Add sweetener of choice and enjoy!
Notes
Some packages of boba pearls packaging have directions which can be awkwardly translated.
Basically, I cook mine like pasta.
Use plenty of water (3 cups or more water to 1 cup pearls):

bring it to a boil,
add the pearls and stir to keep them from sticking
reduce heat a little  cook for about 3-4 minutes
scoop one out and taste it
keep cooking until it they are as soft and chewy as you like
After cooking I do a quick rinse in cold water and then let them chill until I am ready to use.
Sound fabulous? Share it!
Until next time, happy eating!
~Audrey