Jump to Recipe
Print Recipe
Plum Sorbet bursts with the flavor of ripe juicy plums. It is a delightful way to cool down on hot summer days.
This simple plum sorbet recipe is a great way to use overripe plums and makes a delightful dessert that goes equally well at an elegant dinner party as it does with a backyard barbecue.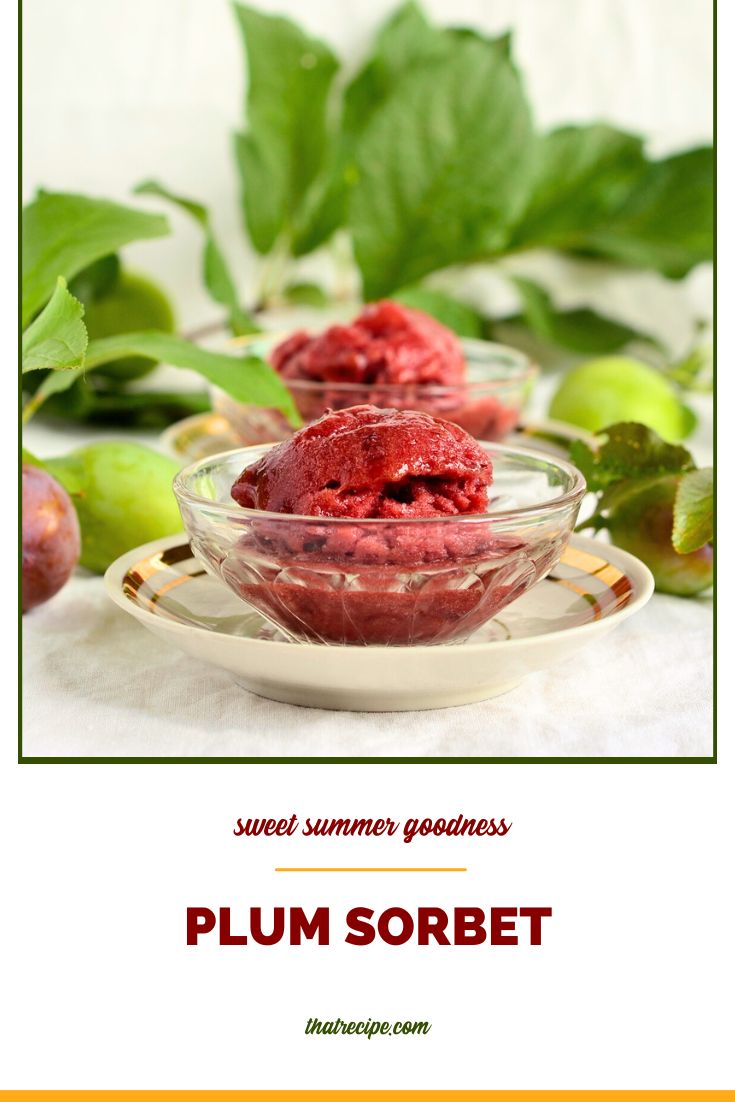 If you, or a neighbor, has a plum tree you likely hit a point in the summer when the plums ripen faster than you can eat them.
Enter this Plum Sorbet recipe. It is a delightful way to use up sweet mushy over ripe plums.
Sorbet versus Ice Cream
Ice Cream uses dairy as a base. Sorbet is usually made from fruit puree with no dairy or eggs.
Sorbet is vegan and extremely low in fat. It also has a lot of sugar, both from the fruit and added. You can experiment with sugar substitutes as desired.
Tips for Plum Sorbet
Adjust the sugar to your taste and the sweetness of the fruit. The sweeter the fruit the less sugar you need.
You could skip the 25 minute resting time in the blender, but I do not advise it.
The juices will be drawn out from the plums and the sugar will dissolve completely. If you skip it and go straight to mix and freeze the sugar might not melt and the result will be a tad gritty.
Making it within a few hours of serving is optimal as homemade sorbet tends to get icy if left in the freezer too long.
Plum Sorbet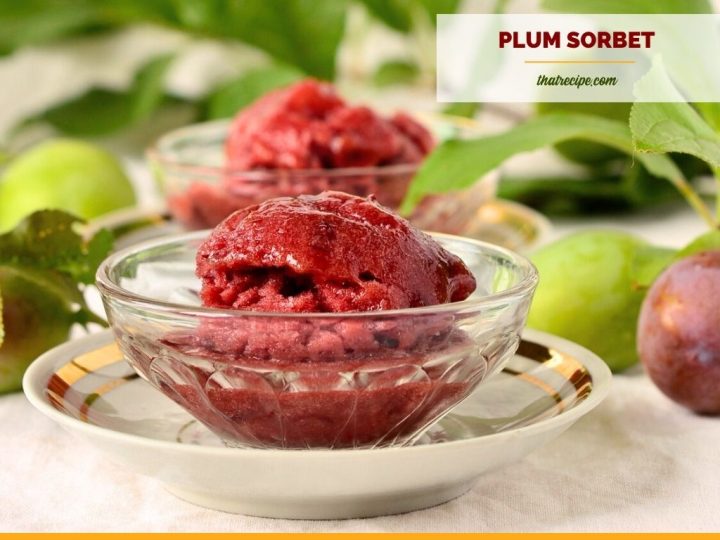 Ingredients
2

pounds

plums

(pitted and quartered)

¾

cup

sugar

3

tablespoons

honey

¼

teaspoon

salt

2

teaspoon

lemon juice
Instructions
In a high-speed blender add plums, ½ cup sugar, and honey. Taste and add additional sugar (or honey) if desired.

Let sit for about 25 minutes to macerate before proceeding.

Add lemon juice blend until smooth.

Transfer the mixture to a freezer safe container and place in freezer for 2-3 hours before serving, stirring every 30 minutes. The stirring is necessary to prevent it from becoming one large fruity ice cube.
Sound fabulous? Share it!