Honey Vanilla Strawberry Shortcake is an irresistible spin on a classic dessert! Experience the unbelievably soft layers of tender, buttery shortcake, infused with a dreamy blend of honey and vanilla.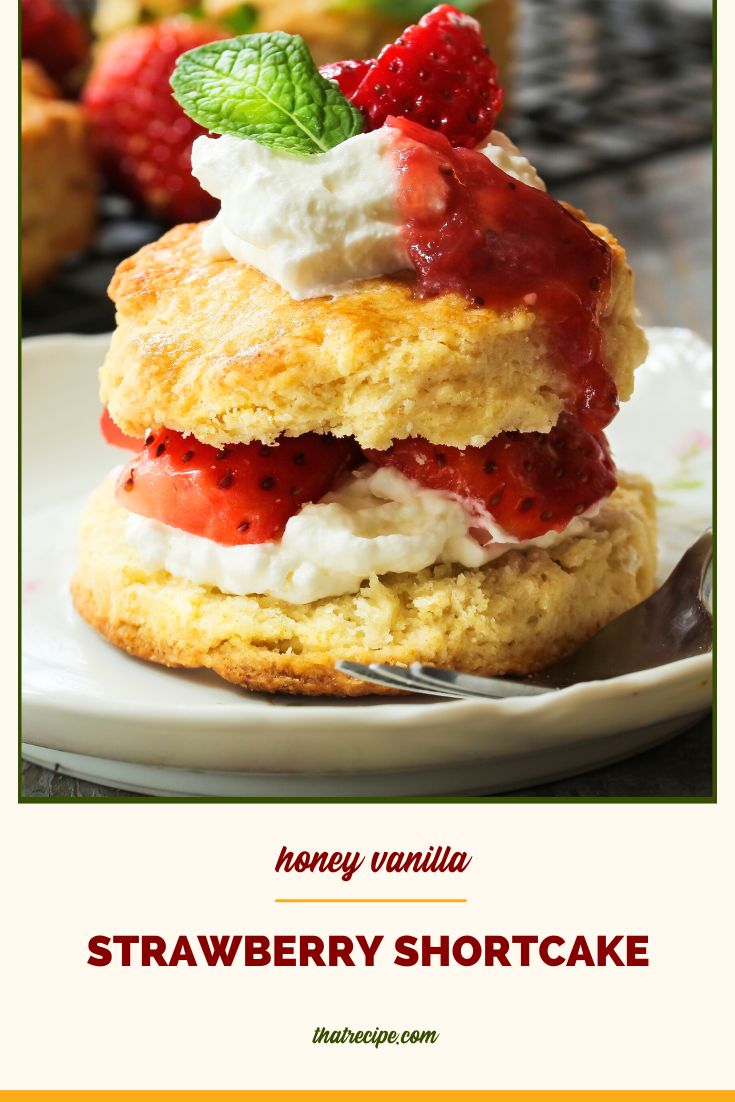 Sure, you could buy a premade angel food cake or pound cake, or maybe even step it up and make shortcakes with a biscuit mix. But with a little extra effort you can have this amazing treat.
Each bite of this simple dessert unleashes an explosive union of sweet, juicy strawberries, heavenly whipped cream and tender shortcake, infused with a dreamy blend of honey and vanilla.
Make this delightful Honey Vanilla Strawberry Shortcake tonight, and let the symphony of flavors forever redefine your dessert experience!
Ingredients for Honey Vanilla Shortcake
The ingredients are pretty basic baking ingredients:
flour: I use all purpose, you can chose a gluten free baking substitute if you prefer.
baking powder, baking soda, salt: for making the shortcake rise and in the case of the salt for flavor and improving structure
egg: or use your favorite egg substitute
butter: I use salted butter, you can use unsalted and add a bit more salt or go with margarine, shortening or chilled coconut oil.
honey: Use real honey, not honey flavored corn syrup. I use raw honey, usually from local bees. It costs more but tastes so much better than the homogenized ultra pasteurized stuff.
vanilla extract: It wouldn't be honey vanilla flavored without the vanilla.
vanilla yogurt: or plain yogurt with more vanilla and honey. This adds a light tang to the shortcake. It also adds moisture and protein which improves the texture and mouthfeel of the shortcake.
strawberries: use any berry or other fruit you have, or combine several.
whipped cream: or whipped topping.
Honey Vanilla Strawberry Shortcake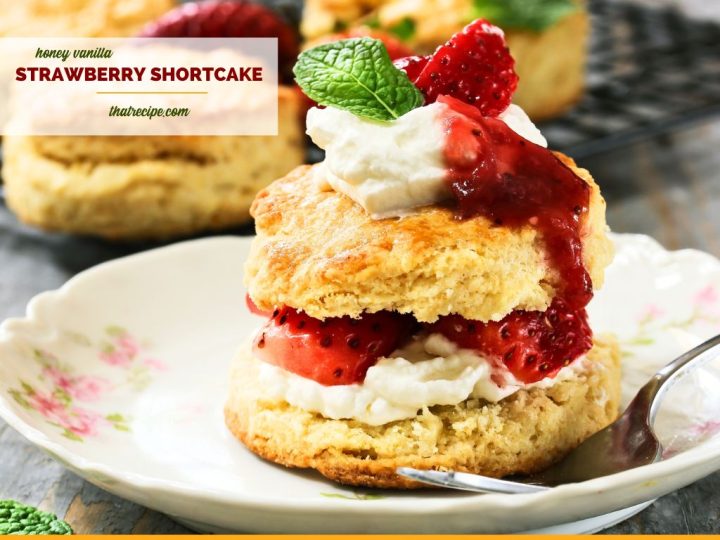 Ingredients
cooking spray or bit of butter

1 ⅔

cup

all purpose flour

(plus a little extra for handling the dough)

1

teaspoon

baking powder

1

teaspoon

baking soda

¼

teaspoon

salt

6

tablespoons

butter

(melted and cooled to room temperature)

2

tablespoons

honey

2

teaspoons

vanilla extract

⅔

cups

vanilla yogurt

1

large

egg

6

cups

strawberries

(sliced)

whipped cream or topping

(for serving)

mint leaves and strawberry syrup (or jam)

(optional for garnish)
Instructions
Preheat oven to 400℉. Spray baking sheet with cooking spray.

In a large bowl whisk together flour, baking soda, baking powder and salt.

In a medium bowl combine melted butter, honey and vanilla extract. Reserve 2 tablespoons of the mixture for topping.

Add yogurt and egg to the butter mixture and stir to combine.

Make a hole in the middle of the flour mixture with a wooden spoon. Gently pour in the yogurt mixture. Stir until it is just mixed.

Sprinkle a little flour on a clean counter top.

Shape the dough into a large flat circle and cut into 6 equal wedges or cut with large biscuit cutters.

Place wedges or circles on the prepared baking sheet. Spread the reserved honey butter on top.  

Bake for approximately 15 minutes until just turning light brown, remove from oven and move to cooling rack.

Once they are cool turn the shortcakes on their side and slice down the middle with the table knife. Put the shortcake on a plate, top with berries and whipped cream.

Garnish with mint leaf and strawberry syrup if desired.
Sound fabulous? Share it with other!
Strawberry Shortcake Variations