Jump to Recipe
Print Recipe
Berry Shortcake recipe with easy to follow steps for children to bake on their own, or with minimal assistance.
Looking for a fun and delicious activity to occupy your kids this summer? Have them make their own Berry Shortcake.
Early one morning, J got it in his head he wanted to bake. And waiting until I had some coffee wasn't an option.
He got out a children's cookbook Honest Pretzels we had checked out of the library and chose Berry Much Shortcake.
With a little help on the oven parts (he is still very cautious with the stove and oven) he read and followed the directions independently, while I tried to photograph him.
Did I mention it was very early in the morning? Not the greatest time to try to photograph a rapidly moving object in my rather dark kitchen, especially when only partially caffeinated.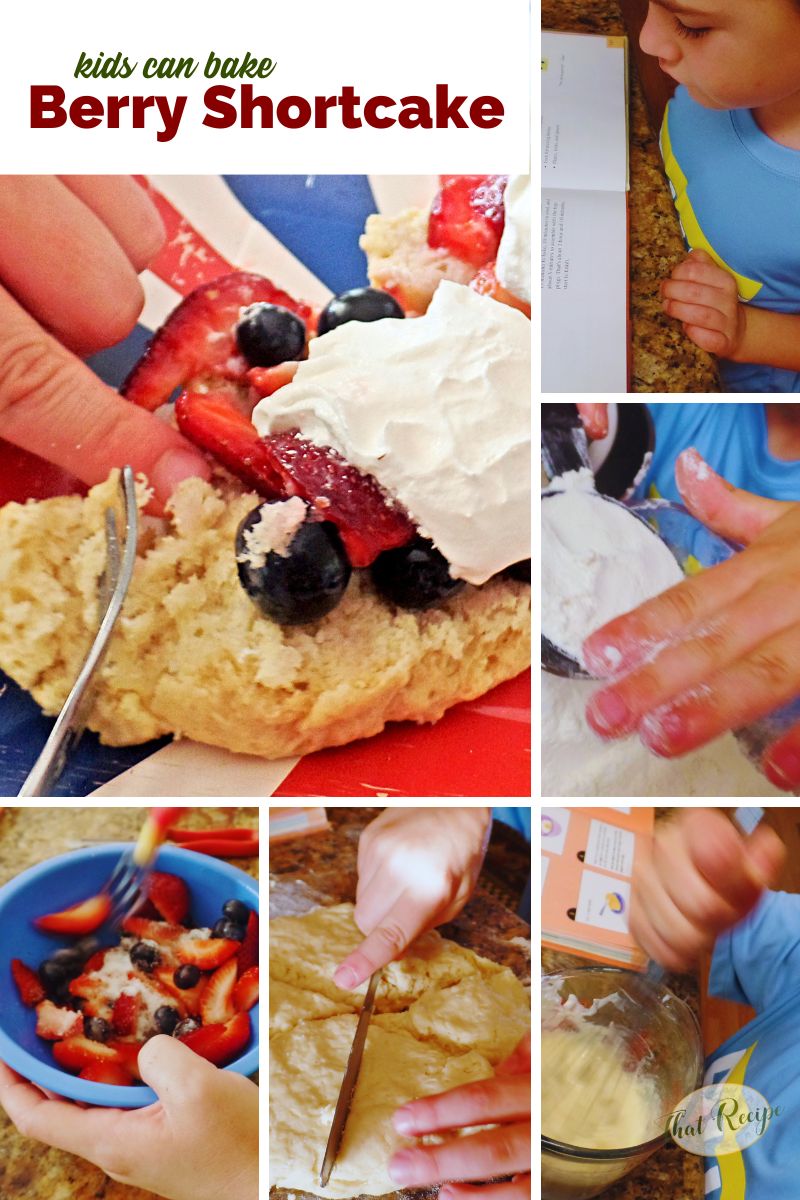 He has been helping in the kitchen for much of his 7 years, so he knows how to level the dry ingredients and find the matching mark on the liquid measuring cup. If your kids don't, take a minute to show them while they make this.
One tip I have used with J in the past is to use a wet erase marker and mark the measurement line (in this case ⅔ cup), then tell him to fill to that line.
Don't have kids? I am pretty sure an adult could handle making this without any help, ha ha!
Berry Shortcake
Ingredients
cooking spray or bit of butter

1 ⅔

cup

all purpose flour

(plus a little extra for handling the dough)

1

teaspoon

baking powder

1

teaspoon

baking soda

¼

teaspoon

salt

⅔

cups

vanilla yogurt

(plus extra for topping)

1

large

egg

¼

cup

butter

(½ stick or 4 tablespoons)

6

cups

berries

(strawberries, blueberries, raspberries, blackberries, etc.)

4

tablespoons

sugar
Instructions
ADULT: preheat oven to 400℉.

Spray baking sheet with a little cooking spray or rub a little butter all over it using a paper towel.

Put a strainer over a bowl. Measure flour, baking soda, baking powder and salt into strainer. Shake the dry ingredients into the bowl, trying hard to keep everything in the bowl.

ADULT: melt butter in the microwave or on the stove.

Crack egg into a small bowl. Carefully remove any egg shell.

In a 2-cup or larger measuring cup, measure the yogurt (to the ⅔ line). Add the egg and melted butter (have adult help if butter is still hot). Mix everything together with a whisk.

Make a hole in the middle of the flour mixture with a wooden spoon. Gently pour in the yogurt mixture. Stir until it is all completely mixed.

Sprinkle a little flour on the counter (or a cutting board or mat). Rub a little on your hands.

Put the dough on the counter and shape into a big flat circle with your hands. With a table knife cut a "peace sign" into the circle (all the way to the bottom). Then cut each of those pieces in half so you get 6 equal slices.

Put the pieces on the baking tray.

ADULT: Bake for approximately 15 minutes, remove from oven and put on cooling rack.

While the shortcake is baking, wash all of the fruit. If using strawberries, remove the green stem and cut into smaller pieces with the table knife. All of the other fruit is fine as it is.

Put the fruit in a bowl. Gently stir in the sugar. Let it sit to get syrupy with the shortcake bakes and cools.

Once they are cool, turn the shortcakes on their side and slice down the middle with the table knife. Put the shortcake on a plate, top with berries and yogurt (or whipped cream)
Sound fabulous? Share it!
Until next time, happy eating!
~Audrey