Jump to Recipe
Print Recipe
Strawberry Shortcake Cake Roll is a simple but fun vanilla cake filled with whipped cream and fresh strawberries for a delicious spring or summer dessert.
This post is sponsored in conjunction with #SpringSweetsWeek. I received product samples from sponsor companies to help in the creation of the #SpringSweetsWeek recipes. All opinions are mine alone.
Strawberry Shortcake Cake Roll is a special but simple dessert.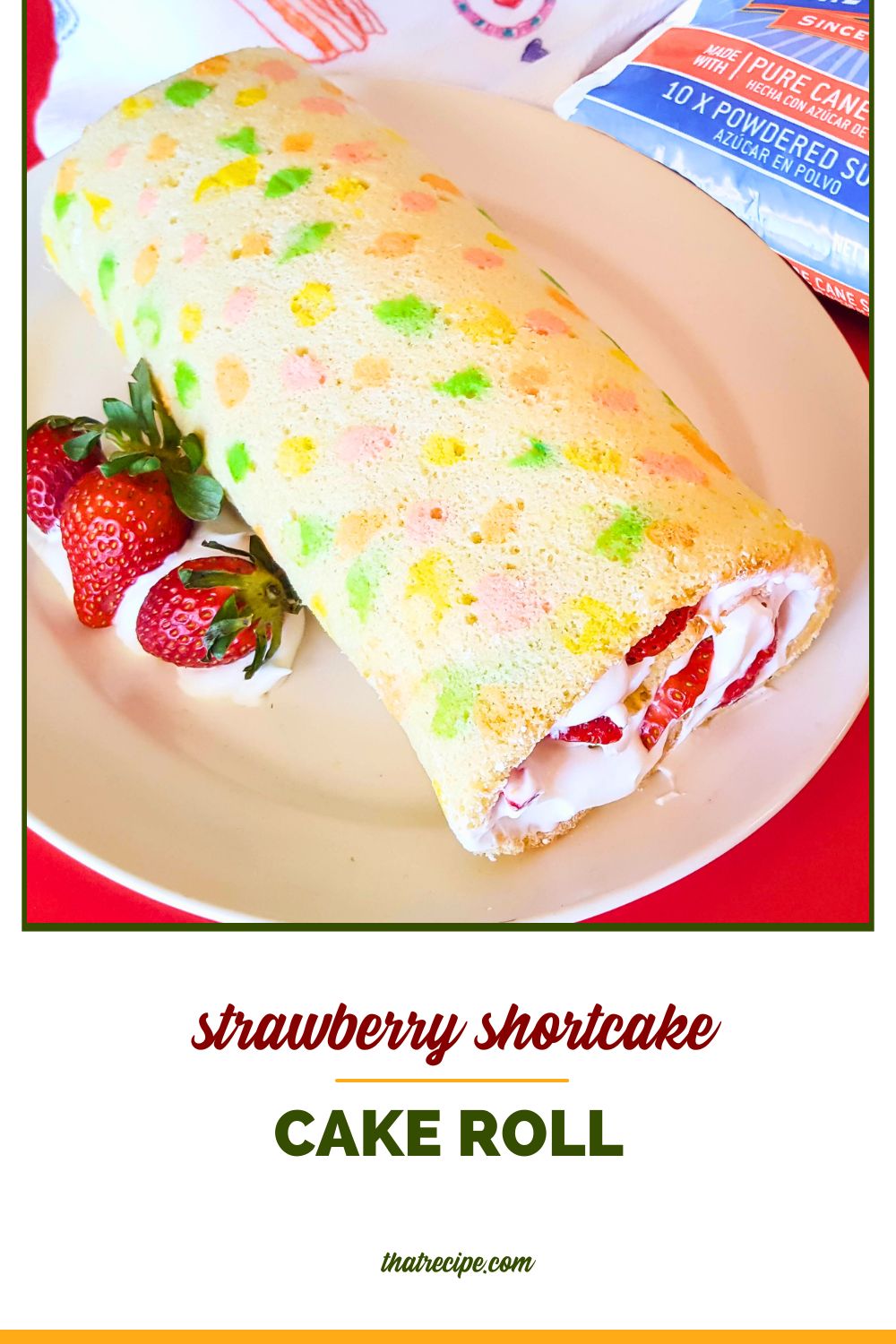 Strawberry shortcake is one of the classic tastes of spring and summer. This version combines basic strawberry shortcake into a Swiss cake roll.
Cake rolls may look intimidating if you have never made them before, but they are actually pretty easy. The trick is to roll it while still hot and let it cool in the roll form. Then you unroll and fill.
How to make a decorated cake roll
I have wanted to make a decorated cake roll since I first saw one years ago. And when Spring Sweets Week came around I knew it was finally going to happen.
You can skip this step and just leave the outside plain. But, it is fun and easy to do.
print two pages of designs (use any design you choose)
put them on the pan
put a layer of parchment paper over it
add a drop of food coloring to a few tablespoons of batter
spoon the batter on the parchment paper covered design
freeze then remove design paper
spread the remaining batter GENTLY over the frozen design
bake and fill as usual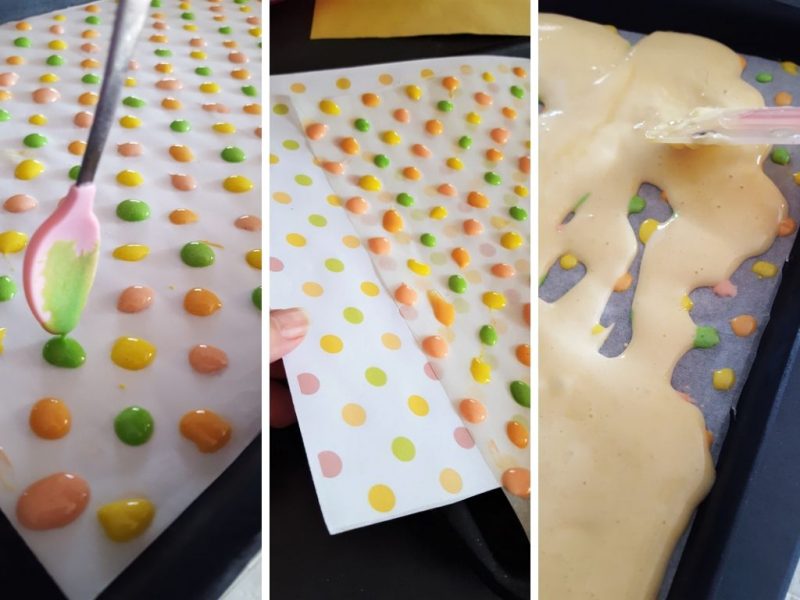 Made Special with Dixie Crystals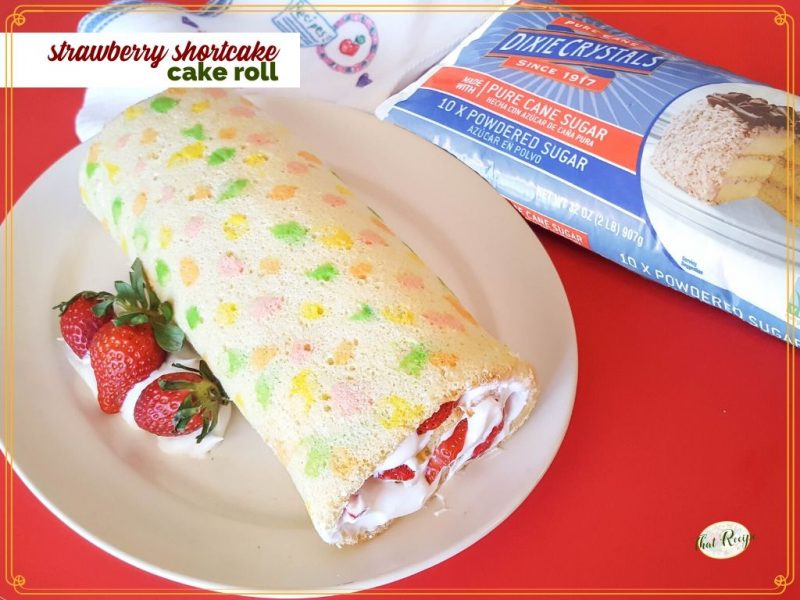 Dixie Crystals® has been the South's choice for high-quality sugar and sweeteners. Our pure cane sugar products are all natural, non-GMO and provide consistently delicious results.

Pure cane sugar is all that I allow in my house. Besides being non-GMO, I believe it works better in all recipes. I had one too many failures with beet sugar decades ago hence the ban. I used Dixie Crystals granulated sugar in the cake and their powdered sugar in the whipped cream filling.

Visit www.dixiecrystals.com for hundreds of recipes, holiday ideas, great ways to get kids baking in the kitchen, and plenty of baking videos.
Strawberry Shortcake Cake Roll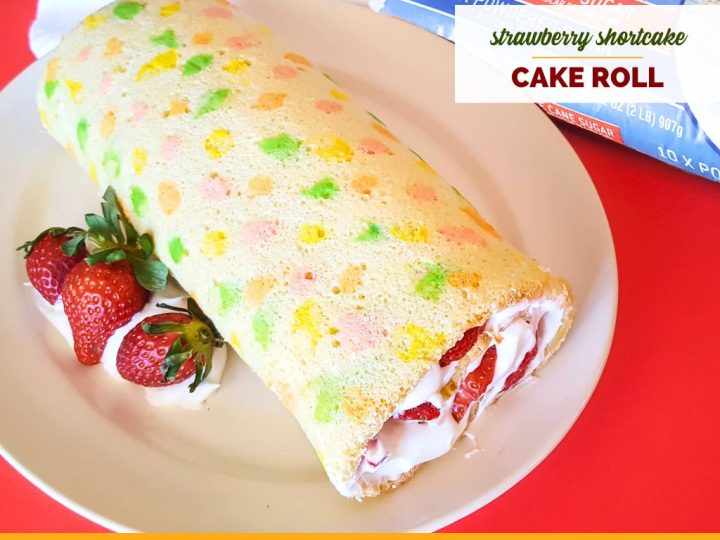 Ingredients
4

large

eggs

((separated))

¾

cup

sugar

1

teaspoon

vanilla extract

¾

cup

all purpose flour

((sift before measuring))

¾

teaspoon

baking powder

½

teaspoon

salt

¼

cup

powdered sugar

((plus more for decorating if desired))

1

cup

heaving whipping cream

2

tablespoons

powdered sugar

((more or less to taste))

1

cup

fresh strawberries

(sliced or chopped as desired)
Instructions
Line a jelly roll pan (10.5 x 15.5 x 1 inch) with parchment paper. Preheat oven to 375℉.

Separate the eggs into two mixing bowls

Lightly beat the yolks. Add the sugar gradually and beat until creamy. Mix in vanilla.

Resift the flour with the baking powder and salt into the egg yolk mixture. Mix until smooth.

Beat the egg whites until stiff peaks form (the mountain formed after removing the batter stands up straight and does not fall over).

Gently fold the egg whites into the batter. Pour into parchment lined jelly roll pan.

Bake at 375℉for about 12-13 minutes. Remove from oven.

Immediately loosen the edges of the cake. Place a clean kitchen towel on top of a cooling rack and sprinkle with powdered sugar. Invert the towel and rack on top of the cake and then flip the cake on to the towel and remove the pan.

Remove parchment paper. Roll the cake with the towel into a relatively tight roll. Let cool.

While cake is cooling, in a mixing bowl, beat whipping cream until stiff peaks form. Sweeten with powdered sugar to taste. Slice or dice strawberries

Unroll the cooled cake, spread whipped cream on top to within ½ inch of the edge to prevent oozing when rolled. Sprinkle with strawberries. Reroll and place seam side down on a serving plate.

OPTIONAL: Dust with additional powdered sugar or more whipped cream and strawberries.
Notes
To decorate the cake as in the photo, after preparing the batter:
print two pages of "dots" (use any design you choose)
put them on the pan
put a layer of parchment paper over it
add a few drops of food coloring to a little bit of the batter
spoon on some batter on the parchment paper covered dots
remove the paper from under the parchment
freeze
spread the remaining batter GENTLY over the frozen design
bake and fill as instructed
Spring Sweets Week
Saturday #SpringSweetsWeek Recipes