Jump to Recipe
Print Recipe
Carrot Cake Roll with Pineapple Cream Cheese Filling is made with pureed carrots instead is a lovely but surprisingly easy dessert.
Delicious Carrot Cake Roll filled with a luscious pineapple cream cheese filling makes a lovely, but easy, dessert.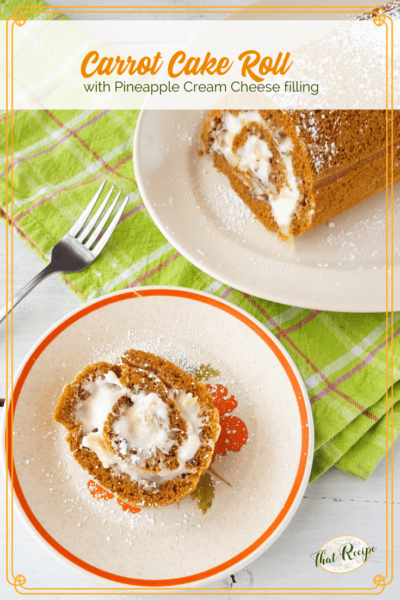 You might be thinking "I don't see any carrots in there."
From painful experience, I have learned to use pureed carrots because Sir Snubs A Lot does not like to see the carrots in his Carrot Cake or Carrot Bread.
He knows they are in there, and will readily eat it, but if he can see flecks of carrots I hear "But Mooooooom! You made it WRONG!".
The joys of motherhood, amiright?
Tips for Making a Roll Cake
If you have never made a roll cake before here are a few tips
1 - parchment paper is a must (not waxed paper, foil might work if you grease it first)
2 - roll it while it is hot to prevent breakage
3 - unroll gently when the cake is completely cool
4 - go a little thin on the filling on the edges, more than likely when you re-roll it the filling will squirt out the sides. Big mess, waste of filling!
Carrot Cake Roll with Pineapple Cream Cheese Filling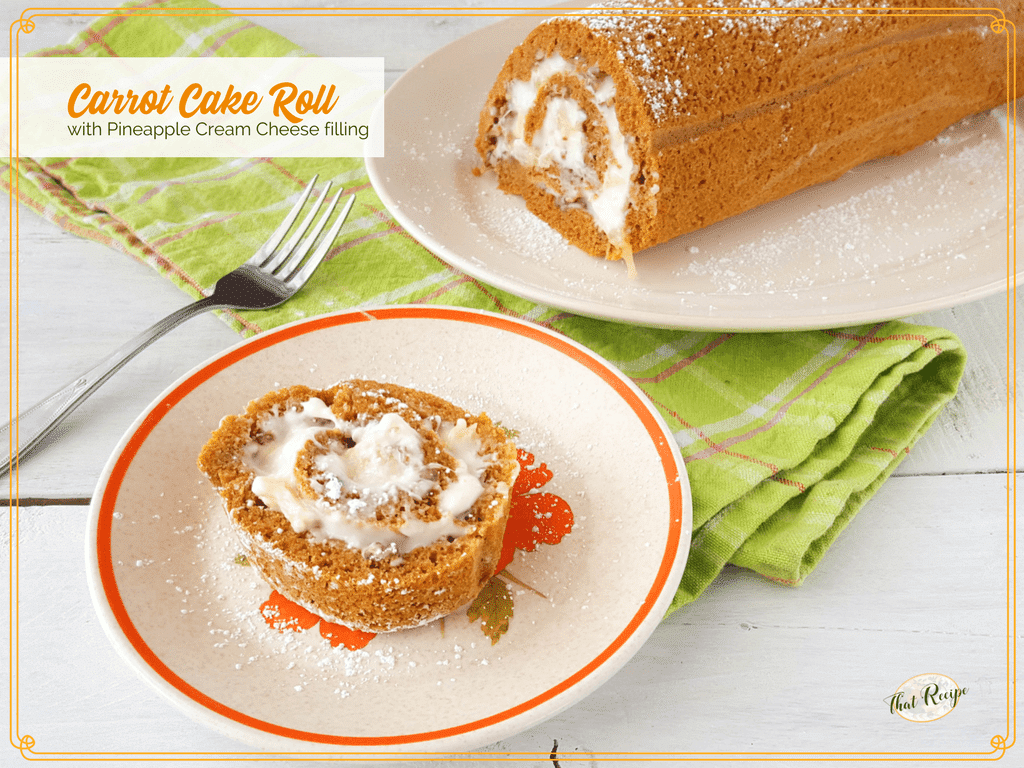 Ingredients
3

large eggs

¾

cup

granulated sugar

⅔

cup

pureed carrots

¾

cup

all-purpose flour

2

teaspoons

ground cinnamon

1

teaspoon

ground ginger

1

teaspoon

baking powder

½

teaspoon

nutmeg

½

teaspoon

salt

1

cup

pecans

(finely chopped)

1

cup

powdered sugar

(plus more for sprinkling)

½

cup

butter

(room temperature)

6

ounces

cream cheese

(room temperature)

8

ounce

can of crushed pineapple

(drained with juice reserved)
Instructions
Preheat the oven to 350° F. Line a jelly roll pan with parchment paper. 

With an electric mixer, beat the eggs, granulated sugar, and carrots until smooth.

In a medium bowl whisk together flour, cinnamon, ginger, baking powder nutmeg and salt. Add the dry ingredients to the egg mixture and blend until fully combined.

Spread the batter evenly in the prepared pan.

Sprinkle the chopped pecans over the batter.

Bake at 350 degrees until cooked, about 14 minutes.

Let the cake cool in the pan for 5 minutes. Sprinkle some of the powdered sugar on a large tea towel and place sugar side down on top of the cake. Place a cutting board or wire rack on top and invert the cake.

Remove the parchment paper, fold the sides of the towel over the cake. Roll the cake up in the towel and cool in the refrigerator thoroughly, about 45 minutes to an hour.

With an electric mixer, combine the confectioners' sugar, cream cheese, butter and crushed pineapple. Thin slightly with the reserved pineapple juice. You want it spreadable but not too runny.

Carefully unroll the cooled cake and spread the mixture on top of the cake.

Gently re-roll the cake up and refrigerate it until you're ready to slice and serve. Dust with powdered sugar just before serving.