Jump to Recipe
Print Recipe
Irish Apple Cake combines tart apples and sweet spices in a deliciously rich cake. Top with a homemade custard sauce for a special dessert.
Irish Apple Cake combines tart apples and sweet spices in a deliciously rich cake. Top with a homemade custard sauce for a special dessert.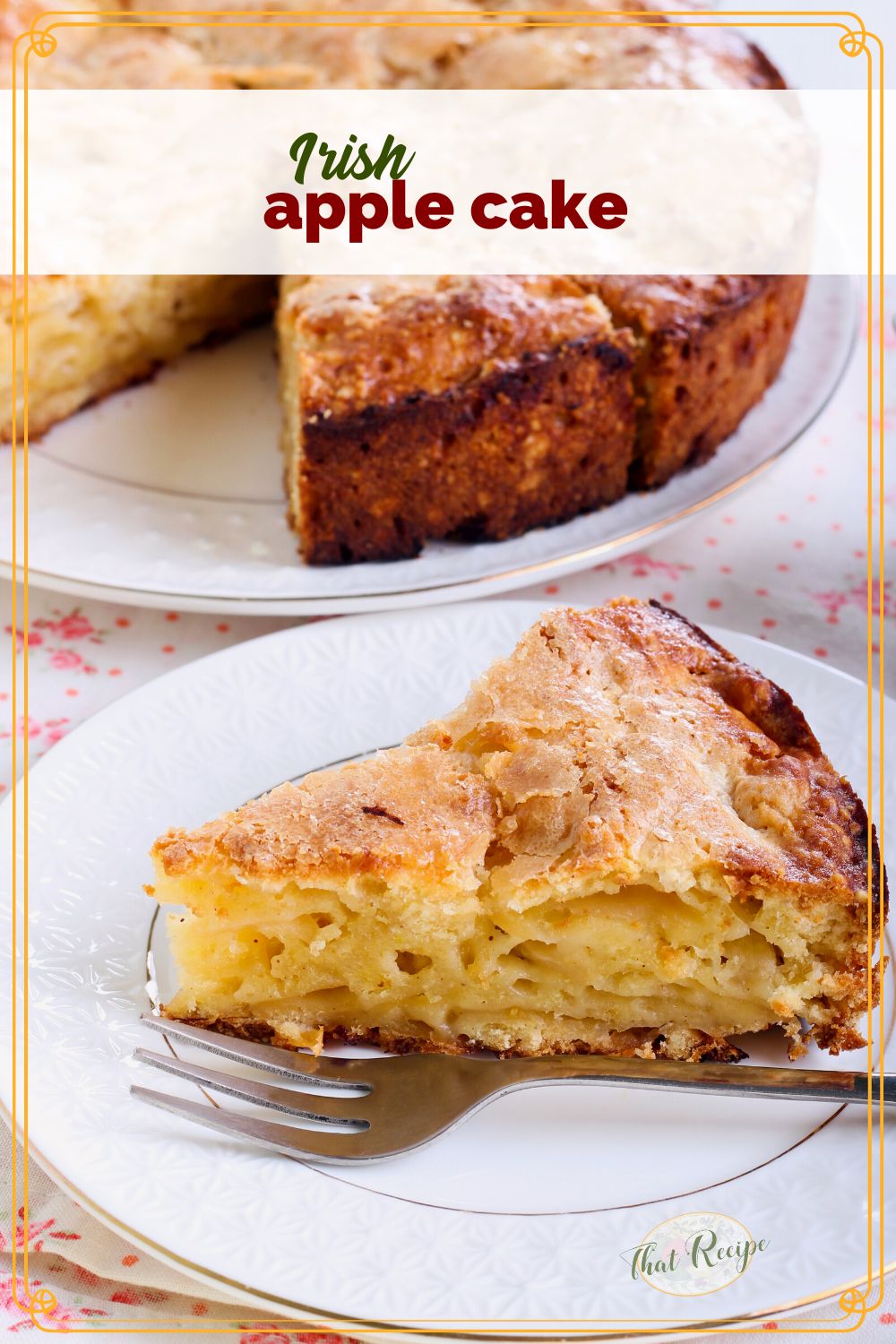 What if I told you there is nothing Irish about mint? So why do we prepare mint desserts for St. Patrick's Day? Because mint is green and St Patrick's Day is dedicated to green. Fake green everything... ugh!
Okay, rant over.
This dessert is actually Irish and does not contain mint. Instead it is loaded with apples and all kinds of sweet spices like cinnamon, ginger, nutmeg and allspice in a rich cake.
What Kind of Apples for Irish Apple Cake
Traditionally, Irish Apple Cake is made with tart apples, such as Granny Smith.
You can use any apple you like, but some apples hold up better to baking without turning to mush: Crispin, Braeburn, Honeycrisp, and Golden Delicious to name a few (more apple choices here).
Special Equipment for Irish Apple Cake
You can use a traditional cake pan, but I like a springform pan for ease of removal.
A gadget that peels, cores and slices like this one for a stand mixer or this manual one comes in handy when you have plenty of apples to process.
Or you can just do them by hand.
More Irish Recipes from #OurFamilyTable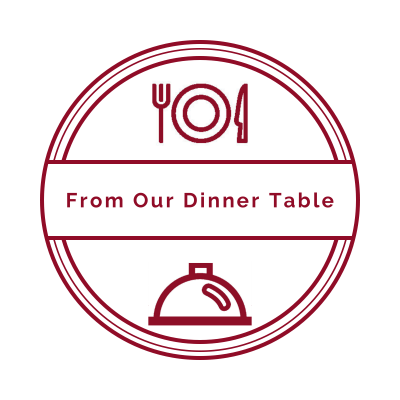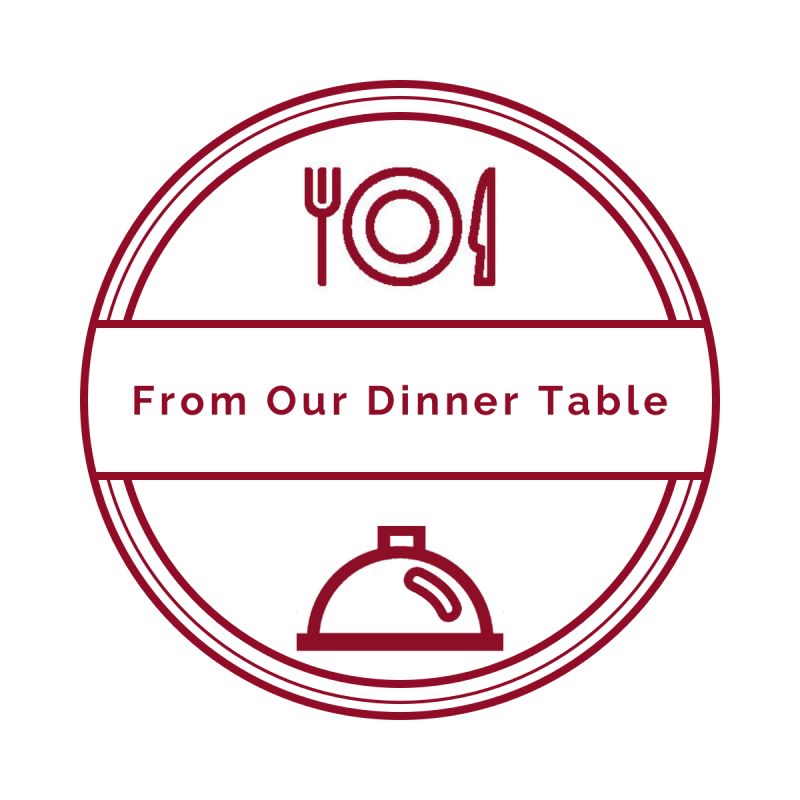 Go beyond the corned beef and cabbage and try some authentic recipes from Ireland.
Emerald Isle Recipes

We share Recipes From Our Dinner Table! Join our group and share your recipes, too! While you're at it, join our Pinterest board, too!
Irish Apple Cake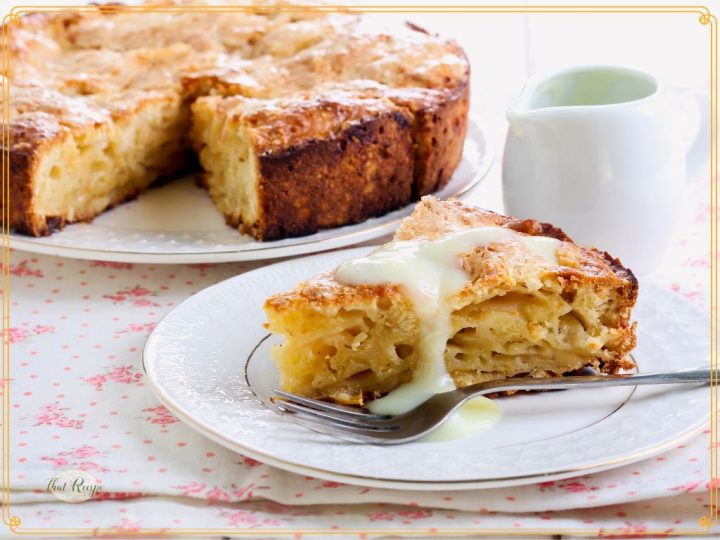 Ingredients
3

cups

all-purpose flour

1

tablespoon

baking powder

¼

teaspoon

salt

¼

teaspoon

cinnamon

¼

teaspoon

ground ginger

¼

teaspoon

nutmeg

⅛

teaspoon

allspice

1

cup

butter, cold

(cut into small pieces)

1

cup

sugar

1 ½

pounds

tart apples

(Granny Smith, Pipin, etc.)

¾

cup

milk

2

large

eggs

1

teaspoon

vanilla extract

2

tablespoons

sugar

½

teaspoon

cinnamon
Custard Sauce - optional
1 ½

cups

whole milk

6

large egg yolks

½

cup

granulated sugar

1

teaspoon

vanilla extract
Instructions
Preheat oven to 375° F. Butter and flour a 9-inch springform pan set it aside.

In a large mixing bowl whisk together flour, baking powder, salt, ginger, nutmeg, allspice and ¼ teaspoon cinnamon.

Add butter and work it into the mixture with a pastry cutter or forks, until it resembles fine crumbs.

Peel apples, cut into quarters, and remove core. Cut apple quarters into ¼ inch or thinner slices. If you have an apple/peeler/corer slicer use that and cut the rings into quarters.

Mix apples into the flour mixture until apples are evenly coated.

Using a 2 or 4 cup measuring cup measure milk then add eggs and vanilla and whisk until combined.

Add milk mixture to the flour/apple mixture and fold gently to combine. Batter will be lumpy, do not overmix.

Pour batter into the prepared baking dish and spread into an even layer.

In a small dish combine 2 tablespoons of sugar and ½ teaspoon cinnamon. Sprinkle mixture over the top of the cake.

Bake until golden and a toothpick inserted into the center comes out clean, about 45-50 minutes.

Cool on a wire rack for 10 minutes then remove the ring from the springform pan. Allow cake to cool completely.
Custard Sauce
In a medium mixing bowl and beat egg yolks and sugar on medium high until pale and fluffy, about 1-2 minutes.

In a medium saucepan, heat milk over medium high heat until just beginning to boil.

Immediately, reduce heat to medium-low heat.

Add about ½ cup of the hot milk to the egg yolks while whisking. Don't skip this step or you will have lumps of egg yolks in your milk.

Add egg yolk mixture to the saucepan while whisking continuously.

Cook, while stirring constantly, until custard is thickened and it coats the back of the spoon, about 3 - 4 minutes.

Immediately pour into a small bowl or pitcher and stir in the vanilla extract.

Drizzle warm custard on top of the cake just before serving.
Sound fabulous? Share it!
Until next time, happy eating!
~Audrey